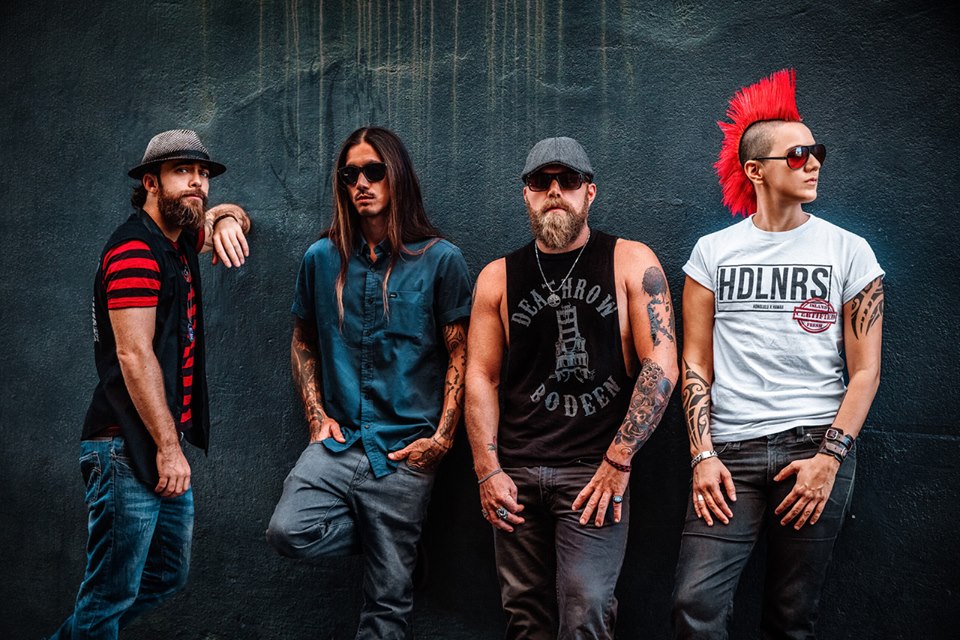 *This is part of our State Of The Art series, showcasing bands every Monday from the featured state. This month's state is Hawaii.*
Today we are leaving mainland U.S.A to talk about one of Hawaii's best kept secrets Kings Of Spade! The band founded back in 2008 in  Honolulu, Hawaii. They were previously named X Factor but later changed their name to Kings Of Spade. The band was built around the bluesy vocal prowess of KC and the rest of the band is equally as impressive creating a psychedelic rock sound that will have you re-living the heyday of rock n roll. Kings Of Spade is filled out with Jesse Savio on guitar, Matt Kato on drums, Tim Corker and on bass, auxiliary members include  Ken Lykes  on the keys and DJ Packo. The band has played the mainland on several occasions including SXSW. I personally became familiar with the band after speaking with former Headbangers Ball host Riki Rachtman when he mentioned how impressed he was with the band during a conversation at Carolina Rebellion in 2017. The band since has became even more well known to fans even outside of the island state of Hawaii. On December 8th they were tapped to be the opening band for Guns N Roses first ever performance in Hawaii. So prior to Guns N Roses kicking off their 3 hour set Kings Of Spade got the packed crowd at Aloha stadium pumped up. 
The group's new self-titled full-length, 'Kings of Spade' dropped on Oct 19th, 2018,  via Soundly Music, comes from simply not letting tough times kick them down. One of those tough times being when the band attempted to pick up and move to the City Of Angels, Los Angeles, California. They stated that they were barely scraping by and at one point were even donating plasma for additional funds. Their move back to Hawaii happened soon after and they have never looked back and likely became one of the must see bands in Hawaii. The new full length was produced by Grammy-winner Dave Cobb (Rival Sons, Judah and the Lion, Chris Stapleton). The band has named an array of influences from all over the music world including Janis Joplin, Aretha Franklin, Jimi Hendrix, Led Zeppelin, Black Keys, and Alabama Shakes. Some of those influences like Joplin and Zeppelin are easy to hear, the other however may require a little closer listening. The things that first hit you when consuming their new record is blues, retro-rock and soul bearing lyrics. The falsetto vocals that KC pumps out are reminiscent of 70's rock legends, but the band has a fresh appeal that bonds killer beats, bluesy riffing guitars that straight up rocks. It's incredibly difficult for bands based in Hawaii to make it to the continental U.S. to tour as often as they'd like so make sure to support this band and hopefully they will be playing a venue nearby soon.