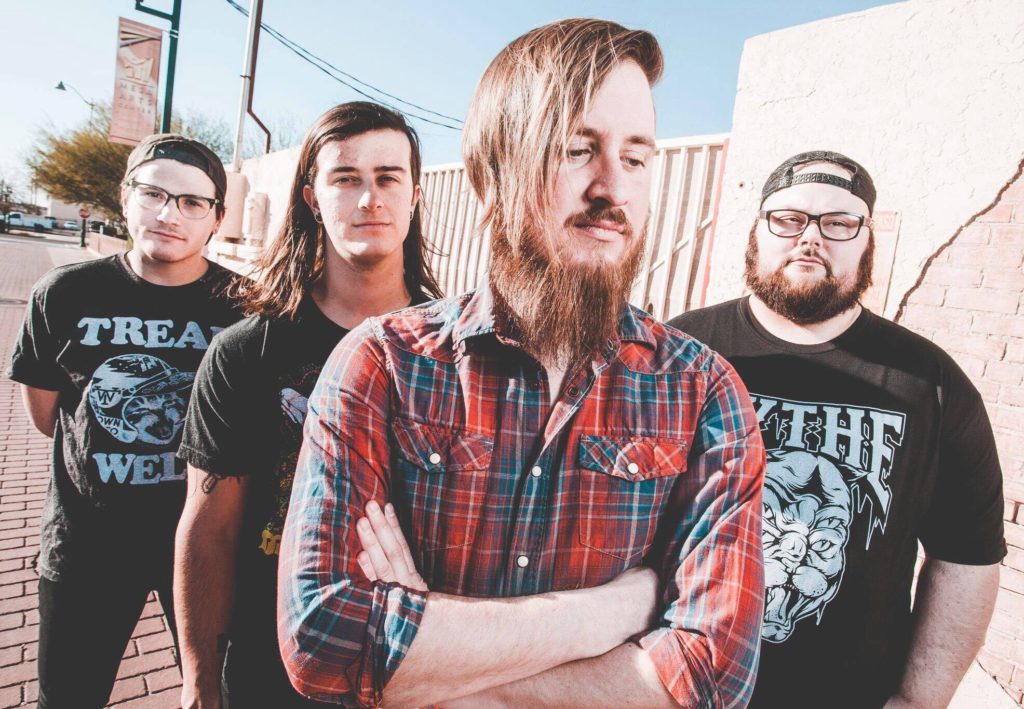 *This is a part of our State Of The Art series, showcasing bands every Monday from the featured State*
This month's state is Arizona!
When we found out what state would be featured for our weekly series of STATE OF THE ART, I automatically knew who I wanted to introduce to the world, the fantastic guys in American Standards. American Standards is a chaotic hardcore band that you probably do not know and will kick yourself for not knowing them before today. But don't be saddend by this, even I was late to the party, not discovering them until sometime in late 2016 when meeting their vocalist Brandon Kellum through the Facebook fan group for Dillinger Escape Plan, The Dillinger Compound. American Standards story is that of separation, loss and the adaptability that allows us to preserver. Formed in Phoenix, AZ in the summer of 2011, the band released their first album 'Still Life' through We Are Triumphant, an imprint of Victory Records. Musically, the record walked a fine line between subtle melody and raw chaos providing a platform for vocalist Brandon Kellum's emotionally and politically charged lyrics. The band quickly became known for their intense live shows and undeniable work ethic playing over 300 shows to date.
After touring the US to support the album, in 2013 American Standards decided to go independent for their next EP, 'The Death of Rhythm and Blues'. By doing this, allowed the band to align their message with the DIY ethos.  During this time the band began to play several respected festivals and regional tours sharing the stage with some of the biggest names in their genre such as Every Time I Die, Norma Jean, The Dillinger Escape Plan, Zao, Comeback Kid, Emery and Atreyu. In 2014, American Standards began working with Enjoyment Records in the UK and Nacion Libre in Mexico. This decision was made to allow the band to expand available formats from digital and CD to vinyl and cassette. It also kept international shipping costs low and more accessible for their fans. Prior to releasing what was to become the 'Hungry Hands' EP, the band parted ways with both their original rhythm guitarist and drummer. Struggling to determine if they should move forward, American Standards underwent a significant line up change and pushed on with a new level of passion and intensity.
Back on stable ground in 2015 the band began writing for a new full length to be recorded at Kingsize Soundlabs in Los Angeles (Bad Religion, Mars Volta, Letlive). During the process the band lost founding lead guitarist Cody Conrad to suicide and shortly after, vocalist Brandon Kellum lost his father unexpectedly to cancer. The experiences played heavily into once again reshaping the bands sound and lyrical content. "What started as social commentary on the growing divide in our society became very personal when our founding guitarist (Cody Conrad) passed of suicide and then soon after, my father of cancer. We went back to rewrite much of the album and in a lot of ways used it as therapy to cope with the experiences. Although intimate, at its core 'Anti-Melody' is centered around the universal theme of separation on many levels." -says vocalist Brandon Kellum. 'Anti-Melody' was released on April 28th 2017 with the first single "Writers Block Party" being premiered on Lambgoat and a follow up for "Carpe Diem, Tomorrow" on Revolver Magazine. As an independent band, American Standards has managed to carve a new path built through hard work, perseverance and a desire to connect through their message with others.
When I spoke to Brandon about wanting to feature American Standards in this article, he mentioned this during our conversation and I wanted to share it with you all: "A big thing for our band is that we fit everywhere but belong no where. We're kind of like the kid in high school that hangs around the skaters, the jocks, the goths, etc.. but isn't really a part of any of those groups. We haven't really been adopted by the punk scene because we're "too metal" and we're "too punk" for the metal crowds. We don't have that tough guy mentality that is prevalent in hardcore but we get put on all these big national shows with bands from each genre. I think it's allowed us in a sense to connect with the fans at those shows that also feel like the odd ones out."
American Standards is :
Brandon Kellum – Vocals
Corey Skowronski – Guitar
Steven Mandell – Bass
Mitch Hosier – Drums
Please make sure to check out their bandcamp page here to check out their entire discography for yourself. I can not stress this enough, every single release of theirs is worth your time and really urge you all to check these guys out. Here is a couple tracks from their newest release 'Anti-Melody' to get you started off:


And one older track from their 2014 'Hungry Hands' EP :