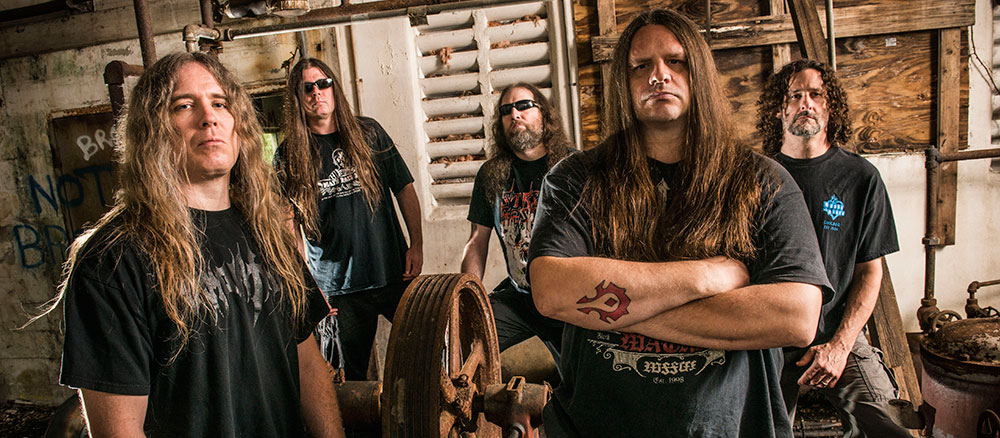 Get ready to get have a hammered smashed face soon this fall in the months of November and December as the lads from Buffalo, New York, CANNIBAL CORPSE just announced a massive month long tour with young guns, Texas thrashers POWER TRIP whose latest album 'Nightmare Logic' has been out to some widespread positive reviews and new death metallers on the block, GATECREEPER. Also along with the tour dates, the band just revealed the new album will be out this fall. They will be supporting their untitled(as of yet) 14th studio album on this tour. This will be CANNIBAL CORPSE's follow up to their 2014's 'Skeletal Domain', released via Metal Blade Records which charted at an impressive #32 on Billboard's Top 200 chart (the highest chart position in their storied career!). The band's new album – which was recorded at MANA Recording Studios with producer/engineer Erik Rutan (CANNIBAL CORPSE, SOILENT GREEN, BELPHEGOR, HATE ETERNAL) – promises to be another aggressive, powerful record in their catalog, that will surely make history once again.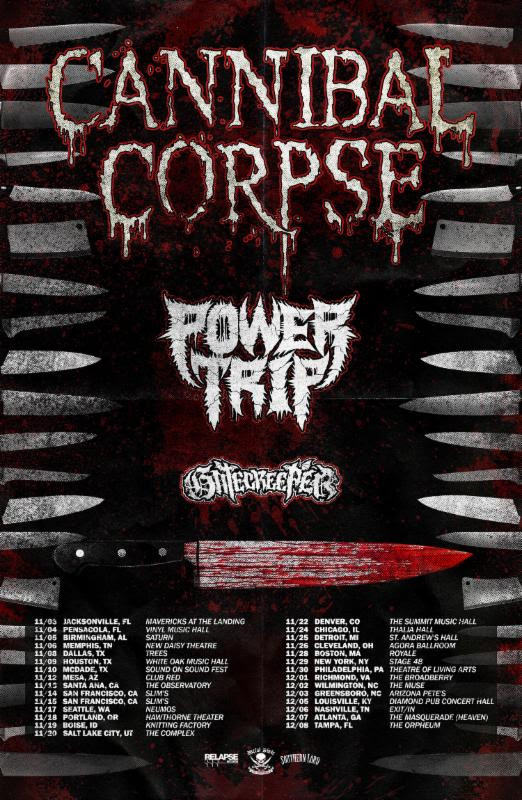 New album and a new tour from the gore masters of death metal. How cool is that!? CANNIBAL CORPSE continues to be one of the most punishing bands you can ever see live. Like Corpsegrinder's non stop windmilling, they are always dominating and doing what they do the best. I have had the honour of catching them up once in my country. Don't you miss this opportunity. Two new young bands and one ring leader for your fall dose of metal. See the dates below:
CANNIBAL CORPSE tour dates
w/ POWER TRIP, GATECREEPER
Nov. 3 – Jacksonville, FL – Mavericks
Nov. 4 – Pensacola, FL – Vinyl Music Hall
Nov. 5 – Birmingham, AL – Saturn
Nov. 6 – Memphis, TN – New Daisy Theater
Nov. 8 – Dallas, TX – Trees
Nov. 9 – Houston, TX – White Oak
Nov. 10 – Austin, TX – Sound on Sound Festival
Nov. 12 – Phoenix, AZ – Club Red
Nov. 13 – Santa Ana, CA – The Observatory
Nov. 14 – San Francisco, CA – Slims
Nov. 15 – San Francisco, CA – Slims
Nov. 17 – Seattle, WA – Neumos
Nov. 18 – Portland, OR – Hawthorne Theater
Nov. 19 – Boise, ID – Knitting Factory
Nov. 20 – Salt Lake City, UT – The Complex
Nov. 22 – Denver, CO – Summit
Nov. 24 – Chicago, IL – Thalia Hall
Nov. 25 – Detroit, MI – St. Andrews Hall
Nov. 26 – Cleveland, OH – Agora Ballroom
Nov. 28 – Boston, MA – Royale
Nov. 29 – New York, NY – Stage 48
Nov. 30 – Philadelphia, PA – TLA
Dec. 1 – Richmond, VA – Broadberry
Dec. 2 – Wilmington, NC – The Throne Theater
Dec. 3 – Greensboro, NC – Pete's
Dec. 5 – Louisville, KY – Mercury Ballroom
Dec. 6 – Nashville, TN – Exit/In
Dec. 7 – Atlanta, GA – Masquerade
Dec. 8 – Tampa, FL – The Orpheum
Tickets have been announced only for the Sound On Sound Fest at Austin, Texas. The rest will be announced shortly. Until then keep an eye out for the same HERE!
To preview and purchase 'A Skeletal Domain', please visit HERE!