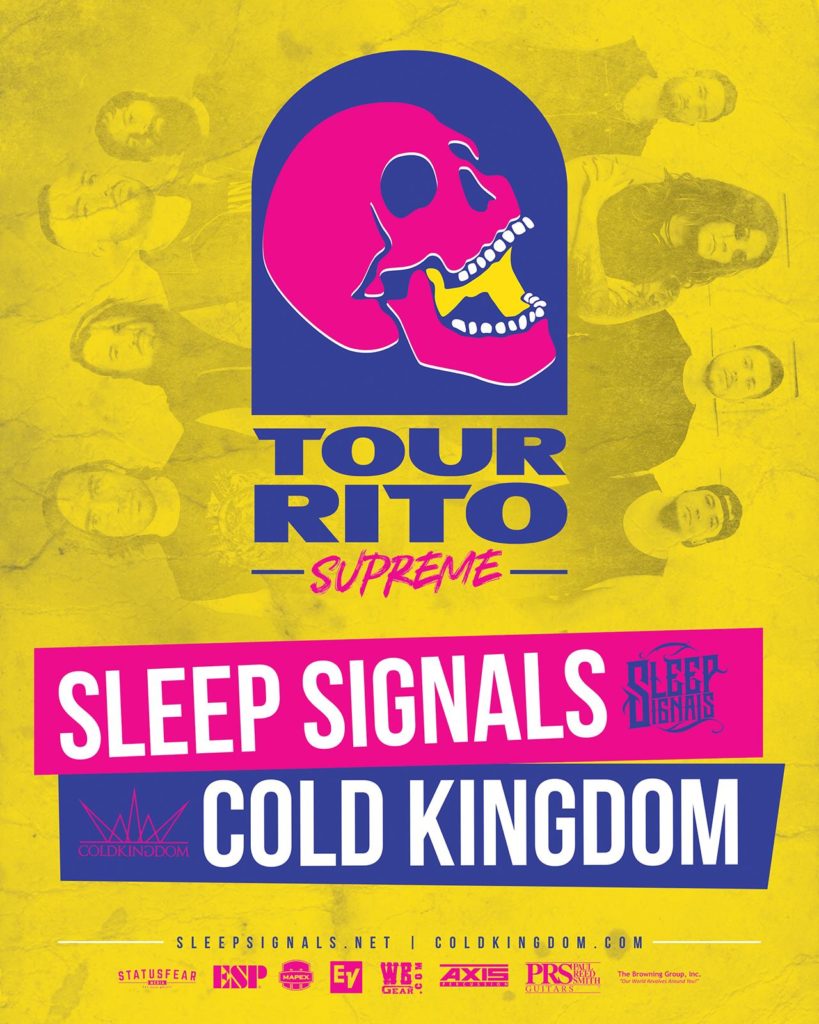 Minneapolis, MN-based rockers SLEEP SIGNALS have announced that they will return to the road on the Tour-Rito Supreme Tour with COLD KINGDOM, which begins on March 1st at the What's Up Lounge in Mankato, MN and concludes on April 7th in Lincoln, Nebraska. The band will also be playing Showdown Fest in El Paso, Texas supporting Vince Neil from Motley Crue on March 16th.
Tickets and VIP for the tour are available at HERE!
Minneapolis hard rock quintet, SLEEP SIGNALS, have garnered a dedicated following through relentless touring, their explosive live performances, and their ability to blend catchy hooks with their high-energy songwriting style.
2018 promises to be a huge year for SLEEP SIGNALS, which has the band on tour through most of the year supporting their new album, "At the End of the World". The album was produced by Grammy-nominated Justin Rimer (Saving Abel, 12 Stones) and features guest appearances from Marty Mccoy of Bobaflex and Josh Brown of Full Devil Jacket.
Founded in 2014, SLEEP SIGNALS hit the road in early 2015 and has since played over 200 shows in 36 states, sharing the stage with bands like Seether, In Flames, Saving Abel, Bobaflex, Ill Nino, The Dillinger Escape Plan, Every Time I Die, Alesana, and Volumes. The band has also played several festivals including Northern Invasion, SXSW, and Heart of Texas Rockfest, supporting bands like Soundgarden, Godsmack, and Bush.
Tour-Rito Supreme Tour Dates:
3.01 Mankato, MN @ What's Up Lounge
3.02 Minneapolis, MN @ Route 47
3.03 Fort Atkinson, WI @ Hijynx
3.04 Rockford, IL @ Whiskeys Roadhouse
3.05 Beach Park, IL @ Cracken Cakes *
3.06 Madison, WI @ The Red Zone
3.07 Lansing, IL @ Royal Skate *
3.08 Sioux City, IA @ The Marquee
3.09 Algona, IA @ Lifers
3.10 Springfield, MO @ Front of House Lounge
3.11 Oklahoma City, OK @ The Root
3.13 Austin, TX @ Dirty Dog Bar (Dirty Fest)
3.14 Dallas, TX @ The Curtain Club
3.15 Lubbock, TX @ Backstage
3.16 El Paso, TX @ El Paso County Coliseum (Showdown Fest)
3.17 Phoenix, AZ @ Last Exit Live
3.20 San Diego, CA @ TBA
3.22 Anaheim, CA @ Doll Hut
3.23 Las Vegas, NV @ Cornish Pasty
3.24 Long Beach, CA @ The Prospector
3.26 Reno, NV @ Jub Jub's
3.29 Medford, OR @ Grape Street Bar & Grill
3.30 Burley, ID @ The Riverside Bar
3.31 Kennewick, WA @ Eagles 2485
4.01 Logan, UT @ Eagles 3114
4.02 Orem, UT @ Utah Valley University *
4.03 Salt Lake City, UT @ Liquid Joe's
4.04 Greeley, CO @ Moxi Theater
4.05 Manitou Springs, CO @ The Ancient Mariner
4.06 Denver, CO @ Moe's Original BBQ
4.07 Lincoln, NE @ Duffy's Tavern
* SLEEP SIGNALS only.