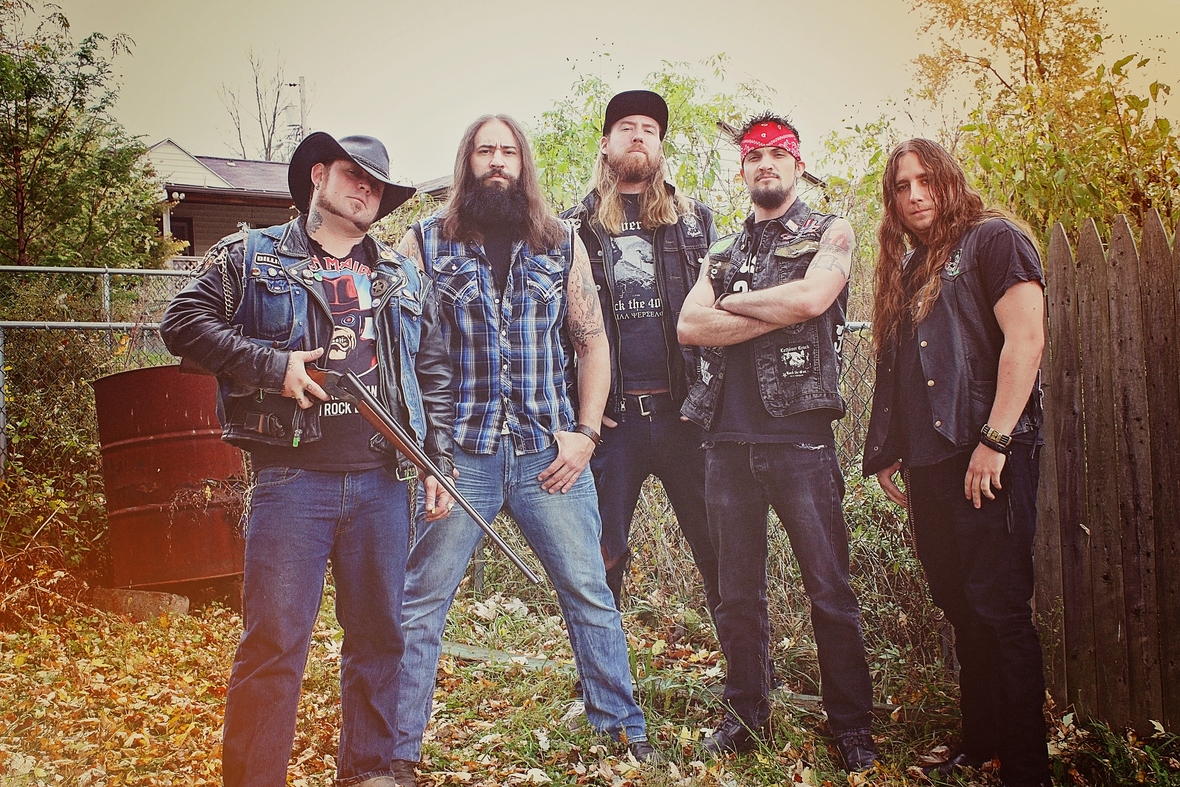 Southern hard rock/metal band, Scattered Hamlet release the official music video for their cover of the Twisted Sister classic, "Stay Hungry." The track is a heartfelt tribute to the band's drummer, Jake Delling Le Bas, who is currently in a coma. They have also just announced the schedule of the North American Stay Hungry, Stay Free Tour. Confirmed dates below.
Frontman Adam Joad recalls, "There we were. One second, we were waiting to see if we landed a tour support slot with an artist we really looked up to, and then next, I got the call. The heartbeat of the honky tonk metal machine, Jake Delling Le Bas, was celebrating his 30th birthday and fell off a third story balcony – They didn't know if he was going to make it. Later though, he did defy all odds and made it, but was in a coma with a traumatic brain injury."
He continues, "We wanted to make something special so we put a call out to our fans on social media to pick a song for us to cover as a tribute for our fallen brother. We had some great ideas pitched to us and some not so great ideas [laughs]. Anyway, we demoed a few and they ran a complicated series of emotions: reflective, sad, sentimental – You name it. We tried to link that emotion to a song we could do justice. In SH though, we always had one gear and that's balls out, straight ahead. At the end of the day, we were still hungry and still wanted that same thing we were after the first time Jake, me, and the early SH machine drove half way across the country to SXSW in Austin to announce to the music community that we were here."
The shotgun-loving, Harley Davidson-riding, classic Americana enthusiasts have self-described their sound as "honky tonk metal." Consisting of Adam Joad (vocals, harmonica, guitar), Richard Erwin (bass, vocals), Adam Newell (lead guitar, vocals), and Jake Delling Le Bas (drums); Scattered Hamlet's musical style is like a mix of Lynyrd Skynyrd, Molly Hatchet, Motörhead, and Down.
Their debut album, 'Skeleton Dixie' (2013) was produced by two-time Grammy-nominated Jason Donaghy (Rob Zombie, John 5, Murder Dolls) and mastered by Howie Weinberg (Pantera, Slayer, White Zombie, Danzig). Their second – and most recent studio album – 'Swamp Rebel Machine' (2016), achieved landmark success, earning the band a spot on the Billboard Heatseekers charts for its first week of sales.
Tour Dates:
07/06 @ Little Harper Brewing – Nashville, TN
07/07 @ Coyotes – Shreveport, LA
07/08 @ NRG Park-Main St Lot – Houston, TX
07/10 @ Tennessee State Fairgrounds – Nashville, TN
07/12 @ Rockfest – Cadott, WI
07/13 @ Top Fuel Saloon – Braidwood, IL
07/14 @ Lifers – Algona, IA
07/17 @ Token Lounge – Westland, MI
07/18 @ The Electric company – Mansfield, OH
07/19 @ Evening Star – Buffalo, NY
07/20 @ The Rim – Norton, WV
07/21 @ The Nail – Ardmore, PA
07/22 @ Hucklebucks – Pottsville, PA
07/25 @ Shakas Live – Virginia Beach, VA
07/26 @ Ground Zero – Spartanburg, SC
07/27 @ Whiskey River Club – Anderson, SC
07/28 @ Jesco White's Birthday – Leoma, TN
08/08 @ Side Stage Buffalo Chip – Sturgis, SD
08/09 @ Mainstage Buffalo Chip w/ Lita Ford, Kid Rock – Sturgis, SD