Alas, Rock on the Range has come and gone but for those who were lucky enough to attend, the memories are very much alive!  I recently heard it said that 2018's Rock on the Range was the biggest yet – and I can definitely see that to be true!  With the monstrous lineup that this year's festivities held, the festival once again proved it really is "Where Rock Lives"!  Festival-goers were treated to incredible performances from huge acts including Stone Temple Pilots, A Perfect Circle, Tool, Alice In Chains, Godsmack, Trivium, too many great bands to name them all.  If you ask me, the fine folks at AEG and Danny Wimmer Presents knocked it out of the park with the lineup selection this year and really gave the fans what they want – a rock festival that actually rocks from start to finish!  Three days of nonstop music flooded the Columbus, OH air and minus a period of potential storms and a few light drizzles, the weather cooperated, for the most part, providing (sometimes intense) sunshine all weekend. For me, Day One was an early one.  We got to MAPRFRE Stadium pretty early to beat some of the traffic that was sure to build with every passing minute and were greeted by a cold, steady rain that still didn't deter the several eager fans already waiting in line.  A side-note to anyone planning on going to Rock on the Range in the future, it is highly advisable to buy the parking pass before the show.  One of the downfalls of the festival was the $25/day parking fee, but that's a small price to pay for the good times that were inside!
One of the most talked about bands for the last few months in the music world has been The Fever 333. Led by vocalist Jason Butler formerly of LetLive. This three man group has a sound that is huge and their sound is far from the only thing the bring to the stage. The band is very much activist based and has a lot to say both within their music and even with their intro which is jaw dropping to say the least as Jason enters the stage with a black bag over his head. Once the intro is over and the music starts it is complete non-stop action from the moment the curtain drops until the last note plays through the speakers. First we see Jason wrap himself in gaff tape outstretched from one side of the stage to another, and he continues on with the show with it still wrapped around him. He also after playing one of their fan favorite songs "Made In America" he talks about violence in America. "It's time for an uncomfortable conversation, today in Sante Fe High School in Galveston, Texas, 8 children were shot and killed today. Now, Im not here to take away your guns, i'm not here to take away your amendments. i'm here to talk about a problem that we have in this country that is affected not only the youth in school but every one in this crowd can fall victim to this problem…If you want to have that conversation, If you want talk to me about it i'll be in the mother fucking crowd all day to have this conversation." It shows that he truly has passion for the youth of America and just wants a resolution to violence. During the next song Jason climbs to the top of the stage from about 50-60 feet in there air and after the song is over takes a moment to talk to the crowd and connect with them on a personal level about feeling like an outside. By far one of the most inspiring acts to see in 2018.
Early in the day Senses Fail comes out and kicks things off with "Rum is for Drinking, Not for Burning" their upbeat party like anthem. There is nothing like a little post-hardcore to kick start your day. The melodic vocals make it so easy to sing along and the crowd was quickly finding themselves ready to crowd surf and some of them even doing do with beer in hand. They played 2 tracks from their new record 'If There Is Light, It Will Find You' which is the first Senses Fail album with lyrics written solely by vocalist Buddy Nielsen. The band also started to play a cover of "Bodies" by Drowning Pool which got the crowd so pumped, only to just play the first 20 seconds of the song, talk about a dick tease. We were ready to hear the entire song, so hopefully soon they work that up. They closed out their set with 'Bite to Break Skin' from their 2004 album 'Let It Enfold You'.
Due to a scheduling overlap between the first bands and my interview with Atreyu's Travis Miguel, I missed a few bands but after already seeing The Fever 333 and Senses Fail I was ready to see what else the day had in store. I was able to watch was 10 Years and, man, they dominated the festival's main stage!  The band opened their set with "Vampires" followed by "Fix Me" and "Beautiful" from 2008's 'Division'.  Keeping the crowd on their toes, 10 Years offered up a fantastic rendition of Nirvana's "Heart-Shaped Box" and followed up with the well-known "Wasteland".  The guys wrapped up their set with "Novacaine" and "Shoot It Out". Covers aren't easy to do in front of a huge crowd, especially very well known songs, and I can say they truly won this crowd over.
A short walk to the Zippo Stage just outside the arena where Turnstile annihilated the crowd during their 30 or so minutes powering through hits like "Pushing Me Away" and "Keep It Moving". The band played a good mix from the albums 'Time And Space' and 'Nonstop Feeling'. The band was a huge ball of energy and it seemed like they were jumping up and down the entirety of their 30 minute set. Turnstile was one of the few bands that played Rock On The Range last year and this year, so when they come back as a repeat you know they are doing something right. Near the end of their set vocalist Brendan Yates jumped down into the crowd, which I believe he also did last year. It has become something that vocalists like Brendan do to be among the people who are truly passionate about their music and get down in the dirt with them and no longer high on the stage to be on their level. When a vocalist is mere inches from you belting out the songs you love its a moment you won't soon forget.
As the sun was baking the festival grounds in the mid-afternoon, fans packed into the arena in front of the Main Stage where Greta Van Fleet prepared to take the stage.  The guys didn't dare make the anxious crowd wait very long, walking onto the stage welcomed by a massive roar of fans ready to hear their favorite Greta Van Fleet jams.  The band immediately commenced to rocking as they opened the set with the very popular "Highway Tune" where guitarist Jake Kiszka really shines – especially in a live setting!  Greta Van Fleet's set was rather short, but they didn't fail to deliver an outstanding performance for Columbus making sure to serve up songs like "Edge of Darkness", "When the Cold Wind Blows", "Flower Power", and "Black Smoke Rising" before finishing up with "Safari Song".
Outside the arena on the opposite side of the Zippo Stage, the Bud Light stage hosted one of the tightest bands of the entire weekend – Atreyu.  From the moment the guys walked on stage to the time they walked off, they emitted an energy that got the crowd moving and singing along to every song.  Atreyu primed the crowd with "Becoming the Bull" at the beginning of their set, immediately flowing into "Right Side of the Bed" and following up with "Ex's & Oh's", making for a very strong combo to open with.  The guys also offered their well-known rendition of Bon Jovi's "You Give Love A Bad Name" and even treated the crowd to "Do You Know Who You Are" from their newest album, 2015's 'Long Live', and closed the set with "Blow" from 'Lead Sails Paper Anchor' which recently went gold, selling more than 500,000 copies.
No one mixes gangster rap and metal like Body Count. Jose Mangin gave the band an incredible introduction and he knows with an iconic frontman like Ice T and veteran guitar player like Ernie C. they are a band to be reckoned with. Ice T immediately called out to the crowd for a circle pit and they kicked things up with a Slayer cover, and not just anyone can cover Slayer. "Raining Blood / Postmortem" rang out and the crowd went berserk. Playing songs like "No Lives Matter" and "Black Hoodie" which were inspired by the Black Lives Matter movement and the latter from the Shooting of Trayvon Martin, it's no surprise that Ice T also took a moment to mention Donald Trump on stage and get a little political. Ice then got the crowd pumped and prepped for their namesake song "Body Count" and he had fans crowd surfing, moshing, and screaming along "fuck you" with the sing with middle fingers in the air. As if the crowd was crazy enough Body Count ended their set with the iconic track "Cop Killer" which caused all kinds of media backlash for them back when it was released in 1992 on the bands debut album. It's incredibly hard to beat a performance by Body Count, they don't tour and really only do festival appearances so it's hard to catch them live and Rock On The Range was just one of the only shows they have played this year, if you were there to witness it, consider yourself lucky.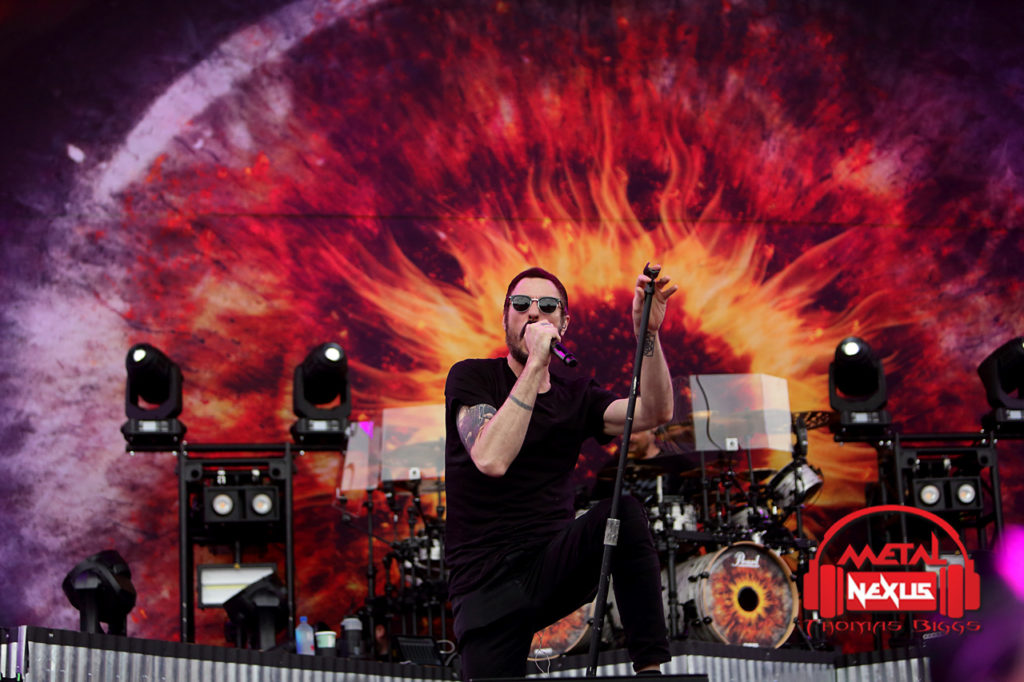 Inside the arena, while the sun was still beaming down in the late evening and the smell of Island Noodles paired with the aroma of some very stout marijuana in a peculiar way, everyone was already packed in as tight as the best available seats would allow.  Breaking Benjamin began their set very strong, first powering out "Red Cold River", "I Will Not Bow", "Never Again", and "Failure".  The band treated the sea of fans to a medley of recognizable tunes including "Imperial March", "Smells Like Teen Spirit", "Walk", and "Sad But True".  As if their set wasn't strong enough already, Breaking Benjamin followed up with hits like "Blow Me Away", "So Cold", and "Torn In Two" before wrapping up with the very popular "The Diary of Jane".
Outside the arena on the Zippo Stage, I was very impressed with Underoath and the fact that seeing them all together again really brought back memories of my time at Warped Tour in 2006 when I first got to see them.  Although the guys did open the set with their newest single "On My Teeth" from 2018's 'Erase Me' and "Rapture" from the same album a little later in the set, they mainly played to their long-time fans, sticking to older fan-favorites.  These must-haves included  "In Regards To Myself", "It's Dangerous Business Walking Out Your Front Door", "A Moment Suspended In Time", "A Boy Brushed Red Living In Black And White", and "Writing on the Walls".
Day One had already turned out to be a wild, hectic, hot, miserable, wonderful first day of music for the weekend and with the two main acts still to come, it was shaping up to set the bar very high for the next two days.  The sun had finally given way to dusk, giving the already-sunburnt festival goers a break from baking – however, the ever-present smell of weed flowed through the crowd in all directions, so I guess not EVERYONE took a break from baking…
Once the lights dimmed, signaling A Perfect Circle's time onstage was about to begin, the nearly-packed stadium welcomed the band with an eruption of cheers.  As Underoath played more of their older songs, A Perfect Circle did the complete opposite.  A rather large portion of the band's set included tracks from their newest release 'Eat The Elephant' like "The Contrarian", "Disillusioned", "So Long, And Thanks For All The Fish", "The Doomed", "Hourglass", and "TalkTalk".  Although APC stayed mainly in the vein of newer material, that didn't stop them from pleasing fans with performances of several favorites like "Weak and Powerless", "Rose", "Thomas", and "3 Libras (All Main Courses Mix)".  As always, the band did not fail to amaze and the precision of each member onstage is just mesmerizing to witness.  To finish strong, the band ended their time at Rock on the Range with "The Outsider" that sent everyone into an uproar, singing along with Maynard as he belted out the song's lyrics with raw energy.  After the song faded out and the roar of the crowd filled MAPFRE Stadium, the lights came back up once more as fans poured into the concession lines to grab last-minute items before Alice In Chains closed the day's events.
It's still unbelievable that so much great music could be heard in one day at a music festival and even if Alice In Chains didn't play, it still would have been a great day of music, but to have them close the day was the (very cliché) "icing on the cake".  To witness live legends on a level at which Alice In Chains are is utterly amazing and is truly something to be appreciated for the art that it is.  The band exploded onstage and welcomed everyone with "Check My Brain" that rocked maybe a little too hard since during which, Jerry Cantrell's amp decided it couldn't handle it anymore and ended up blowing up.  So after a quick fix, the band continued into "Again", following it with "Them Bones", "Dam That River", and "Down In A Hole".  Honestly, there is no amount of words that could describe the feeling and energy of the performance that Alice In Chains put on for Columbus and those who were there will tell you the same thing.  The band offered several hits like "Nutshell", "No Excuses", "Man In The Box", "Would?", and "Rooster".  Being it the anniversary weekend of the passing of Soundgarden/Audioslave frontman Chris Cornell, Alice In Chains paid tribute to their fallen friend with two Soundgarden covers, "Hunted Down" and "Boot Camp" to close their set.
As expected, Day One was definitely one for the books.  The absolute perfect way to kick off a music festival!  Everyone flooded into the parking lot of the stadium where a line of cars exiting the property had already formed, snaking its way through each open lane, long enough to make it very difficult to find just where it ends.  This brings up another point that I feel the festival could improve on – having the traffic lanes a little more organized and patrolled to reduce confusion amongst drivers.  I mean, come on, most of them are driving with a car full of drunk people, they really don't need the added stress of "Can I go? Are they going? Am I blocking someone? Are they going to let me out?" etc.  But in all seriousness, although the traffic situation is quite hectic and confusing, it was admittedly a bit relieving to be in the car with air conditioning after braving the heat all day and we were all more than ready to do it again in just a few short hours.