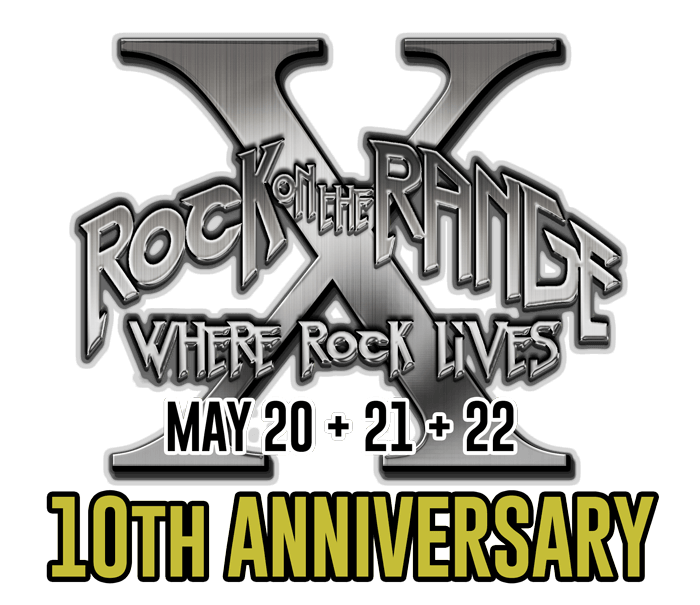 The 10th anniversary of Rock On The Range is slowly approaching. Founder of the festival, Danny Wimmer, has had major success with several festivals around the U.S. including Louder Than Life in Louisville, Kentucky, Carolina Rebellion in Charlotte, North Carolina and several others which round out the loudest month of the year during which most of these festivals occur. Rumor has it that Danny will be making an appearance on a radio station and possibly naming some of the headliners or bands that may be gracing the stage for the big anniversary. So just in case he does name some of them, we wanted to make our predictions prior to Monday. The show will take place May 20th, 21st, and 22nd in Columbus, Ohio as it has for several years.
There are always several rumors flying around and the big one recently has been that the original lineup of Guns 'N Roses will be reforming. Of course Axl played Rock on the Range a few years ago in support of the last release, Chinese Democracy and Slash has played with his current band as well. If they are indeed reforming you can likely expect them to be there as they will be a huge draw for several different generations of fans. Another band that hasn't hit the road in a while is Tool. Their new album still remains with no release date, but they have announced tour dates. The band recently played Slipknot's festival "Knot Fest" in California as well. The bands upcoming tour had tickets sold out in less than an hour so you can bet they will likely be at the 10th anniversary. Those are likely two of the biggest bands that could be possible headliners. One other speculation is that Black Sabbath may be the ultimate headliner in their farewell tour. The band has a break in their tour during the month of May. On April 30th they close out their run of dates through New Zealand and have nothing during May and then hit the road again June 1st in Budapest, Hungary. With this whole month cleared up they could possibly be making a run for Rock on the Range and other large American festivals that month. They could easily be slated to play Carolina Rebellion, Northern Invasion, Rockfest, Rocklahoma, and River City Rock Fest all which take place in May. Remember also that Ozzy was at first booked for Louder Than Life in 2015 but at the last minute was removed for unknown reasons. This may be an indicator that they wanted to wait for the Black Sabbath tour. I'm not sure if they could actually billed as a headliner but System of A Down did only a handful of dates last year, all of which were in Europe to commemorate the 100th anniversary of Armenian Genocide. They could be a possibility for the festival too because their fan base has been eagerly awaiting a tour. Rob Zombie is 100% playing the festival according to his website. He recently headlined the Louder Than Life festival as well.
Other bands that may be on the line-up that aren't necessarily headliners are bands like Deftones who have a new album coming out. While the festival hasn't had any super heavy metal bands. Lamb of God may be straddling the mainstream enough to make the bill. They just released a new album so they will likely be touring on it still as well. Anthrax's new album "For All Kings" drops on February 26th and they would be a great addition to the festival as well. Jane's Addiction played the Aftershock Festival in California last year and they could be working on playing more dates this year as well. Last year Disturbed reunited and surprisingly had been working on an album even though most thought they were still on a hiatus. The album released on August 21, 2015 and they could also be another band that would be likely to join the festival lineup. Currently Corrosion of Conformity is on tour reunited with singer Pepper Keenan who spent some time away from the band working on another project. I believe they are soon going to head into the studio and begin work on a new album which may or may not be out prior to May. Because of their popularity they could be a potential band to watch out for as well. Another band that is on the heavier side that would be touring around that time frame is Devil Driver. They have a new album titled "Trust No One" being released May 13th. The only thing working against the band is that they may be a little too heavy for the Rock on the Range crowd. One band I think is a lock for the festival is Flaw. The band has played another Danny Wimmer Presents (Promoter of Rock on the Range) festivals two years in a row. They were recently signed to Pavement Entertainment and should have a new album released by March which will be their follow up to 2004's "Endangered Species". I might add also that it has already been leaked that Lacey Sturm former vocalist of the rock band Flyleaf will be playing Rock on the Range as well as several other festivals during that month.
You can bet that this years Rock On The Range will be one of the best yet and will likely involve at least one surprise appearance as well. Last years surprise was Saint Asonia which features Adam Gontier formerly of Three Days Grace and Mike Mushok of Staind and Newsted. I think there will be various ways that they will make this show special, so if you are a Ranger and a veteran of the festival or a first timer you are bound to have the experience of a lifetime. Come join in the conversation on our Facebook here and let us know who you think is going to be there or who you have your fingers crossed for.
Stay tuned to Rock on the Range info on their site and on Facebook!
Other Likely Possibilities:
Linkin Park
Clutch
The Glorious Sons
All Them Witches
Sevendust
40 Below Summer
Helmet
The Sword
Miss May I
Coheed and Cambria
Ghost
Bring Me The Horizon
Suicidal Tendencies
The Temperance Movement
Red Sun Rising
Asking Alexandria
Ghost Town