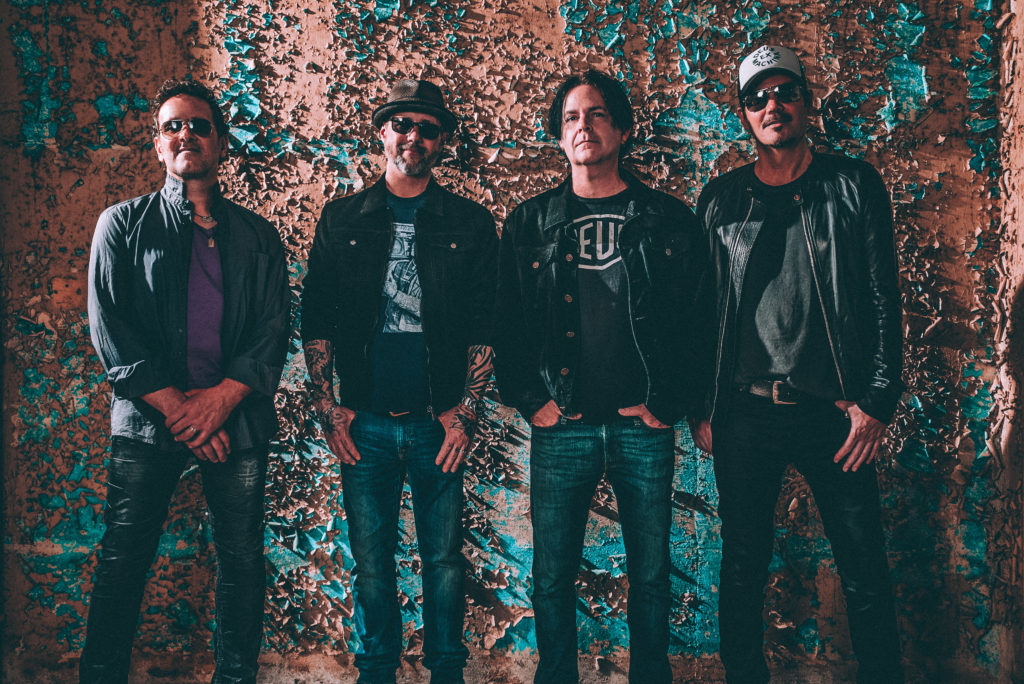 Riverdogs are back! Despite a heap of support from fans and critics, the band's  1990 debut album 'Riverdogs' received an underwhelmed reception from their record label, which eventually forced each member to pursue different interests.  However, the group reunited in 1993 to release follow-up albums 'Absolutely Live' and 'Bone'.  The guys continued working together and recording, however the songs wouldn't be heard until 2011 with the release of 'World Gone Mad', courtesy of MelodicRock Records, which contains various recording sessions from 2003 to 2010.  Since then, Riverdogs have teamed up with Frontier Records SRL to release the upcoming 2017 album, 'California', due out July 7th. In support of this release, they have unveiled the music video for "American Dream" which you can check out below:
Each member of the band had their own special experience filming the video:
Rob Lamothe:
"Jamie Brown and his crew of pirate artisans completely kicked ass on our frickin' American Dream video. Was a hot sweaty day in the Southern California sun… and I don't think anyone else could have inspired me to belt out the song at full volume for 7 hours. Jamie Brown for Vice-Chancellor of Desert Rock Heaviness!"
Vivian Campbell:
"I'm a big, big fan of Jamie Brown's work; he's a real talent and he manages to make great videos under sometimes very challenging circumstances. And speaking of challenging, I've never before gone mountain climbing with a Les Paul! Having said that, I think it was well worth the effort for the footage we got – I just wish I'd thought to bring some sunscreen!"
Marc Danzeisen:
"It was a hot, dirty, sweaty, long day of shooting this video. I'm still cleaning my drums and my ears a month later! Ultimately, Jamie captured some great footage, it looks amazingly cinematic for shooting with only one iPhone. KIDDING!!  I've known Jamie Brown for decades and always thought he was extremely talented as a producer, musician, director, and whip cracker, and always the loyal friend. Hope fans dig this, and forgive us for waiting 27 years between the Toy Soldier and American Dream videos. Haha! Big Shout out to our video queen Fernanda. Thank you!
Nick Brophy:
"I remember heading out to the California desert back in 1990 to shoot the Riverdogs album cover. It was so windy and cold that some of the crew weren't able to make it to the location. All these years later, I found myself again driving out to the desert to shoot the first video off our new album "California". This time however, it was much different than the first time…it was HOT! Our director Jaime and his crew did and amazing job wrangling all the footage and produced an incredible video that we're all super proud of. Thanks to everyone at Frontiers for making this happen."
Order the album here:
Amazon: http://radi.al/CaliforniaAmazon
iTunes: http://radi.al/CaliforniaiTunes
Google Play: http://radi.al/CaliforniaGooglePlay
Digital pre-orders come with an instant download of "Welcome To The New Disaster", "Something Inside", and "American Dream".
Track Listing:
American Dream
The Revolution Starts Tonight
Something Inside
Golden Glow
You're Too Rock And Roll
The Heart Is A Mindless Bird
Searching For A Signal
Welcome To The New Disaster
Ten Thousand Reasons
Catalina
I Don't Know Anything