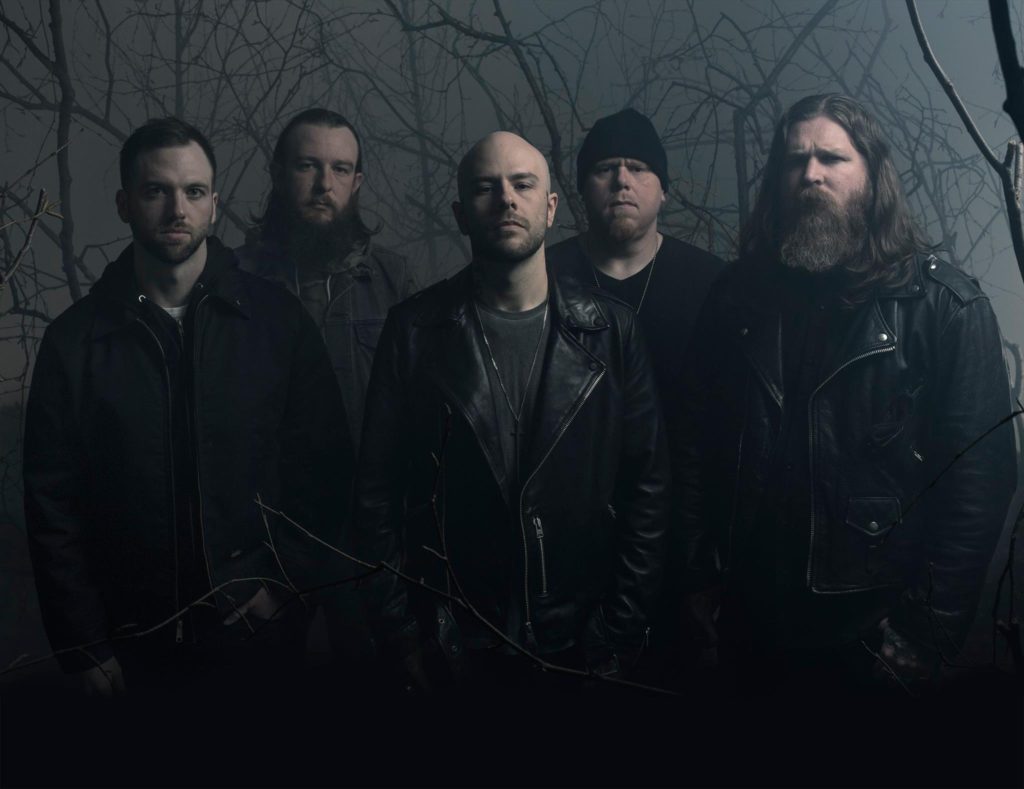 *Every Tuesday and Thursday from now until Chicago Open Air gets here we will be releasing an article about a band playing the festival to get you familiar with them.*
Today's artist is Demon Hunter.
It all began in the year 2000 in Seattle, Washington for the band Demon Hunter. Formed by brothers Don Clark and Ryan Clark. Although the brothers created the band, only one remains, since Don Clark has left the band back in 2009. Demon Hunter is a Christian band that combines nu metal, groove and some metalcore to create their unique sound. The bands self titled debut was released in 2002 via the Christian record label Solid State and it was recorded entirely in drop c tuning. The debut was produced by Aaron Sprinkle (MxPx, New Found Glory). Every album the band has recorded has been released through Solid State. The label isn't their only loyalty either, each release was also either produced or co-produced by Aaron Sprinkle. It shows that the band truly found a sound and process that works for them and they've stuck with it. 
The bands follow up to their debut record was 'Summer Of Darkness' which released in 2004. The album featured the track "My Heartstrings Come Undone" which some of you movie buffs may have heard when it was featured on Resident Evil: Apocalypse. The band continued to solider on releasing 'The Triptych' (2005) which hit the No. 1 position on the Billboard's Heatseekers chart during its first week in stores. Don Clark was often asked about the bands Christianity in the metal scene. Don Clark stated, "I guess we liked to ride the fence. Then we got a little older, maybe wiser, and you know what, we're a Christian band. We're five dudes, we're all believers, we really don't want to ride the fence anymore." Their Christian fans really embraced them for being so strong in their faith and their non-believer fans respected them for it as well. While some fans find serenity in their lyrics and passionate faith others find solace simply in the music they create without looking deep within the lyrical content. Bands that have been around for over a decade like Demon Hunter often influence other bands and sometimes help up and coming bands really get a leg up. As a headlining act, Demon Hunter helped introduce audiences to another Christian metal band August Burns Red. In 2007 they released 'Storm the Gates of Hell' which was co-produced by Shaun Lopez (Senses Fail, Rob Zombie, Saosin). This would be the first album not to feature Don Clark.  In 2010 the band released 'The World Is a Thorn', the lead single from the album "Collapsing" featured Björn "Speed" Strid of Soilwork. The deluxe edition of this album also included quite the treat. It not only included 3 acoustic tracks of the bands original songs as well as an acoustic never-heard-before cover of the Alice In Chains classic, "Down In A Hole." There is nothing more impressive than when a band as heavy as Demon Hunter can turn things down and go acoustic and absolutely dominate a song they way they have this cover. They have been known to play some acoustic songs live, so there is a chance that Chicago Open Air fans could get to see something unique from the band, and my hopes is that we hear "Down In A Whole". Demon Hunter has also been known to cover "Them Bones" by Alice In Chains as well. By this time the band had sold over half a million records. It's a achievement that not many bands in this new era of music conquer. Another track on the album "Feel As Though You Could" also featured a well known vocalist in  Dave Peters of the straight edge band Throwdown. This album was full of surprises, the band hasn't had any guest appearances on their albums since this release.
In 2012 the band released their sixth studio album 'True Defiance'. This album was also co-produced by the bands bassist Jeremiah Scott, who joined the band in 2011. Previous to Demon Hunter, Jeremiah was a member of the Nashville based heavy metal band Destroy Destroy Destroy. (I've seen this band many times and they are amazing).  In regards to the record vocalist Ryan Clark stated "This record is without a doubt our most aggressive. Every Demon Hunter record must be a step up from the last. I know that's a goal for every band, but it seldom works that way – especially today, especially in metal. It seems like most band's prime years are long behind them. I refuse to let that be the case for us." He couldn't be more correct about how a tremendous amount of bands mellow out as years pass. Their aggression and passion for music seems to slowly fizzle out. His internal drive is to prevent that from happening and each and every album they put out is a testament to that. 'True Defiance' is truly aggressive and brutal, and likely even more so than the records that came before it, which shows Demon Hunter unlike other bands gets heavier as they age. 'Extremist' released in 2014 and is one of the best commercially successful albums the band has released. The album sold nearly 18,000 copies its first week and debuted at no. 16 on the Billboard 200, and No. 2 on the Christian album charts. This album was also co-produced by Jeremiah Scott, with long time producer Aaron Sprinkle still on board as well.
Some of you may recall how Metallica requested that the US military stop using their music during interrogations in Iraq. In an interview A Navy SEAL who claimed to have killed Bin Laden was quoted as saying "'We stopped using Metallica's music, and then a band called Demon Hunter got in touch and said, 'We're all about promoting what you do.' They sent us CDs and patches. I wore my Demon Hunter patch on every mission. I wore it when I blasted bin Laden.'" Since then Demon Hunter has addressed the situation by saying they approved US servicemen wearing their patch, but they didn't volunteer their music, nor did they have any knowledge of it being used for interrogations. There may be some truth to the story but regardless what happened on Navy Seal is certainly a fan and the band fully supports our armed forces. The bands newest and eighth studio album 'Outlive' released in March of 2017. The work was funded through a PledgeMusic Campaign, proving yet again that the band has dedicated fans that are willing to support a record before it's even made. The album showcases some of Demon Hunters more melodic side in songs like "Slight The Odds". With the band first releasing some of the more melodic tracks from the album fans worried that the band may have lost their edge. That is not the case at all which can easily be heard on the ferociously heavy tracks "Jesus Wept" and "One Less". The good thing about seeing Demon Hunter live is the immense amount of material they have to play live. They can take you from extremely brutal, harsh and heavy to a more jazzy, prog like melodic track or even an acoustic song like we mentioned before. No matter what your religious preference is Demon Hunter's music will speak to you either lyrically or musically. They are a band you don't want to miss.
Demon Hunter performs Saturday 1:30 – 2:00 on the Main Stage. 
You can purchase Chicago Open Air tickets here!
Demon Hunter is:
Ryan Clark – Vocals
Patrick Judge – Lead Guitar
Jeremiah Scott – Rhythm Guitar
Jonathan Dunn – Bass Guitar
Timothy "Yogi" Watts – Drums, Percussion