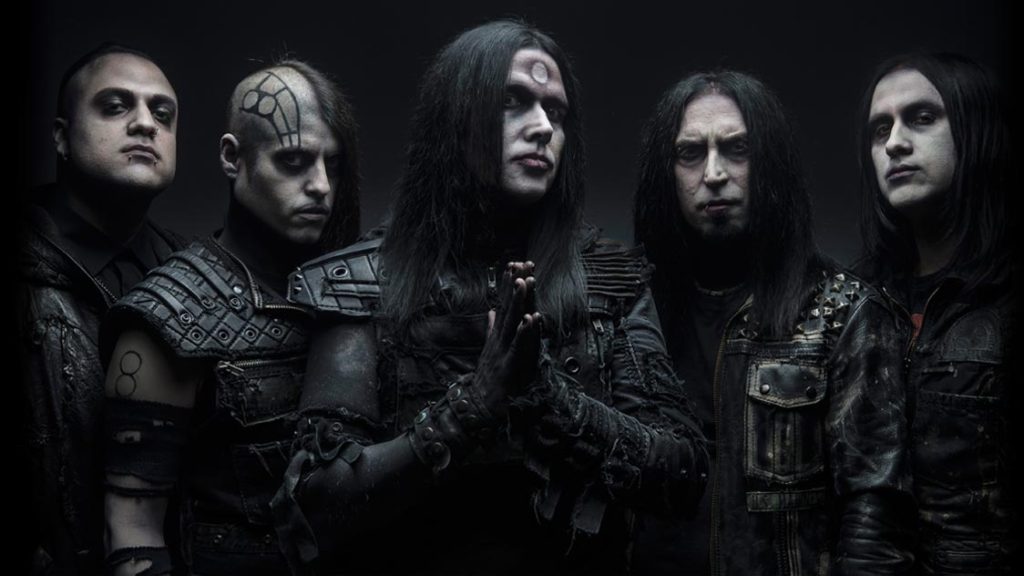 Wednesday 13 first stepped onto the scene in 1992 and created a whirlwind of grotesque, shocking horror punk that still has a firm hold on the throats of those who dare to listen.  He first began his career with a collaboration with guitarist Abby Normal, drummer Jeff Washam, bassist Michael Patrick, and lead vocalist Todd Cage, known as Psycho Opera.  Wednesday 13 departed the band, along with guitarist Abby Normal, and bassist Michael Patrick and picked up drummer Sicko Zero to form the band Maniac Spider Trash.  The band released one EP, 'Dumpster Mummies' and one album, 'Murder Happy Fairytales'.  However, their run came to an end in 1996 when Wednesday 13, Abby Normal, and Sicko Zero went on to form the band Frankenstein Drag Queens from Planet 13 until 2002 when he was contacted by (then) Slipknot drummer, Joey Jordison, to form Murderdolls.
From here, Murderdolls released one EP, 'Right To Remain Violent'  in 2002, and later that same year released 'Beyond the Valley of the Murderdolls' which contained many re-recordings of songs released by Frankenstein Drag Queens from Planet 13.  Murderdolls went on an indefinite hiatus in 2004 (but reunited in 2010 to release 'Women and Children Last' on Roadrunner Records), leaving Wednesday 13 with a desire to construct a more permanent band.  He released his debut album 'Transylvania 90210′ on Roadrunner Records in 2005 and shortly after, signed with Rykodisc to release his sophomore album 'Fang Bang'.  Both of these albums helped shaped the persona that the public quickly latched onto, catapulting his career to newer heights.
"All my favorite stuff, like KISS and Alice Cooper and Twisted Sister, those guys set the bar pretty high," he states. "I always wanted to do something in the worlds of those bands. That's the blueprint. It had to be as outrageous and crazy as that and I wanted to be on someone's wall one day and have their parents say 'Oh my god, what is that?' The formula's still there from when I started doing it as a kid and started wanting to be in a band. It's just GI Joe and Dracula!"
The vocalist went on to release 4 more solo albums – 'Skeletons' (2008), 'Calling All Corpses' (2011), 'The Dixie Dead' (2013), and 'Monsters of the Universe: Come Out and Plague' (2015) – before teaming up with Nuclear Blast to release his newest, upcoming album 'Condolences' set for release on June 2, 2017.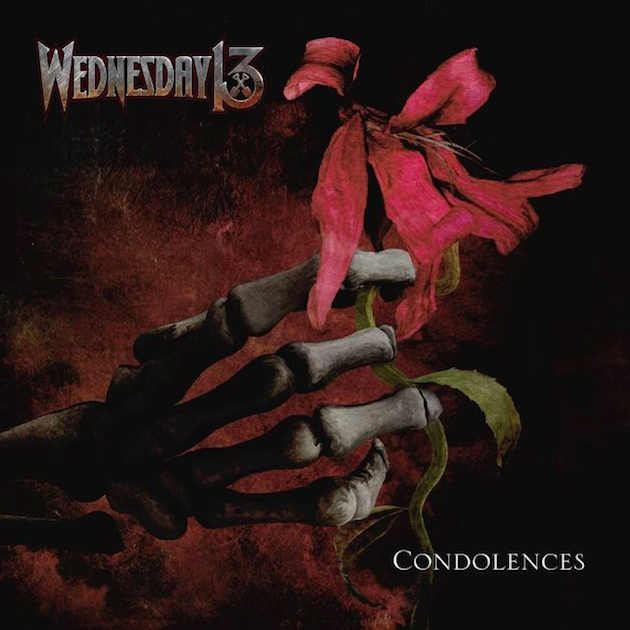 After giving 'Condolences' a thorough listen three, maybe four times, I can honestly say it's well worth picking up if you get the chance. Wednesday 13 has taken a step in a new direction and it works really well making it a quality album that I would definitely recommend.   The album strays from the horror-punk sound and moves toward a modern metal approach.
"The punk rock vibe has left the building and it's become a full-on metal vibe," he assessed. "I've been the horror-punk guy for years, but this is horror metal. It's just evolution. Over the last ten years I've become a metalhead for the most part. That second Murderdolls record just amped the whole thing up, and the guys in the band have influenced me with so much other stuff. It's not just me with my Sex Pistols, Alice Cooper and Ramones records anymore! (laughs) Now I've got my band incorporating everything from death metal to rock'n'roll. It's all across the boards. There are no rules. We can do whatever we want, whatever fits."
 'Condolences' storms out of the gate delivering an instrumental build titled "Last Rites" that flows into the powerful "What the Night Brings" reminding the listener it's not the dark – it's what's IN the dark.  The music on this album is mostly driven by technical drum fills and screaming guitar solos led by the demonic inflection of a voice one could only find in the darkest depths of Hell and drags the listener to the dark side, willing or not.  Another standout on the album is the ghastly "Cadaverous" which is a sick, twisted telling of the lustful fantasizing of a corpse.  Lyrics include "Stiff and rotten, dressed in blue/I've got a confession to make/I wanna get inside of you" and  "No grave's too deep for me/I'm going 6-6-6 feet deep."  However, the content doesn't hinder the song's potential to be a strong contender for one of the best songs on the album.
Keeping with tradition, Wednesday 13 has added the tracks "You Breathe, I Kill" and "Cruel To You", because what Wednesday 13 album would be complete without an 'I want to kill you' song?  These two, similar in content, add to the album's strength delivering heavy, lyric-driven anthems that will have you singing along in no time.  The title track 'Condolences' is a little more melodic and slower than other tracks on the album with a spacey feel that still contains the dark tones us Wednesday 13 fans love.
Wednesday 13 has big future plans in support of the new release:
"It's non-stop touring once the record comes out," he states. "We just did our first video for "What The Night Brings" and the visuals are really cool. I've incorporated a lot of stuff I've been doing live, like this devil character I've been transforming into at shows, and that got worked in. We're taking the music, the imagery and the entire stage show up a level. It's gonna be a full-on theatrical stage production, so I'll be busy as fuck on stage!"
Ladies and gentlemen, the Boogeyman is real…and his name is Wednesday 13.
Catch Wednesday 13 on tour this Summer and pick up the new album 'Condolences' set to hit stores June 2, 2017! You'll surely be glad you did!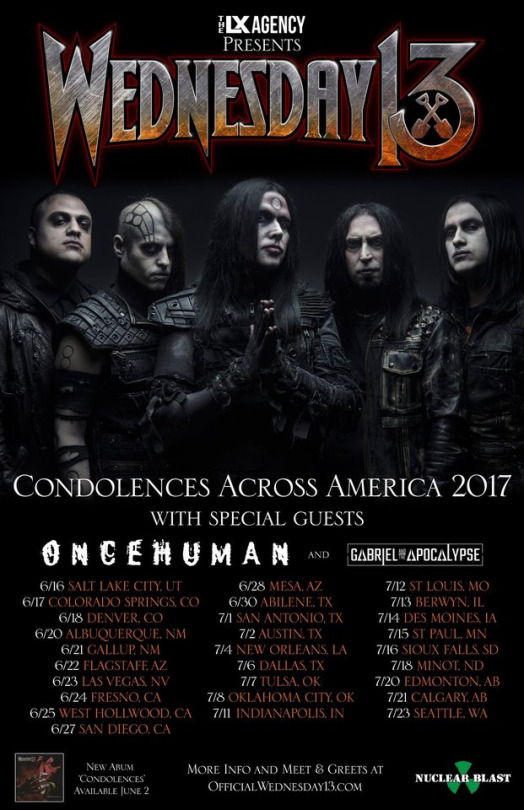 Tracklist:
Last Rites 0:54
What The Night Brings 3:37
Cadaverous 3:30
Blood Sick 3:19
Good Riddance 4:17
You Breathe, I Kill 3:02
Omen Amen 3:16
Cruel To You 4:02
Eulogy XIII 1:38
Prey For Me 4:03
Lonesome Road To Hell 3:36
Condolences 6:54
Death Infinity 4:22