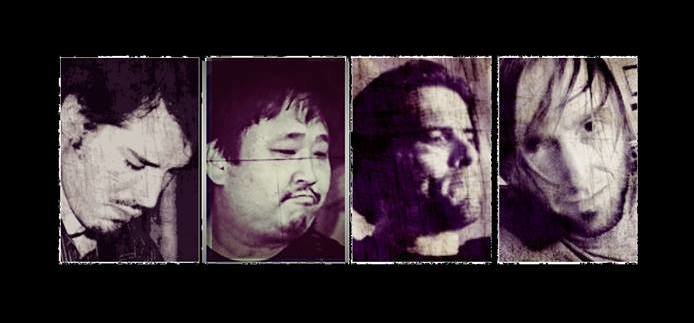 Static Tension is a band I have been watching grow for quite some time. It was about a year or so ago that I became aware of the Cincinnati, Ohio based band. As a fan of music I tend to always prefer original music, but these guys really captured my attention with their cover of Dax Rigg's (Acid Bath) song "Night Is The Notion". (Let me note that there is not a bigger Acid Bath, or Dax Riggs fan than me.) Static Tension draws influence from classic rock, 90's grunge, and progressive metal, but they have really become masters to their own unique musical blend. They refer to their sound as progressive grunge. Melodic vocal harmonies is a big part of their sound, but they also have creative and powerful riffs to go along with it. The band has only been reformed since 2014, lead guitarist Greg Blachman first used the name Static Tension in 1999. During that time the band recorded the album, 'Paint By Number' before parting ways in 2001. After a 13 year absence the name was resurrected in 2014 with a new line-up, including lead vocalist Rob Rom, and bassist Ritchie Paik. In early 2015 the band completed a four track EP entitled 'Rebirth', which contains two vocally reworked tracks off of Greg's solo album 'Beyond Horizons' released in 2013, as well as two new, more collaborative tracks "Bottom Rung" & "Rebirth". Static Tension has now finished their most recent EP 'Out Of Reach', which is set to release January 6th, 2017 via Buried By Sky Records. The album was written, recorded and produced by the band. Static Tension will be celebrating the release with a show on January 14th at The Southgate House Revival in Newport, Kentucky. The band will be joined by three amazing bands The Past, Hemp Noose, and Motel Faces.
Static Tension 'Out Of Reach Tracklist
PSM
Obstacle Of Doubt
Faith To Fault
Down From Three
Back Inside
Out Of Reach
Follow Static Tension on Facebook here.
Static Tension gets things started with a simple and gritty riff, the way any good song should start. The track "PSM" has a somber beginning that will transport you back to the grunge era. While the song does have a grunge vibe it also has hints of alternative rock especially within Rob Rom's vocal style. During the chorus of the song they really get into this unstoppable headbanging groove. Halfway through the track we also hear the veteran talent of guitarist Greg Blachman and his fast paced shredding, but during this that groove stays stationary by the bassist Ritchie Paik. Static Tension is a band that could have been very competitive amoung the grunge bands during the 90's, but the additional elements of their music also make them stand out in the modern scene. "Faith To Fault" begins with this very raw garage rock sound. It's a song that you can easily find yourself instantly singing along to. The guitar parts through the song remain un-distorted and it adds an old school element to the bands sound. The tone of the vocals are melodic but still have that roughness that makes them even more appealing. The final track of the EP which is the title track "Out Of Reach" really brings a haunting sound to the album. The toms hit lightly by drummer Anthony Sager shows great temperament. The riffs on this track resemble some of the best blues guitar work you may have heard. The song has this overwhelming calm feeling to it. Rom's vocals showcase immense emotion as both the bass lines and guitar add to the overall soulfulness of the song. Things pick up later in the song as Blachman gives us a guitar solo that is perfectly placed within the song. This EP is a must hear for anyone that is fan of the grunge era or alternative rock. Static Tension melds various genres into their sound so it's almost impossible to pigeon hole them to a specific genre, their style is exclusive and won't be heard anywhere else.