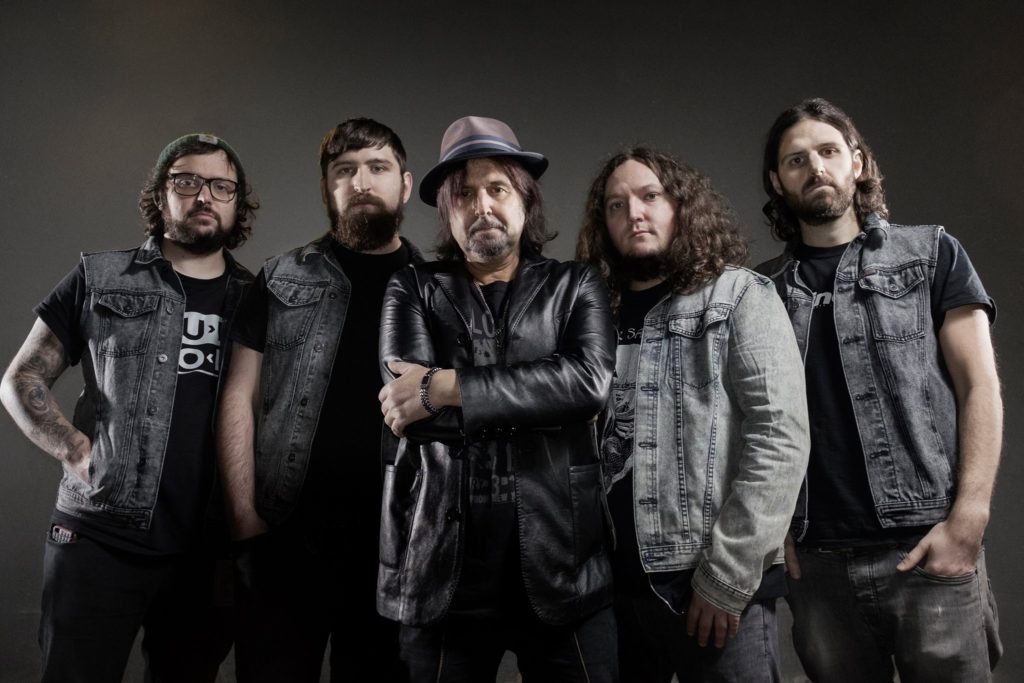 The long-anticipated, Phil Campbell and the Bastard Sons debut album, 'The Age of Absurdity' is catchy, golden-era hard rock with a modern-day shine.  Nuclear Blast is set to release this collection of eleven songs and one bonus track ("Silver Machine," a Hawkwind cover) on January 26, 2018.  The album was recorded during the summer of 2017 and Phil Campbell had this to say about the process, "I am really excited for the fans to hear our debut record.  Every part of the process was done in Wales, from the writing to the recording, and even the artwork!"  'The Age of Absurdity' was recorded at Rockfield Studios and Longwave Studios in Wales and produced by Romesh Dodanga (Motörhead, Bullet for my Valentine).
Never has a band been more fittingly named than Phil Campbell and the Bastard Sons, which features ex-Motörhead guitarist, Phil Campbell, and his three sons – Todd on guitar, Dane on drums, and Tyla on bass.  Neil Starr (Attack! Attack!) rounds out the five-piece as lead vocalist for the group.
Following the passing of legendary Motörhead frontman, Lemmy Kilmister, Phil Campbell needed to find a new outlet for his brilliant riffs.  After having played with Lemmy for over thirty years, naturally the Motörhead influence is evident throughout this current project.  Campbell himself even states in a recent interview, "There's a part of Lemmy in the music."
Neil Starr, on the other hand who assures fans he is not trying to sound like Lemmy in any way, is a more than capable vocalist in his own right.  Being closer to Campbell's sons' age, he brings a youthful quality to the generation-gapping band's sound.  Tonally, Starr's voice can be described as something of a less-abrasive Corey Taylor of Stone Sour.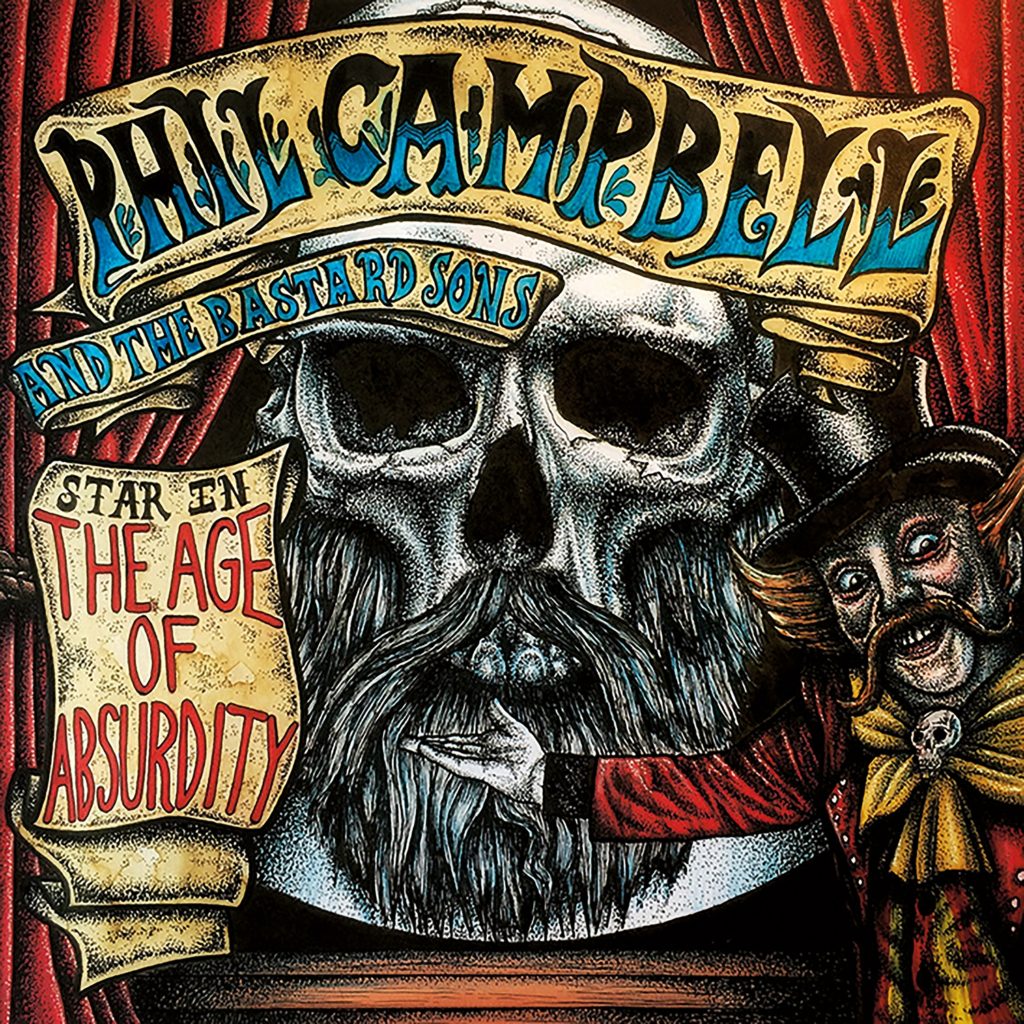 From a production and stylistic standpoint, 'The Age of Absurdity' is sparklingly clean-produced hard rock of varying flavors.  There are influences from eighties arena rock, bluesy classic rock, and modern-day hard rock and post-grunge.  Any ounce of grit or raunchiness often found in such styles, however, has been meticulously filtered out in the studio in favor of a bright, pristine clarity.  Where classic Motörhead would make the perfect backdrop for a sleazy dive bar smelling of stale beer and cigarette smoke, by comparison, this record would feel much more at home being played inside a trendy bar & grill at a strip mall.  The first single and opening track, "Ringleader" is an up-tempo rocker to get things going which you can check out below.
In general, the tone of this record is mid-tempo, fun-loving rock n' roll.  Most of the songs have a very catchy, party vibe to them both sonically and lyrically.  "Freak Show" is essentially a drinking song that could almost make for a good Guns N' Roses-type tune but lacks the teeth, particularly vocally, yet offers some sweet Cry Baby guitar leads instead.  "Skin and Bones" brings in some post-grunge groove, while the Scorpions-esque "Gypsy Kiss" showcases some exciting dual-guitar harmonies and double-bass.  "Welcome to Hell" sounds reminiscent of 'Load'-era Metallica, followed by "Dark Days," a slow and bluesy rock n' roller.  The funky bassline-heavy, "High Rule" has an Audioslave vibe and "Into the Dark" is a slow-paced, smoothed-out, bluesy rock track with arguably the best guitar solo of the album.
Overall, this is a very "safe" record for Campbell.  There are several moments while listening when I would have liked to hear the band really go for it and get wild and raucous as I believe the music begged for at times, but seldom is the case here.  There is certainly no new ground being broken on this album.  The band is firmly rooted in traditional and current hard rock styles and wears its influences on its sleeve.  The album does have its highs and lows, but largely manages to maintain a consistent groove to make for an enjoyable listen for fans of similar music such as Stone Sour, Fozzy, Velvet Revolver, Monster Magnet, and (of course) Motörhead.