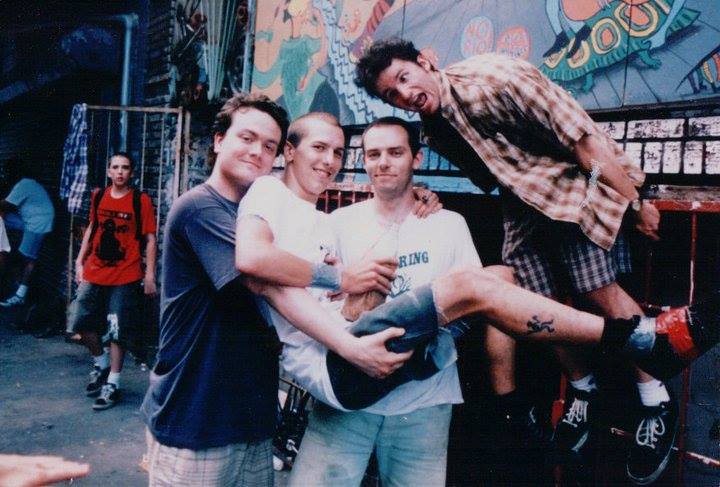 1989 was the birth year for the band Pezz. Forming in the hometown of Elvis Presley this Memphis quartet brought punk rock to a town with the blues. Pezz is Memphis' longest-running socially conscious punk band. The band is currently comprised of founding members Marvin Stockwell and Ceylon Mooney. Having performed as a trio previously and several lineup changes the remainder of the band is currently Shawn Apple, and Christian Walker. Ben Nichols the vocalist of American country-punk rock band Lucero also was once a member of Pezz as a bassist from 1997 until 1998 when he left the band to form Lucero. The bands first demo was recorded in 1991, just as the band were cutting their teeth in the all ages hardcore and punk scene based at the legendary Antenna Club. The band followed up and released two 7″ EPs in 1992 and 1993. It wasn't until 1995 that the band would release their debut album 'Livin' The Life Of Riley' on the Memphis based Truant Records label. Two years later the band signed with Los Angeles punk rock label BYO Records that was owned and ran by two of the brothers in the California punk rock band Youth Brigade. It was after signing to the label that the band would attain more national attention and thus the band began a non-stop 4 year tour taking them through the U.S., Canada, UK and Europe. Since 1997 the band has 8 releases the last of which was the EP 'The Wicked Leading the Blind' in 2010. Fast forward 8 years and the band has now recorded and released a new full length album titled 'More Than You Can Give Us', their first full length since 2001. The album contains 10 lyrically inquisitive tracks and released on August 25, 2018. The album was recorded by the band in January of 2012 at their practice space and later mixed by engineer Alan Burcham. 'More Than You Can Give Us' was then mastered by sough-after-loud-rock mastering engineer Brad Boatright (Sleep, American Standards) at Audioseige in Portland, Oregon. Pezz is no longer the touring juggernaut they once were and they stay relatively close to home and work to apply the ideals and concepts they sing about and improve their local community. 
"As a band, we've always tried not only to speak from the heart, but also to take action," exclaims guitarist and vocalist Marvin Stockwell. Adding; "Whether it's Ceylon traveling to Afghanistan, Iraq, or Palestine as a peace activist, or me advocating for a transformative and equitable fairgrounds redevelopment, we try to use our voices and work for change in our city and our world."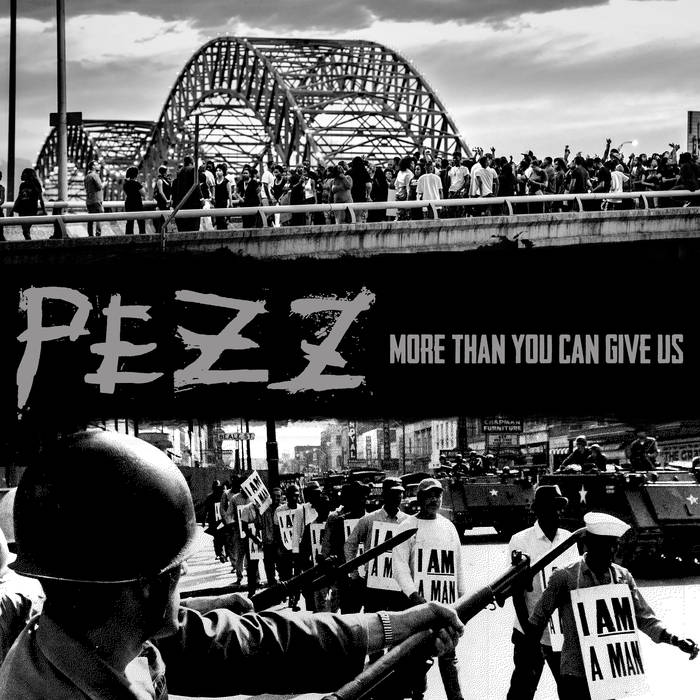 "Live Another Day" starts the album with a galloping pace. The guitars have that classic punk rock vibe and at times it is reminiscent of old school AFI. The chorus section of the song is tremendously catchy and also highlights the vocal harmonies the band is capable of. The song is perfectly composed in regard to spacing the vocals and giving them time to settle in while also allowing the instrumentation to shine. Often we see bands try to pack vocals into a song and it becomes monotonous, Pezz allow all of their talents to share the spotlight. "Don't Walk Away" immediately comes at you with heavy intentions. It's one of those songs that makes you want to drive fast. On this song the vocals stay at one tone and don't have as much range as there is on other songs but its intentional and fits perfectly into this tracks vibe. Along with the rapid shredding the drumming on this track is OG punk rock at its best. Pezz keeps their tracks short and sweet and with the speed the implement on their instrumentation each song is over before you know it. Because they are so short it makes you want to savor those stand out moments in each song. "Independence Day" has an anthem type of feel. The vocals on this track have a ton of range and his singing turns to screaming at some moments and it allows you to feel the passion in the lyrics he is belting out. Not absent from this album is a love song and we get that with "I Miss You So Bad". The first 2:22 of the song is instrumental and then the meaningful vocals kick in. At first its just a lone riff and the vocals before the rest of the band jump in. The title of the song "I Miss You So Bad" is repeated various times throughout each stanza of the lyrics but context he surrounds it with makes it pull at your heart strings each time and not feel repetitive. Punk rockers can fall in love too you know!
Pezz do a tremendous job of putting together an album that has a wide array of things to appreciate. Their sound never becomes repetitious or stagnant. They stay true to their selves but they provide enough variation in their tracks that with each song a new element, style or vibe is welcomed into the fold. Pezz has let no dust settle and no rust form on their sound, 'More Than You Can Give Us' marks their triumphant return.