Virus of Ideals is:
Sean: Vocals/Keys
Jess: Vocals
Dylan: Guitars and Bass
Francisco: Drums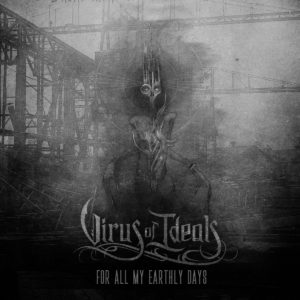 Virus of ideals is a Melodic Death/Symphonic Metal band that hails from Newington, Connecticut that is often compared to Dark Tranquility, Lacuna Coil, Scar Symmetry and Nightwish which should come as no surprise since their admitted influences include the aforementioned bands with the addition of Epica and The Gathering. After releasing their debut single entitled "Bitter Parody" in February of last year, Virus of Ideals pushed themselves to release their four song EP For All My Earthly Days in the Fall of 2016 as a small portion of a larger story to be told when the band drops their first, full-length album at an indeterminate date in the near future. No worries though because there is plenty of meat on this EP that will tide any fan over until the day comes.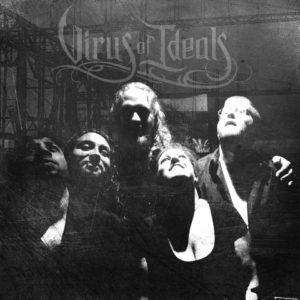 While there are certainly influences from the bands above, the harsh male vocals alongside the clean female vocals sets them apart from their contemporaries. Virus of Ideals tendency to use acoustic piano tones in addition to the sparkling keyboards most often found in Power Metal is also a refreshing and unexpected feature to their already unique brand of music as is reflected in the opening song on the EP, "For All My Earthly Days". Lovely piano introduces the release with a rather uplifting mood before being decimated by heavy guitars and the wonderful vocal pureness of Jess. Her tone is very clean but leans more towards clean Folk instead of operatic, which is much more common. I have not run into pipes quite like this before and gives Virus of Ideals an immediate identity. As the guitar work of Dylan gets lower and more ominous, Sean takes his turn at the mike, barking out the harsher lyrics with a fitting growl where lyrics remain clear and intelligible. Love being able to understand the lyrics, especially when they are as intelligent and thought through as these are. The powerful rhythms of bass and Fransico's drumming provide a driving force that pushes the musical and lyrical direction deeper and deeper into the void. What is really incredible is that everything is held in check by the gorgeous piano and female vocal timbre and temper the vibe to stand just shy of full on Death. "Save Your Tears" follows in much the same vein, albeit much heavier from the first note. Again, piano sits just outside the circle, giving the sound a more organic tone instead of outright brutality. Once the bottom drops out, a rolling bass line sets the stage for Jess's spectacular vocals that are traded for bridges of Sean's harsh vocals and speed. Even drums are used in harmony with guitar and vocals. Piano remains an ever present voice in the background until it is traded for a more ethereal keyboard tone, light cymbal play, clean guitars and clean singing. Jess stretches her range as her vocals stand in sharp juxtaposition with music now bordering Black Metal in speed and beat blasted drumming. The song fades into a cleanly played guitar introduction of "Into the Flames". Accompanied piano remains in place as guitar follows and harmonized the piano melody. No clean singing for the verse but Jess takes the lead for the chorus played much the same as the intro. Simple lines of piano are used to bridge harsh and clean vocal harmonies. Cool and extremely effective for lyrical intent. Outright song writing genius makes this track my favorite on the CD. A subtle, long fade serves as an intro to Virus of Ideals first single "Bitter Parody". Again, tempered by Jess, very heavy, yet catchy guitar tones borrowed from the bass and guitar talents of Keith Pearson and background acoustic piano harmony make this song easily the most radio friendly song on the album. Even Sean's visceral growl and powerful drumming of guest player Nick Bilodeau cannot bring it down. This thing just soars and serves an appropriate pause as we wait for the remainder of the story to be told when the full length CD is released. Recording and mastery done by Nick Bellmore at Dexter's Lab serve Virus of Ideals very well as the entire release has a production sound equal to their stellar sound. This being just a taste of what is in store, I cannot wait to hear what this killer band has for us in the future.
All music and lyrics written by Sean
Artwork by Manfish, Inc.
Logo designed by Horst Type Foundry

Tracklist of For All My Earthly Days
"…For All My Earthly Days"
"Save Your Tears"
"Into the Flames"
"Bitter Parody"
More information on Virus of Ideals can be found on Facebook Twitter Bandcamp