Screamking is:
Joe "ScreamKing" Lawson – Lead Vocals
Rafael Hernandez – Guitar, Vocals
Clint Pagel – Bass, Vocals
Jason Michalik – Guitar, Vocals
Scott Rothchild – Drums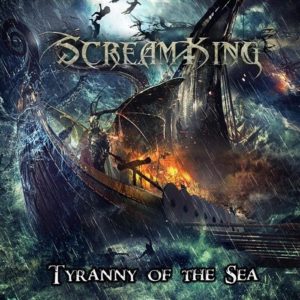 Artwork by Drake Mefestta
Screamking, from Michigan City, IN has been around for almost seven years now, having their first performance opening for legendary Metal gods, Anvil at Club Landing in South Bend, IN. Over the course of the next year the band spent diligently writing new material for what would become Evilibrium released in 2013, recorded at Divine Studios and spawning their first video for their "Deathwitch" single. Since its release, Screamking has continued to play with numerous notable acts like Anvil, DSG (David Shankle Group), Metal Church, Helstar and many, many others. Again, entering the Divine Studios in 2016, Screamking recorded Tyranny of the Sea, released at the beginning of March on their own Platinum Dungeon Entertainment label. Produced and mixed by guitarist Rafael Hernandez and vocalist Joe Lawson and mastered by Jon Scrip of Massive Mastering, the album hits extremely hard and sounds just as good as any A List band out there. No DIY sound from this killer band anywhere. Everything is balanced and expertly executed. In the end, this release simply cannot be picked apart. Great work from this, now veteran band!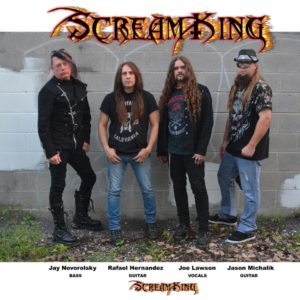 Screamking has a traditional Metal sound influenced by Overkill, Testament, Judas Priest, King Diamond, Iron Maiden, Dio, Accept, Metal Church, Slayer, Black Sabbath, Megadeth, and Metallica that hearkens back to some of the best Metal from the 80s, but adds a clean mix of NWOBHM, Power Metal and Thrash with a Modern heaviness that keeps the band from sounding like a throw back wanna be. Timely and poignant subject matter also adds to the freshness current feel. Compressed, borderline beat blasted drums lay the groundwork for Screamking's signature sound. While Metal from the 80s usually had bass lines following either the guitar or the drums, this band often chooses to use the instrument as a mode of melody where crushing riffs fly freely from lead harmonies to some of the best and unique soloing found anywhere today. While generally heavier than most Power Metal bands around today, a melodic tone and vibe is expressed through the use of Judas Priest-esque dueling guitars that follow one another or spit with the bass and the leads. Very interesting and gives Screamking a completely identifiable sound. If this is not enticing enough, Joe "Screamking" Lawson has vocals from Hell that act as a pendulum from low, throaty and growling cleans to high pitched falsetto throughout the release. While unusual vocals can be a polarizing subject (read: King Diamond), Lawson tends to keep the extremes in check to allow for a much more accessible range that perfectly fits the overall vibe of the band.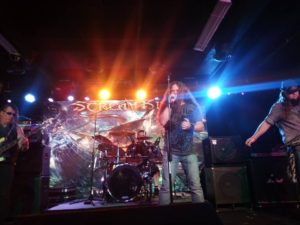 Right out of the gate "Cannibals of Sacrifice" storms forward, immediately introducing us to uber-heavy riffing and the lower end of Joe's vocal range. By chorus, the song has exploded into a brutally speedy free for all, telling the tale of a long-lost, uncivilized society. Musical and lyrical intent obviously follow hand in hand in the release opener. "I Am a Viking" hits next and serves as one of the most catchy and memorable tracks on Tyranny of the Sea. I can't help but smile listening to this song as it takes me back to a time when Metal could be fun and remain bone crushingly solid and tight. "Viking" is the anomaly on the album, remaining Traditional throughout. "Warhorse" follows with an Indian chant that is ripped apart by a frontal assault of Thrashy harshness. With almost a dragging tempo, vocals act as the song's compass and pulse, be they from leads or from backing vox provided by the rest of the band. Intensity is brought to climax by a sharp guitar solo that remains full speed to an abrupt, chanting completion. "Instrument of Death (KILL)" is anything but an instrumental. Again, a variety of vocal harmonies are layered over thick guitar work, stellar drumming and a somewhat subdued solo. Most songs provided a tempered push-pull during their course, but this one stays angry from start to finish. A breath can be taken to the choral chanting of "Halo of Fear" just under a bass driven melody and spoken chaos before we are once again thrown to the wolves. Lyrical and musical torment seethe from this track. More frustrated than angry, "Halo" culminates into a cool, Bluesy Hard Rock solo that immediately devolves into questions of purpose and existence that remain unanswered before continuing along the same line with "Faith Weapon". Borrowing chants from the Middle Eastern world, Jihadist fundamentalism is ripped apart through brutally aggressive and musical fury. Leaving little gray area for interpretation, "Embrace the Hate" continues in a similar vein, but on a much more personal level. Betrayal, lies and disappointment bleed between extreme fluctuations of sound and lyrical direction. Smoking solos, interesting breakdowns and blasted bridges show the songwriting prowess Screamking are capable of with this tune. "Shadow of the Horn" drops like Thor's Hammer and goes from fast to faster. Shredworthy guitar work is juxtaposed with dissonant and polymorphic rhythms to create another atmosphere of in-your-face, tongue-in-cheek sarcasm and frustration. Wickedly inventive and yet another track that shows the diversity band members are capable to adapting to. My favorite song "Feeding the Predator" has a very heavy Power Metal sound that reflects what I would consider the best of all worlds. Having an anthematic theme that follows the traditional sound and structure from bands that fed my love of Metal back in the day make this a real stand out in my book. The title track of Tyranny of the Sea sits in stark contrast and is a modern Thrash classic right out of the chute. This is where the intensity of Slayer slam into the melodic ferociousness of, say Pantera. For fans of the more extreme end of the Metal spectrum, you are going to love this song. The guitar nerds are also going to sit in awe of the best solo on the album too. This is just vicious. "Bloodstains" slows things down a bit but remains no less brutal. Eventually, dueling guitars morph the song into a crushing mix of Iron Maiden and Tool that stutter out with acute malice. With a the fitting title of "End of the World", our journey into Metal mayhem comes to a close. An intro of the sounds from a bird sanctuary and choral background abruptly crumbles under the pressure of killer drums and catchy, almost sludgy guitars. Beat blasting and sharp duel harmonized guitar work takes us through the chorus before slowing back down to a bridge to another impressive solo. Up comes the tempo and ferocity once again before we are taken out with a long outro of acoustic guitar and emotive vocals. Just sick!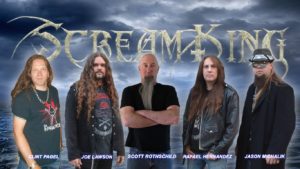 Screamking has proven that they have what it takes to evolve from a really good Metal band into a songwriting and tight-played powerhouse worthy of any Metal fan's attention. So unique and usually good throughout Tyranny of the Sea. You definitely need to head over to their links below and check out this killer album. You're welcome…

Tracklist for Tyranny of the Sea:
"Cannibals of Sacrifice"
"I Am a Viking"
"Warhorse"
"Instrument of Death (KILL)"
"Halo of Fear"
"Faith Weapon"
"Embrace the Hate"
"Shadow of the Horn"
"Feeding on the Predator"
"Tyranny of the Sea"
"Bloodstains"
"End of the World"
Check out Screamking on Web Facebook ReverbNation