Screamking is:
Joe "ScreamKing" Lawson – Lead Vocals
Rafael Hernandez – Guitar, Vocals
Clint Pagel – Bass, Vocals
Jason Michalik – Guitar, Vocals
Scott Rothchild – Drums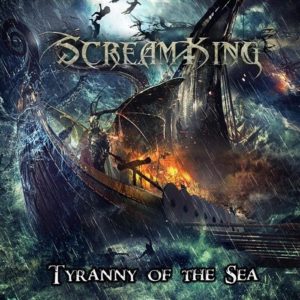 Artwork by Drake Mefestta
Screamking, from Michigan City, IN has been around for almost seven years now, having their first performance opening for legendary Metal gods, Anvil at Club Landing in South Bend, IN. Over the course of the next year the band spent diligently writing new material for what would become Evilibrium released in 2013, recorded at Divine Studios and spawning their first video for their "Deathwitch" single. Since its release, Screamking has continued to play with numerous notable acts like Anvil, DSG (David Shankle Group), Metal Church, Helstar and many, many others. Again, entering the Divine Studios in 2016, Screamking recorded Tyranny of the Sea, released at the beginning of March on their own Platinum Dungeon Entertainment label. Produced and mixed by guitarist Rafael Hernandez and vocalist Joe Lawson and mastered by Jon Scrip of Massive Mastering, the album hits extremely hard and sounds just as good as any A List band out there. No DIY sound from this killer band anywhere. Everything is balanced and expertly executed. In the end, this release simply cannot be picked apart. Great work from this, now veteran band!