Night Demon is:
Jarvis Leatherby: vocals and bass guitar
Armand John Anthony: guitar
Dusty Squires: drums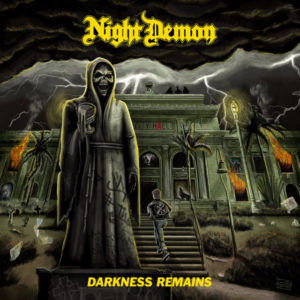 Night Demon has been a universal favorite among our staff members for quite some time now. When I was fortunate to see them for the first time with Anvil and Graveshadow last month (Review), I was simply blown away. I loved their music before, but after seeing them, Night Demon has damned near become an obsession that eventually landed us a copy of Darkness Remains, to be released April 21st, 2017 on the Century Media record label. Needless to say, this CD has been worn… the… hell… out!

Whoa now. Hold on Sparky. Let's get those that are not yet initiated to the greatness of Night Demon on the same page of music those of us that have been listening to them for years are singing from. This trio of hard charging Metal gods formed Night Demon six years ago in Ventura, California. Taking siege on the underground Metal scene, they cut loose their self-titled, four song EP a year after inception, which was re-released as an expanded version in 2014. Their modern American Metal take on the New Wave of British Heavy Metal immediately resonated with those of us that grew up way back when while crushing the trendy, "flavor of the month", cookie cutter music of today and offering a new generation of traditional Metal fans something new to sink their hungry fangs into; giving them a deep appreciation of some of the best music ever created back in the seventies and eighties. By 2014, word was getting around about their attitude engorged music which landed them supporting tour spots with Diamond Head and Raven in the U.S. before covering Europe on a self financed van tour; doing nightly shows wherever they could play and culminating in a number of Metal fests over a six week period during the summer. This style of touring was a hit with the locals and remains Night Demon's preferred method of travel ever since. By 2015, fans here and abroad were chomping at the bit for new material to sate their rabid hunger for music by this powerful trio. Once signed to Century Media (U.S.), SPV/Steamhammer (EU), Curse of the Damned, Night Demon's first full length CD was released on January 14th, 2015 to adoring fans and critics alike. Over the course of the next two years, Night Demon has gained fans in droves as a result of relentless touring with and without tour-mates and even scoring a main stage appearance at Germany's Bang Your Head!!! festival in 2016. Being primarily a live band, Night Demon does not sit on their collective laurels either; adding innovative lighting and a larger-than-life stage presence once reserved for stadiums only. Go to one of their shows and you will know exactly what the hype is all about! Just coming off of their tour with Anvil and Graveshadow and their annual Metal Cares promotion where unique merch is sold for charitable causes, the boys are ready to release Darkness Remains and hit the road again, covering most of Europe once again in 2017 and many other international venues including Frost and Fire, Defenders of the Old, and Maryland Death Fest's Days of Darkness in America, Up the Hammers in Greece, Pounding Metal in Spain, Very 'Eavy in the Netherlands, and Keep It True, Rock Hard and Party.San Metal Open Air in Germany among many others. Plenty of opportunity to see what all the buzz is about.
Alright, we good now? All caught up? Good. Let's get to Darkness Remains then, shall we? While members of Night Demon acknowledge the influences of UFO, Diamond Head and Riot on their music and they can be heard throughout their prior releases, Darkness Remains serves as a departure into the band's own realm. This is a band-defining release. Make no mistake that the crux of the sound remains firmly rooted in the grooves of the late 70s and early 80s melded with modern West Coast attitude, but Night Demon's songwriting and playing abilities have taken on a completely identifiable lives of their own. The shell has completely broken and all three members have definitely grown into their time honored skins. Darkness Remains is everything Night Demon has been to this point, only better, more defined and completely focused. Also noteworthy, is the outright quality of the production that manages to keep all of the raw, unadulterated power and signature attack Night Demon has been hearlded for without one ounce of over-processed sterility and compression. Just freakin' perfect balance (like we needed more reason to love them, right?!?). Ironically (or not), the first single and video off of Darkness Remains is the opening track, "Welcome to the Night", which gives the listener a fair point of reference for what they are in for. A slower, acoustically accompanied intro explodes into the fast driven heaviness that fans have become accustomed to. Interestingly, the rather dark title belies an encouraging theme of relentless effort; a true reflection of Night Demon's highly regarded work effort. Not bothering with the acoustic guitar, "Hallowed Ground" is quick and crushing from note number one, all instruments played furiously to create a ground shattering pulse. Great background vocals during the course round out this modern, Heavy Metal anthem. Classic stuff! Continuing in the same anthematic vein, "Maiden Hell" serves as one of the catchiest tracks on the album. Spectacular guitar work, blasting drums, Steve Harris style bass line and machine gun vocals slam the pedal all the way to the floor before applying the brakes the Black Sabbath-ish "Stranger in the Room". This beast, while being sludgy, remains completely melodic without the annoying drone often associated with Doom. Remaining particularly passionate throughout, the coolest bridge on the album and very interesting and engaging progressions set this song apart in Night Demon's new musical paradigm. Dropping back to the early 80s, "Life on the Run" would fit right in with classic Hard Rock/Metal bands like Triumph, Fastway and heroes UFO. Throatier vocals along with a short, speedy bridge into a blistering solo and a vicious drum outro take us into my favorite track, "Dawn Rider". Cleverly controlled lyrical tempo play brilliantly with a very impressive, polymorphic drum timing just under screaming guitar leads. With a darker vibe than most songs on the album, we are even treated to a second solo before song's end. Taking a rather sarcastic view of a love song, "Black Widow" quickly follows. Frustration and power build through the song and ends just before running off the rails. "On Your Own" is on deck. This raw powerhouse takes a medium tempo, adds the attitude of late 70s KISS or very early Motley Crue (especially in the backing vocals) and adds a Bluesy twist. Apparently, everything Night Demon wants to try, they excel at. A close second favorite, the manic "Flight of the Manticore" continues the aural voyage into Darkness Remains. This lively, stuttering instrumental explodes from the breach, eventually slowing down to a clean, slightly dissonant tone that creates an ominous atmosphere. An impressive, measured solo stalls into the previous ferocity before an abrupt end that cleaning transitions to "Darkness Remains". In psychedelic sadness, this track is the dreaded Power Ballad done Night Demon style (zero f'in cheese here, folks…). With cleaner played verses accompanied by heavily distorted bass and guitar, this monster will surely get those old Bic's (or camera lights) lit. A cool and controlled guitar solo upholds the sad vibe. With a sense of desperation, slick and emotive keyboards take out the song and the album…
This album is one of the best so far this year and should become a welcome member of any Metalhead playlist and/or collection. If you pick up the deluxe digital edition of Darkness Remains you will also get two bonus tracks: "We Will Rock You"(Queen) and "Turn Up the Night" (Black Sabbath). Super album, and a great group of guys to boot!
Tracklist for Darkness Remains:
"Welcome to the Night"
"Hallowed Ground"
"Maiden Hell"
"Stranger in the Room"
"Life On the Run"
"Dawn Rider"
"Black Widow"
"On Your Own"
"Flight of the Manticore"
"Darkness Remains"
"We Will Rock You" (Queen) – Bonus track
"Turn Up the Night" (Black Sabbath) – Bonus track
All things Night Demon can be found on The Web Facebook YouTube Twitter Bandcamp Instgram Spotify