Night Demon is:
Jarvis Leatherby: vocals and bass guitar
Armand John Anthony: guitar
Dusty Squires: drums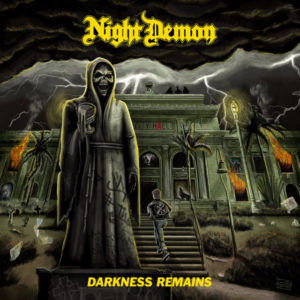 Night Demon has been a universal favorite among our staff members for quite some time now. When I was fortunate to see them for the first time with Anvil and Graveshadow last month (Review), I was simply blown away. I loved their music before, but after seeing them, Night Demon has damned near become an obsession that eventually landed us a copy of Darkness Remains, to be released April 21st, 2017 on the Century Media record label. Needless to say, this CD has been worn… the… hell… out!