Auditory Armory is:
April Rose – Vocals and Guitar
Oscar Garcia – Drums
Dennis Burns – Guitar
Justice Maynard – Bass
Dark Matter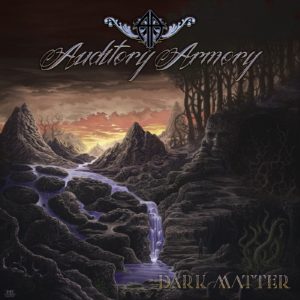 Auditory Armory is a female fronted Alternative Metal band that manages to take the best of Hard Rock, Metal, Progressive Rock and even some Jazz and cleanly distills them into a sound that can only be identified as theirs. This is the advantage of taking on music with wide, curious and wandering eyes instead of within the confines of what is and what should be for any certain genre/sub-genre of music and the die-hard fans that constantly in-fight these categorizations to death. This has always been a pet peeve. Categories should be used simply as a way of describing a sound to someone that has not heard of the band, not as some confining boundary of what music should sound like. Imagine, if you will, a musical landscape where Mozart, Tchaikovsky, Bach, Gershwin, Coltrane, Wes Montgomery, Miles Davis, Charlie Parker, The Beatles, Elvis, Hendrix, Yes, Rush, Michael Hedges, Pink Floyd, Eddie Van Halen, Iron Maiden, Judus Priest, The Big 4, Chuck Schuldiner, Pantera, Cannibal Corpse and Venom chose not to think outside of the box. Got it worked out? Not a pretty picture, huh? This is precisely the reason I actively search out and share bands that throw the whole "writing within a box" thing to the wind. Auditory Armory is, obviously, one such band that fits the mold of not fitting in one.
Auditory Armory was originally formed as an acoustic duo named AuditoryARMory (ARM being April's initials) in the latter part of 2010 by classically trained singer/guitarist April Rose (Montallana) and drummer Mike Owens out of Altamonte Springs, Florida, just north of Orlando. Shortly after independently recording their debut album, Anomaly, with engineer Brian Monowitz, Mike moved and was replaced by drummer Oscar Garcia (like Rose, carrying a BA in Music), who remains with the band today. Following their involvement with Fields of Glass, a Symphonic Metal project where April played electric cello and Justice Maynard and Dennis Burns played guitars, both were recruited into Auditory Armory as bassist and guitarist, respectively, in early 2012. With over 40 years of combined experience playing in Thrash bands in Florida and Louisiana, the addition of these two fine musicians completed the band and helped define the band's unique sound and direction. On March 2nd of the same year, Anomaly was finally released. Being primarily an acoustic effort rooted in the early sounds of Tori Amos and Elliot Smith, the physical copies of the album were well received and eventually sold out, but the band's dynamic had changed dramatically with the addition of three new members. As the collective musicianship took hold and matured, their sound quickly became heavier and more focused with April taking on more electric guitar responsibilities. Taking their time to properly develop and write music as a new-found four-piece, Auditory Armory released The Awakening on September 12, 2014. Tracks for this album included: "Beyond Hope", "Distorted Perception", "Hi–Lo", "Felicity", "Perpetua", "The Last Day", "Phantom", "Third Girl", "The Awakening", "Device" and "Looking in the Mirror and Seeing the Reflection Of". Recorded by Alex Spalding at Alpaca Ranch Recording in Winter Park, FL, this album was the fire plug that vaulted the band from an interesting musical project to full on touring band that has become a sensation wherever they play. Now in much demand, Auditory Armory has shared the stage with Full Devil Jacket, Fuel, Straight Line Stitch, Lacey Sturm, Bonz (from Stuck Mojo), Nothing More, Dead Horse Trauma, Wednesday 13, Eyes Set To Kill, Mike Tramp (White Lion), Leaving Eden and Kelen Heller among many others. In 2016, they were also selected to play the 3rd Annual Kink Music Festival with many, large touring acts, like Evanescence, HELLYEAH, and In Flames.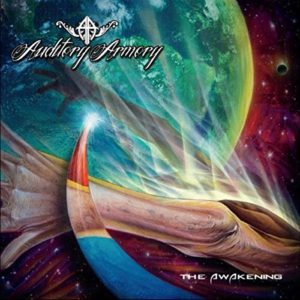 Having a huge combined list of influences that include: Tool, A Perfect Circle, Tori Amos, Porcupine Tree, Die So Fluid, Dream Theater, Megadeth, Parkway Drive, Testament, Anthrax, Alice In Chains, Faith No More, Eyes Set to Kill, The Agonist, God Is An Astronaut, Monuments, Textures, Type O Negative, Cocteau Twins, Queens of the Stone Age, Tears for Fears, Duran Duran, Kate Bush, Elliott Smith, Bat for Lashes, Sleepytime Gorilla Museum, Placebo, Steve Vai, The Birthday Massacre, Enigma and Dead Can Dance, Auditory Armory has the musical diversity to fit in with just about any Rock/Hard Rock, Alternative and Metal band around. This attribute is very apparent on their first album that still retained much of the Alt–Rock music from earlier tunes along with April's unique voice that carried more of a Tori Amos, Jewel, Amy Lee and Sarah Mclaughlin vibe as the music matured. Very impressive throughout and a welcomed change from many of their cookie cutter, genre trapped contemporaries, eluded to above. After extensive touring, musical evolution and songwriting; flash forward three years…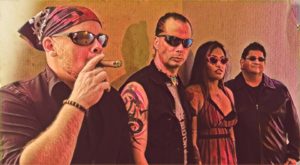 This brings us to their latest album, Dark Matter. Released on July 21st, 2017, this seven track EP continues to build on the successful foundation built by The Awakening by expanding on what has worked, what needed more attention and the overall direction the collective talent wanted to head in and/or experiment with. Honest and sincere lyrical themes can be completely assumed at this point. Since they are not emboldened to a bubble of genre determination, the world is Auditory Armory's musical oyster. Right out of the gate, "Transcendence" takes dark organ and layers a chant-like, angelic vocal timbre that continues almost immediately to "Tyrant"; replacing the organ with gentle, acoustic guitar. As the song progresses, other instruments and interesting harmonies are gradually added before exploding into riff-heavy guitar work and a grittier vocal tact not taken before from April on the previous album. Experimentation now being the norm, neither song sounds out of character or like Auditory Armory is trying to redefine themselves into something they are not. Simply a natural transition into the mood and maturity this band has grown into. Again, very different and unique without being sanctimonious or showy. "The Light That Was Lost" hits hard from the start, adding rough background vocals to the vocal harmonies much like earlier releases but with a new warble and vocal timing reminiscent of Alanis Morissette's, now classic, "Jagged Little Pill". Melodic, thrashy guitar leads and drumming follow a more ambient rhythm guitar and powerful, complex bass lines to create this fully evolved iteration of the band's now trademarked sound. "Cry Little Sister" follows with a much darker and heavier, passionate vibe. Songwriting is particularly good here. The clean movements from heavy, single riff leads to more of a sharp, 80's shred-like tone magnify the deep understanding of musical ebb and flow not found very often in this age of louder and faster. Not one note wasted here. Gut feeling: this track was stripped down and distilled to keep the overall feel. There is a lot of room to expand the instrumental complexity but the band chose where enough was enough, which makes this my favorite song on the album. Elegance in simplicity, I like to say. Continuing with "A Path Unknown", a level of sadness is introduced with airy leads and harmonized bass lines before dropping into another riff heavy bone crusher. Really dig the quick bridges between musical parts and tempo changes throughout. Impressive, late 80's Thrash infused guitar work and huge drums make this track the heaviest on the album. Switching to piano and a more Stevie Nicks influenced vocal tone in the intro, "Love You to Death" flows seamlessly from heated and angry to passionate, introspective and softer and back again, without skipping a beat. This song alone puts a very sharp point on the songwriting prowess that this talented band brings to bear. Really, really good stuff. The longest song and title track for Dark Matter close the album. Killer drum lines, unusual time changes, cool bass rhythms and a decisively Progressive Metal vibe set this song apart. I also cannot help but think of one of my favorite female vocalists, Randi Stickles of Blaine the Mono when hearing April's tone and vocal timing during this song. Can this woman sing in all registers or what? Absolutely love her range and willingness to try different things while remaining 100% true to the band's overall feel and musical direction.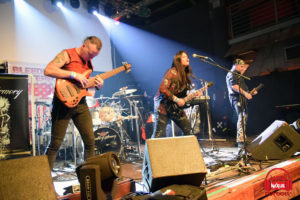 Not only is Dark Matter really different and spectacularly good, but their live shows are second to none. I have had the pleasure of seeing them live a few times here and in Orlando and conversed with them at length. All are extremely approachable and passionate about all that Auditory Armory does. Their musical knowledge is extensive and extremely varied which sheds a light on what makes them so special and unique. Dark Matter is available on most digital platforms as well as a hard copy available from their store (below) and at their shows. If you are tired of the same old, same old and appreciate diversity in music, Auditory Armory definitely have you covered!
Tracklist for Dark Matter:
"Transcendence"
"Tyrant"
"The Light That Was Lost"
"Cry Little Sister"
"A Path Unknown"
"Love You to Death"
"Dark Matter"
More on Auditory Armory can be found on their Website, Facebook, Twitter YouTube Store Spotify