Morbid Angel's latest studio album, released December 1st, 2017, 'Kingdoms Disdained' is a return to form following their previous, polarizing release, 'Illud Divinum Insanus' which left many longtime fans feeling alienated. As part of the original Florida death metal scene, Morbid Angel was formed in Tampa in 1983 by guitarist Trey Azagthoth, the only remaining original member, and original vocalist, Mike Browning. Since their inception, the God-hating, Satan-loving death metal pioneers have released nine studio albums to date and are regarded as being among the forefathers of American Death Metal. Their 1989 debut album, 'Alters of Madness' is frequently recognized as one of the greatest death metal albums of all time.
So what happened with 'Illud Divinum Isanus' that pissed so many fans off? Longtime vocalist, and arguably most notable past band member, "Evil D" David Vincent who left the band to pursue his dreams of becoming the first death metal Garth Brooks, has stated that they were experimenting with pushing the boundaries of extreme music. By "extreme" evidently this meant unabashedly kicking aside death metal norms and branching out into the realms of Rob Zombie and Marilyn Manson with industrial-infused, shock-rock tracks like "Radikult." The song title alone is cringe-worthy to some. As a whole, the album was largely considered a low point in the band's catalog and left many wondering if Morbid Angel had lost their way entirely.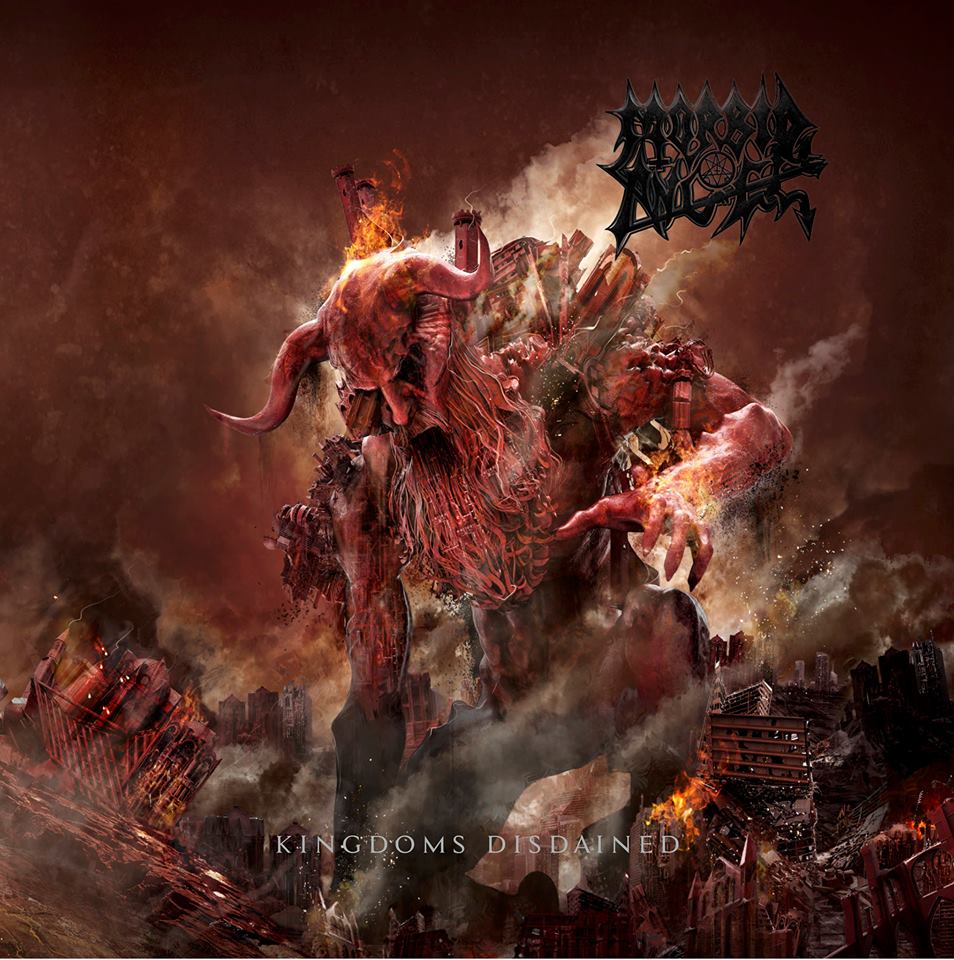 However, with all that being said, 'Kingdoms Disdained' is true and authentic death metal once again. With Steve Tucker returning for the third time as lead vocalist, in between David Vincent's in-and-out membership of the 2000's, Morbid Angel has created something that contends with the evil and twistedness of their classics. While banging on all cylinders and doing what they do best, they are masters of creating dark, chaotic death metal that sounds like something Satan would listen to on acid. Steve Tucker is right at home with his panther-like growling vocal delivery, and Azagthoth's 7-string, dissonant riffing is showcased nicely throughout. While there are no immediate classics that blatantly stand out when compared to past greats such as "Rapture" or "God of Emptiness," the album as a whole is solid.
Standout tracks are "Garden of Disdain," which has a "Where the Slime Lives" vibe, "Architect and Iconoclast," and "Declaring New Law (Secret Hell)." I would say there is a good amount of filler on this album as well, unfortunately, and this could be largely due to having major band member changes. Dan Vadim Von is new on guitar as well as Scott Fuller being new on drums for the band. Drumming-wise Pete "The Feet" Sandoval is sorely missed but Fuller is more than equipped to hold his own in the lineup and puts in an impressive performance on the record.
With this album under their belt, and hopefully a consistent lineup for the foreseeable future, I anticipate the follow-up to 'Kingdoms Disdained' to be much stronger as the cohesiveness of the band continues to build over time. At this point, we can rejoice in the fact that Morbid Angel is back and once again sounding like themselves.