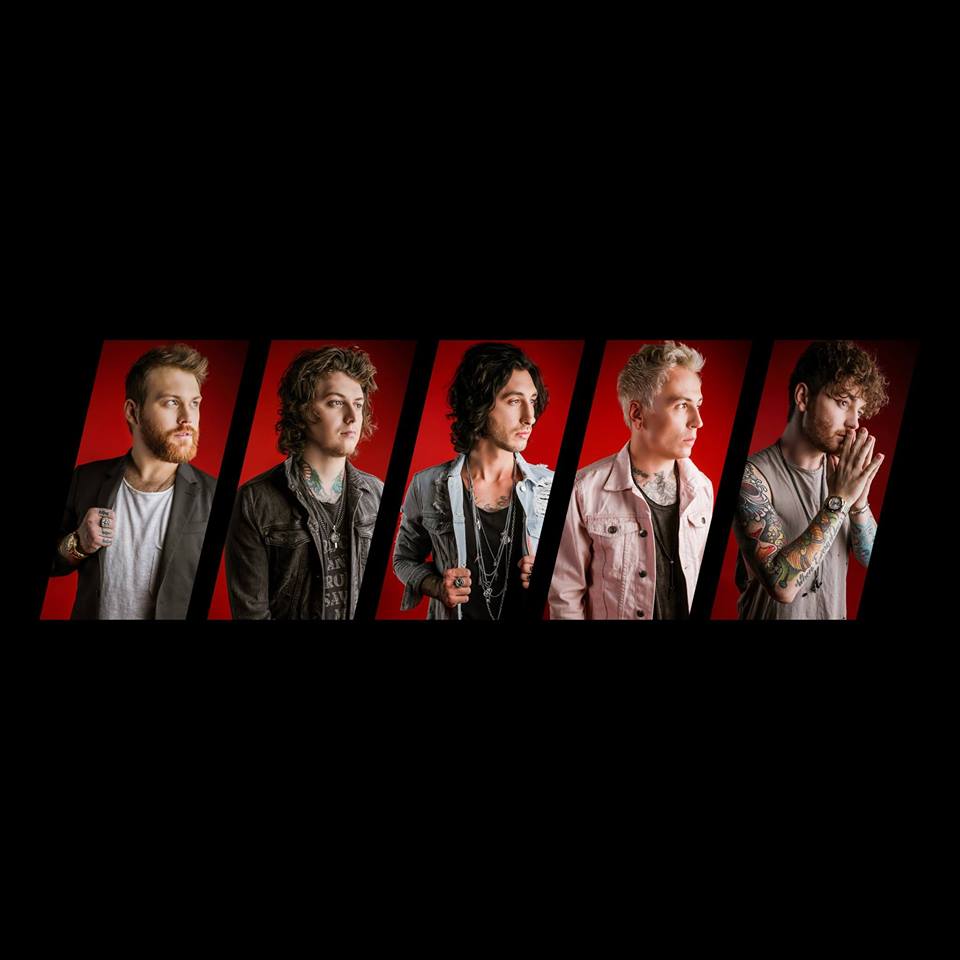 "I might be lonely, but I ain't alone here, so I keep on pushing the limits of what makes me" is one of the lines Asking Alexandria vocalist Danny Worsnop belts in the kick-off of the band's fifth, and self-titled album's opening track; "Alone In A Room". It's also the most definitive line of the entire record in that it describes Danny's willingness to continue to expand himself in multiple unexpected directions as a musician. For a man who has dabbled in sonic equivalents of both love letters to the 80's glam rock he grew up adoring and tell-all emotional country, it might come as a bit of or maybe no shock at all that he opens this record with a swaying vocal style that recalls more Usher and less Sammy Hagar. And if you think that's his lone hat trick on this excursion, you are quite mistaken.
As a whole, Asking Alexandria aren't satisfied with doing the same old, same old this time around either. Opting for a much more contemporary sound that better suits the title of one of the world's fastest growing modern rock bands, 'Asking Alexandria' contains both gleaming, layered electronic production elements and raw "rawk" guitar tones. This may sound contradictory, but it also describes to a T the contrast Worsnop's gruff rock voice offers the primarily pop-influenced backdrop he is often given here.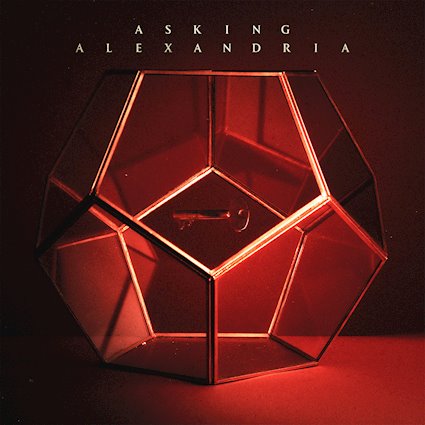 In an odd sort of way, the record moves forward but also looks back. This may be the band's cleanest record since "Stand Up & Scream" in that Danny sings cleaner than he has in quite awhile and there is a prominent electronic element. While there's no sporadic dance breaks, those elements are included in a much more cohesive way yet in a manner that their inclusion doesn't feel textbook. "Alone In A Room" has a vocal sample dance hook in its bridge, "Under Denver" uses a pulsating synth the likes of which haven't been heard on an Asking Alexandria record since 2009 and, oh yeah, there's a hip hop track too that has the goal to be larger than life and nothing less. While these ideas don't always work to the strength of the music itself, it's nice to hear an experimental Asking Alexandria after The Black's commitment to essentially re-writing 'Reckless & Relentless'. This is after all, Danny's return to the fold and the band are using the attention gained from that saga to break down creative barriers. More Depeche Mode & Fall Out Boy, less As I Lay Dying and Slipknot.
The content itself is as diverse as its many ideas at play. First off, this is a more optimistic Asking Alexandria than we once knew. No longer are songs like "Run Free" and "Someone Somewhere" just brief glimmers of hope; This entire record is practically made of hope. That hope was born from the suffering that made the band's entire career though, specifically Danny's formerly destructive habits. And he is outspoken in his departure from such a lifestyle here, which makes the record one of substance and provides it more of a *gasp* mature air. "Room 138" particularly touches on the night Danny overdosed and nearly died in a California hotel room and its a hell of a reflective way to top off a record. On the other hand, the curveballs offered by writing songs about conspiracy theories and Adam and Eve are head-scratchers but they're also sat between a one-take acoustic track about money hungry corporate monsters, so anything's plausible.
The band's improved headspace makes this already much different from their past offerings which were fun albeit flawed escapisms. Ranging from tranquil ("Hopelessly Hopeful", "Under Denver") to grandiose ("Into The Fire", "Rise Up", "When The Lights Come On"), Asking Alexandria are a tighter unit by playing around Danny's expansive vocal abilities, though admittedly subdued to allow him most of the expression. This decision makes sense for a bigger sense of atmosphere, build-up and ultimately, a focus on emotion. It does leave some fans who were expecting flashy guitar solos and more guitar musicianship out in the cold, however. Keep in mind though, those patient enough to dive deep into this record will find some stellar moments. Drummer James Cassells portrays so much more energy with his snare than before, especially in "I Am One" and "Hopelessly Hopeful". There's a notable bass progression from bassist Sam Bettley in "Into The Fire" that makes the lead-up to the chorus feel that much more significant. It's all "in-the-pocket musicianship, but that doesn't mean it isn't impressive.
The fans that miss heavy, metalcore Asking Alexandria might be disappointed that such a side isn't more present here, but those fans will also love "Eve". It's groovy, crushing verse breakdowns and brutal vocal gurgles will satisfy any old-school fan. And though the song doesn't grow into a satisfying release, it is balanced with a chorus that will stick. It's not the only heavy moment on the record, but it is the lone significantly heavy song.
The record does have an infectious amount of prominently hook-driven energy. I can't say there's any song here that lacks a memorable line or chorus and every member of the band has honed their crafts to ensure that Asking Alexandria as a band are known for big anthems. And that's exactly what this is: A record of anthems. Songs that not only the fans will relate to but that the band needed to write. While this direction is the most polarizing yet from an already polarizing band, it will do wonders to their live shows and provide more variety in the future. In fact, this record's lasting impact lies in what potential it shows the band has and the wide range they can play with. The ascent into the mainstream made with this record reminds me of both Linkin Park's 'Minutes To Midnight' and Metallica cutting off their long hair & recording 'The Black Album'. Time will tell if this direction will elicit as much backlash and ultimately as much payoff as those two records did.
Make sure not to miss the band on their upcoming 2018 tour!
Tour dates (co-headline tour with Black Veil Brides):
1/10 – Salt Lake City, UT @ Complex
1/11 – Denver, CO @ Fillmore Auditorium
1/12 – Kansas City, MO @ Arvest Bank Theatre at the Midland
1/13 – Minneapolis, MN @ Myth
1/15 – St. Louis, MO @ Pageant
1/17 – Pittsburgh, PA @ Stage AE
1/18 – Grand Rapids, MI @ 20 Monroe Live
1/19 – Milwaukee, WI @ Eagles Club Stage
1/20 – Chicago, IL @ Riviera Theatre
2/02 – Worcester, MA @ Palladium
2/03 – Portland, ME @ State Theatre
2/04 – Montreal, QC @ M Telus
2/05 – Toronto, ON @ Rebel
2/07 – Norfolk, VA @ Norva
2/08 – New York, NY @ Terminal 5
2/09 – Baltimore, MD @ Rams Head Live
2/10 – Philadelphia, PA @ Electric Factory
2/12 – Atlanta, GA @ Tabernacle
2/13 – Nashville, TN @ Marathon Music Works
2/14 – Indianapolis, IN @ Egyptian Room at Old National Centre
2/16 – Dallas, TX @ Gas Monkey Live
2/17 – Houston, TX @ House of Blues
2/19 – Albuquerque, NM @ El Rey Theater
2/20 – Tempe, AZ @ Marquee Theater
2/22 – Boise, ID @ Knitting Factory Concert House
2/23 – Portland, OR @ Roseland Theater
2/24 – Seattle, WA @ Showbox SODO
2/25 – Vancouver, BC @ Vogue
2/27 – Spokane, WA @ Knitting Factory Concert House
3/01 – San Francisco, CA @ The Warfield Theatre
3/02 – Las Vegas, NV @ House of Blues