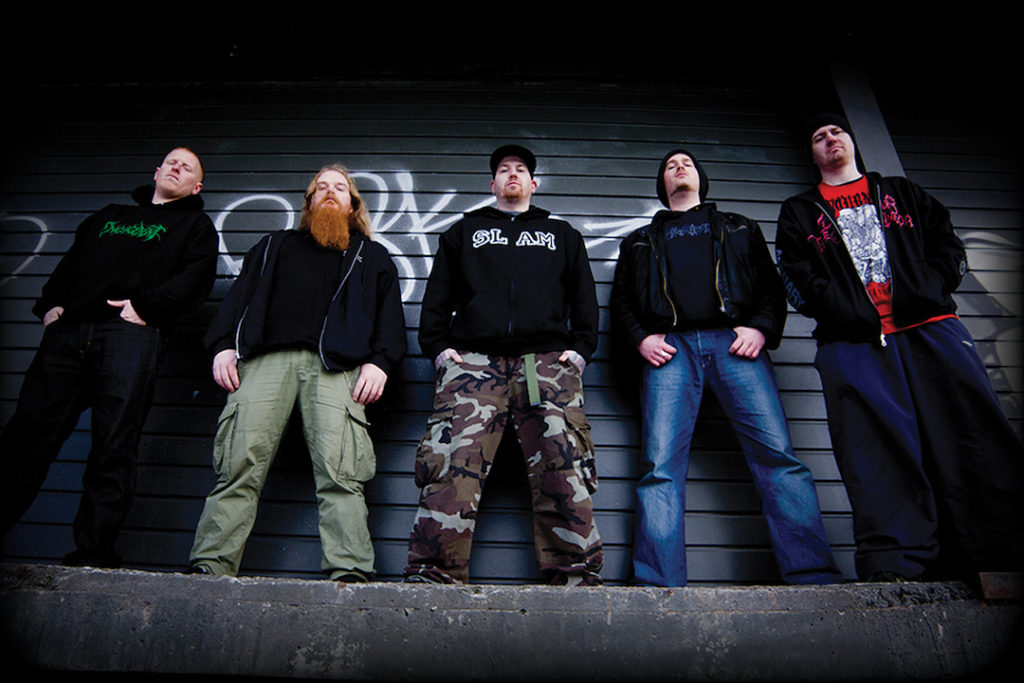 The Analepsy and Kraanium split might be the most brutal split from this year that got released via SLAMWORLDWIDE on the 1th of July, they are both a brutal death metal band and arguable the best in the game. To avoid any confusion I will first talk about the widely known slam band Kraanium.
Kraanium has been making music since 2008 and has released 5 albums till this date. It all begins with 'Ten Acts Of Sickening Perversity', the title alone is sickenining and the vocals/instruments are even worse and the gore continues with later released album 'The Art Of Female Sodomy'. This isn't all, the 2 albums 'Post Mortal Coital Fixation' and 2015 release 'Chronicles of Perversion' might be their best work yet, it is filled with filth and sick making riffs. The split album 'Goresoaked Slamassacre – 3-Way Split' is the grossest split from 2010, it features the bands Epicardiectomy, Dormant Carnivore and ofcourse, Kraanium. All these nasty releases has been created by vocalist Martin Funderud, guitarists Jason Varlamos & Mats Funderud. They get assisted on the drums by TBC and Ivan Rasstrigin on the bass. A legendary band!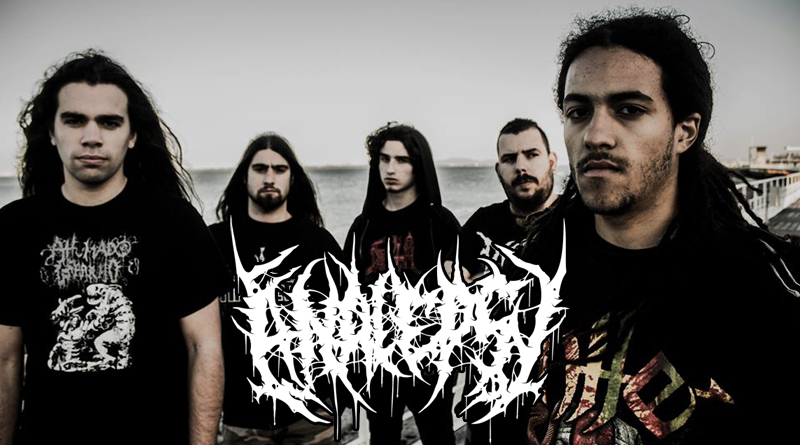 Analepsy has been my all time favorite slam metal band from Portugal, they are also a 5 man band and they have been around since the late 2013 and consist of vocalist/guitarist Diogo Santana, guitarist Marco Martins, bassist Flávio Pereira and insane drummer Tiago Correia. Together they have made their debut EP 'Dehumanization By Supremacy' and the best slam release from this year 'Atrocities From Beyond' that is full with rhymth changing riffs and alien themed lyrics. These factors are really what makes Analepsy stand out from the others. For sure a band you need to check out!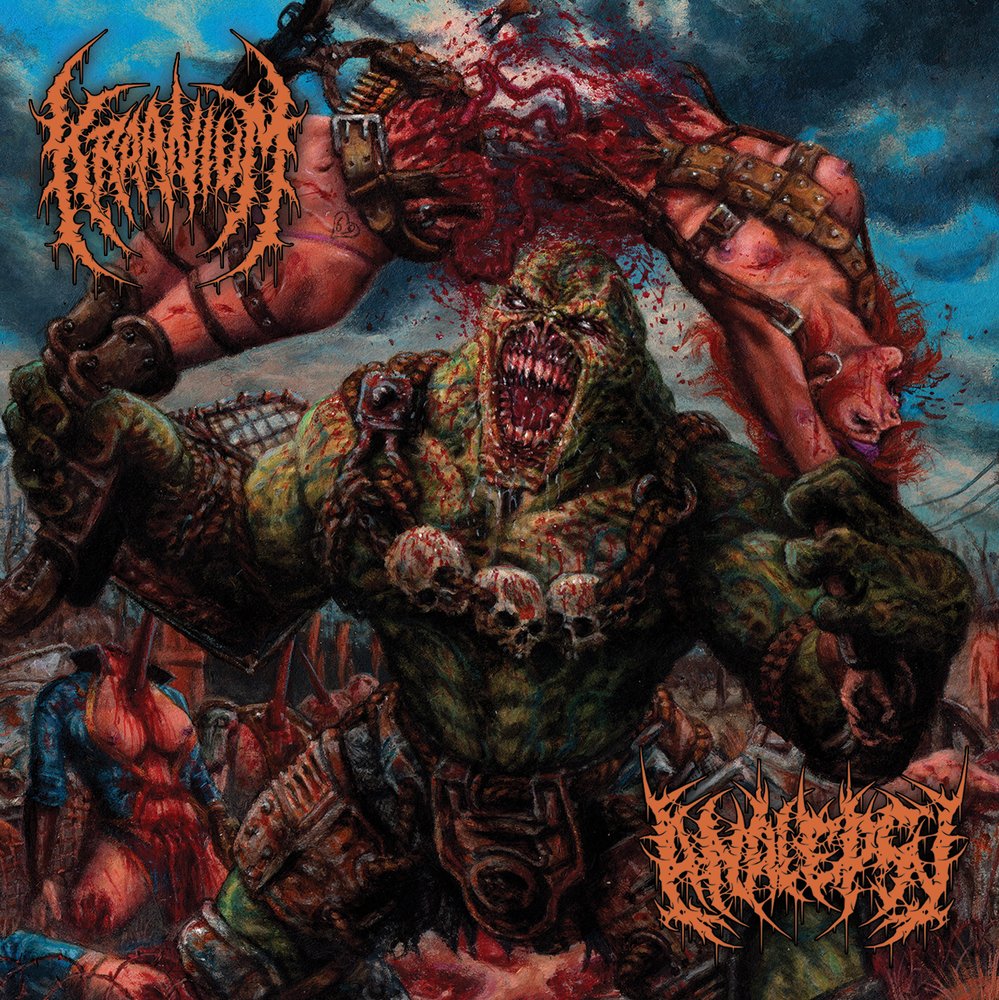 First drop everything you are doing and take a look at art, it is brutal! Since it is a split there are several songs from both bands on the album, our first focus will lay on 2 Kraanium ones and after that we will be talking about Analepsy's take, let's dive right into this mess!
I have always had a special place for intro songs and yet again a slam one claims a spot, it goes by the crazy name "Split Her Head In Half". It starts of with the words "I am not crazy, I am in control" several times, this really gives the song a dark touch to it! For everyone wondering where this line originally came from, it is from the horror movie "31" that got directed by famous artist Rob Zombie! Click HERE to check that trailer out. This song also has some of the best rhythm changes and disgusting vocals from the album, check it out you crazy slammers!
The second Kraanium song that is a must to check out is called "Fetish For The Putrefied". Just like the intro song it begins with a creepy yet funny intro line, this time it is a question with a maybe obvious but hilarious answer. "What is the difference between an onion and a whore?". Well if you are a fan of Kraanium you might not be suprised upon hearing the answer,"I cry when I cut onions!". This is the best song to listen to when you want to taste what Kraanium is made of, they make one of the greatest slam songs that are filled with gore but have a little touch of fucked up sense of humor in it.
Moving on to the 2 songs from Analepsy that are a need to get your hands on. The first song is yet again an intro, this time it is a long one, "New Inception of Inhuman Cryotechnologies". Right on you will instantly notice that this is the half of the split where Analepsy takes part. They have a completely different style from Kraanium eventhough of their musical styles that are very close to each other. I am very glad that they are on this split, they finish the job beautifully with their head banging riffs and lyrics that are full with terrifying, awful and horrid stories. 
The song "Abnormous Devastation" has a strong vibe of their latest album 'Atrocities From Beyond' to it. It is fast, brutal and will smash your head in. The lyrics are horrendous, they are not and I repeat not for the weak minded. This song is the perfect example of a well executed slam song.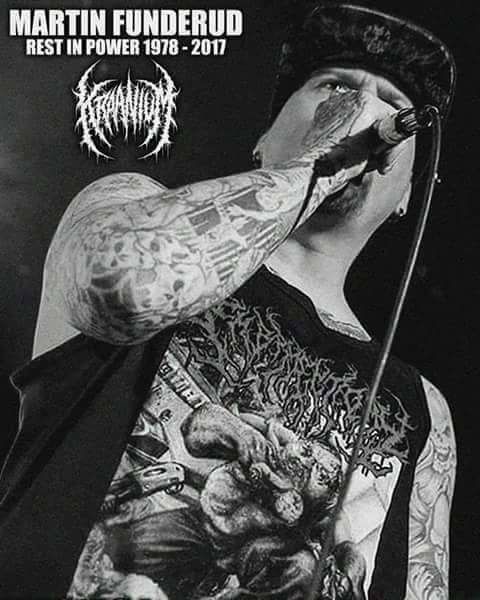 It has been really hard to pick out 2 songs from each band because all the songs are a big part of the split. Together they create one of the nastiest split albums that are out. The production is one of the best and the vocals are just as always with these guys, nasty and to die for. The instruments on this split are what glue is to your construction, they are also rapid and they sound out of control. Most of the slam bands these days sound somewhat simular but Kraanium and Analepsy for sure don't. They both have unique sounds and are easily one of the best from the genre. Where this split also shines is the bridge between the last Kraanium and the first Analepsy song, it is not a sudden change yet the band's vibe is totally different. I would dare to call this the best 2017 slam split till this date!
This is almost the last and maybe the most emotional part of the article. This whole split is in loving memory of Kraanium's former vocalist Martin Funderud who sadly died at the young age of 38. He died on the 20th of April this very year after he committed suicide. I am still thinking about it till this date. All my thoughts go to his family, friends and all the people that have known Martin. The split was already top notch but knowing it is dedicated to Martin's death is remarkable. May he rest in power!
After listening to this brutal piece of art please check out their stores to support them, the physical cd of 'The Kraanialepsy Split' and a shirt that is decicated to Martin's death and this brutal split are both on Analepsy's store. They were available for pre-orders but they were sold out pretty fast, luckily for you they will be online really soon so keep an eye out!
Analepsy's bandcamp/Kraanium's bandcamp.
Visit Analepsy's store HERE and Kraanium's HERE.