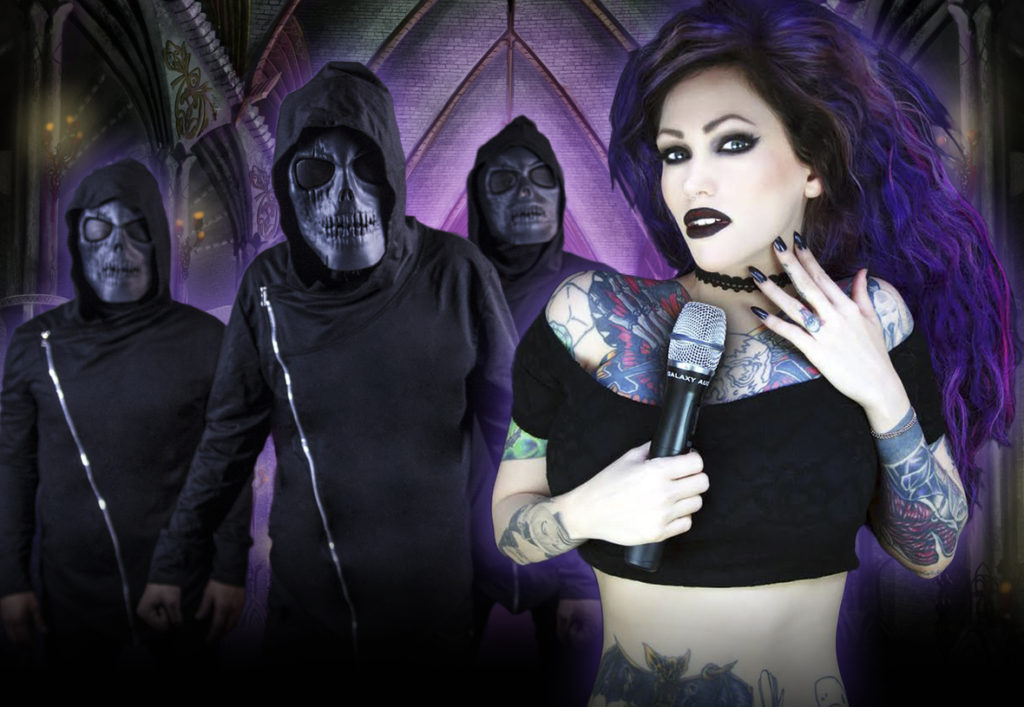 Electronic Rock artist Hail Sagan announce the release of the new video for their single "Stealing The Crown". Hail Sagan blasted onto the music scene in June of 2016 with their heavy hitting, debut single, "Dark Cloud," which highlighted important issues such as bullying, violence, and suicide. Surrounded by a ghoulish league of masked musicians, Sagan Amery, the "purple princess," as proclaimed by her followers, shines as a rebellious voice for the misunderstood. The philanthropic band who is continuously donating a portion of all funds to various charities, and who offers a network of outreach to those suffering from mental illness, released a self-titled EP in October of 2016, and continues to tour extensively. 
"We wanted more of a fantasy feel to this compared to our debut video, Dark Cloud, which appeared with real life-style videography depicting scenes of bullying and violence. Though Stealing the Crown also confronts a dark subject matter, such as exploitation, greed, and disloyal people, the imaginative effects create more of a supernatural environment." – Sagan Amery (Vocalist)
The video was directed by Mathew Crum and produced by Sagan Amery and Nick Quijano of Hail Sagan.
Hail Sagan has also announced their first set of tour dates with Mushroomhead on their North America tour.
Tour Dates
7/8 – Pittsburgh, PA – Rex Theater
7/9 – Easton, PA – One Centre Square
7/16 – Sioux Falls, SD – Bigs Sports Bar and Billiards Wednesday 13 also headlining.
7/17 – Bismark, ND – Our Place Tavern
7/18 – Omaha, NB – The Bourbon Saloon
7/19 – Joplin, MO – Guitars of Joplin
7/20 – Monroe, LA – Live Oaks Bar & Ballroom
7/21 – Fort Worth, TX – The Rail Club
7/22 – Tyler, TX – Click's
7/25 – Little Rock, AR – The Revolution Music Room
7/28 – Wichita, KS – The Cotillion
7/29 – Denver, CO – Summit Music Hall
More dates to be announced on Hail Sagan's social media pages and website.