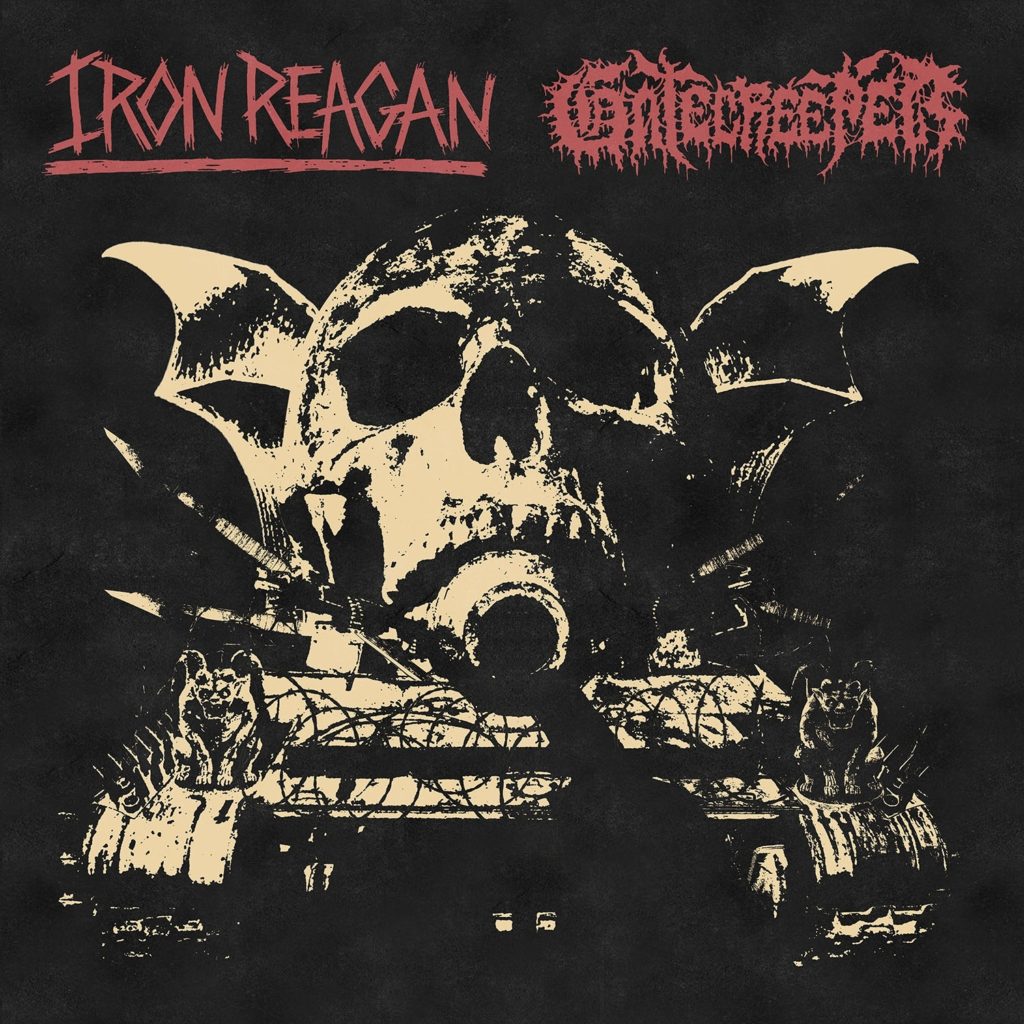 Relapse Records is set to release a devastating split LP of epically retro proportions featuring hardcore-punk crossover thrashers, Iron Reagan, and old school death metal beasts, Gatecreeper on March 2nd, 2018. Split LP's like this, and similarly compilation albums, have always been exciting for fans of underground music. Not only are they a way to conveniently add immediate variety to a playlist, but at the same time, become exposed to multiple bands at once. It's a win-win situation. Iron Reagan & Gatecreeper are here to deliver exactly what fans look forward to, with a potent eight tracks of ferocity; the likes of which will transport you into the adrenaline-filled violence of an eighties crossover thrash moshpit, and then straight away into the high-intensity evil of early nineties death metal.
Mixed by Kurt Ballou (Converge) at Godcity Studios, the first five tracks of the LP belong to Iron Reagan. Formed originally in 2012 as somewhat of a veteran outfit in the realm of crossover thrash, the band lineup includes Tony Foresta (Municipal Waste) on vocals, Phil Hall (Cannabis Corpse) on guitar, Ryan Parish (Darkest Hour, Mammoth Grinder) on drums, Mark Bronzino (Mammoth Grinder) on guitar, and Rob Skotis (Hellbear) on bass. The quintet has several releases under their belt, including three full-length studio albums, 'Worse Than Dead' (2013), 'The Tyranny of Will' (2014), and 'Crossover Ministry' (2017).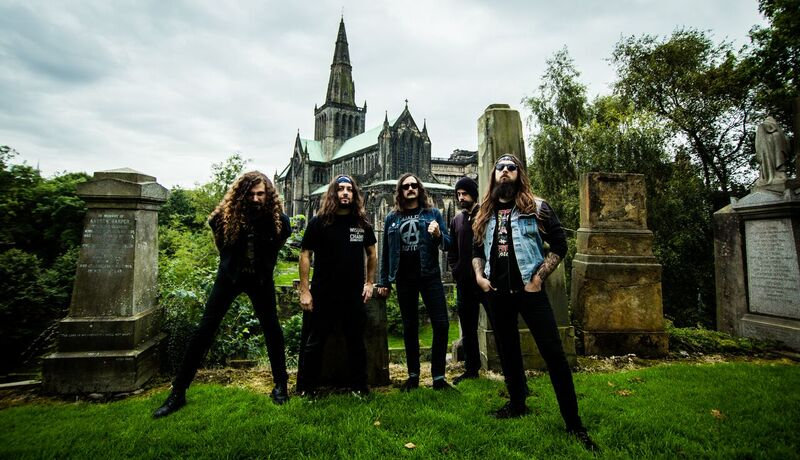 Starting off the onslaught is the punkish opening chords of the first track, "Warning," which right away shifts into a very D.R.I.-inspired verse and chorus.  Sonically, it's classic-sounding crossover thrash with up-tempo, hard-hitting guitar riffs and aggressive drumming. Vocally, Foresta barks with a harsh, upper-register fury, highly reminiscent of Kurt Brecht, while sporadically accompanied by the style-standard group vocal emphases. It's a short burst of energy that ends in under two and a half minutes; as do all of the Iron Reagan cuts on here, well before any chance of wearing out their welcome.
"Paper Shredder" picks up the intensity right where track one leaves off, coming right out of the gate with a 'shredder' of a guitar-soloed intro. Blast beats, furious riffing, and repeated group chants of, "Shred! Shred!" begin the verse section, while Foresta interweaves a more Tom Araya-flavored approach to his lyrical delivery this time around. The chorus/outro breaks down into an ass-kicking, chuggy, mid-tempo thrash groove.
"Take the Fall" is arguably the most metal sounding of all the songs thus far and features some impressively powerful riffs and a face-melting guitar solo. "Proudly Unaccountable" takes a 'get in and get out' approach, at just forty-four seconds long; it walks right in, punches you in the mouth, and then walks away while you try to figure out what just hit you. The riffs, drumming, and vocals are pure venom on this one, and guaranteed to leave the listener wishing it lasted a bit longer. Lastly from Iron Reagan, is "Burn For This." It follows the same groundwork laid out by the previous tracks while adding some additional flavor with pinched-harmonic riffing and impressive snare-work on the kit.
Overall, Iron Reagan's portion of the album is 'all killer, no filler.' Production-wise, complaints are hard to come by as the mix is pleasingly raw and punchy without sounding over or under-produced. They have not only mastered the sound, but also embody the attitude and aesthetic of the genre. This release just proves once again why this band is more than worthy to carry the torch for old school crossover thrash.
Gatecreeper, only supplying three of the eight tracks here, with one being an instrumental, have their work cut out for them following the high bar set by the previous five songs.  Formed in 2013 by classic death metal enthusiasts hailing from Tucson and Phoenix, Arizona – whose self-titled, 2014 EP and 2016 full-length album, 'Sonoran Depravation' received much buzz around the music community; Gatecreeper consists of Chase H. Mason on vocals, Eric Wagner and Nate Garrett on guitar, "Metal" Matt Arrebollo on drums, and Sean Mears on bass.
To prove they are more than up to the challenge to share record space with their labelmates, instrumental track, "Daybreak (Intro)" smashes open the gate for Gatecreeper.  It's essentially a downtuned, epic, doom/stoner riff with a creepy lead guitar harmony that ends in under two minutes. It serves its purpose as an intro before kicking things up several notches with "Dead Inside." Double bass and pummeling groove riffs, reminiscent of Bolt Thrower open up the track. During the verse, things shift into a more Entombed-sounding feel, both instrumentally and vocally. Emphasizing their homage-paying, retro sound is the use of the trademark buzzsaw guitar tone so commonly identified with old school Swedish death metal. Gatecreeper nails the tone while also giving it a much needed, contemporary production boost for modern-day metal. On the final track, they take a simplistic yet powerfully effective approach with the Obituary-flavored, "War Has Begun."  Dark, groovy riffs; squealing guitar leads; and guttural growls will give old school death metal fans everything they want and miss about the classics.
At just over eighteen minutes in total runtime, this split LP definitely feels more like an appetizer than an entrée.  As with any good appetizer, however, what it may lack in quantity, it more than makes up for in intensity and enjoyment. All eight of the tracks presented are strong offerings by both groups and will surely leave the listener with an appetite for running out to binge on each band's extensive back catalog. Highly recommend checking this out.