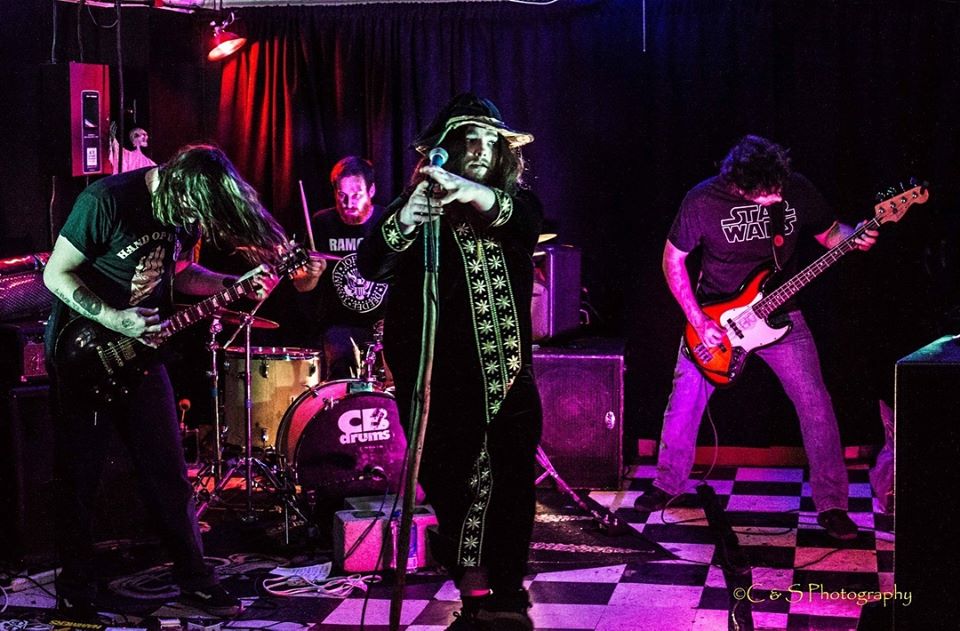 High n' Heavy are a four piece instrument of destruction out of New Bedford, Massachusetts. Formed in late 2014 with The Stooges, Black Sabbath, and Motörhead in mind; their sound has evolved to perfectly embody all of their influences. Mostly playing shows in their native New England, High n' Heavy has been picking up a handful of new fans every time they perform. The following is multiplying not only because of their talented musicianship but also because of their high energy live sets that create fandom simply by word of mouth. Their first 3 albums have shown the band to be at home playing everything from the most brutal of doom to the dirtiest of rock n' roll. The electric circus that is High n' Heavy consists of  Kris Fortin on vocals, John Steele on guitar and keys, Mike Dudley on bass, and drummer Nick Perrone. The New Bedford band have now released their 4th album 'Warrior Queen' (via Electric Valley Records): An album full of psychedelia, mysticism and killer airfare! 'Warrior Queen was recorded & engineered by Trevor Vaughan, recorded at The Colosseum and produced by Trevor Vaughan and High n' Heavy.
From the depths of space they came. One by one. From out of the skies they fell. Now, with the magic they possess, they melt the faces of earths people. With thunderous drums, booming bass, screaming guitar solos, and mystical vocals they are… High n' Heavy !!!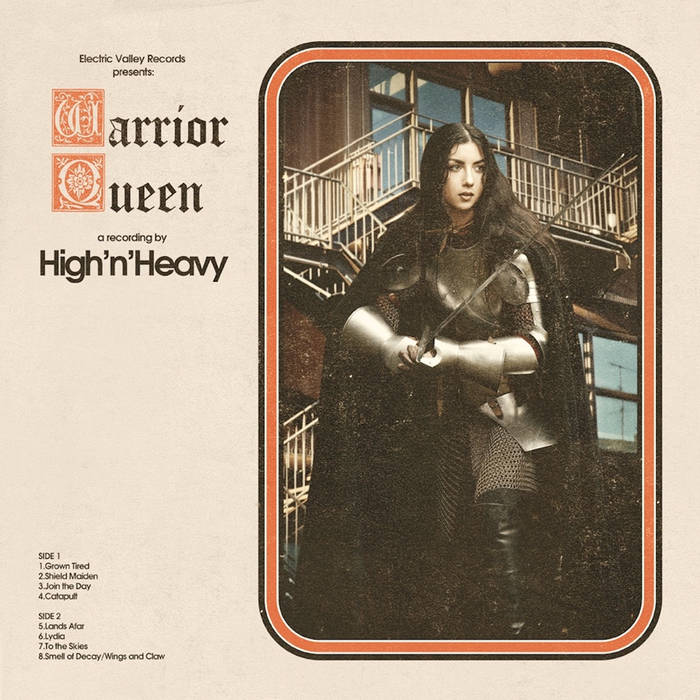 Opener "Grown Tired" is a bluesy rocker with a steady drum beat that plods along until the last minute of the song when a swinging guitar riff comes into play and changes the whole vibe of the song! "Shield Maiden" comes next and it's another Plodding, slow song with an organ(?) following in the background adding a great atmosphere! "Join the Day" starts off as a ballad before transcending into a faster/ stoner rock type riff full of some killer lead guitar work! "Catapult" comes next and is by far the strangest song off of 'Warrior Queen.' It's the shortest song on the album and stylistically it's the most different. It's practically a punk rock song with it's Moore aggressive vocal delivery, fast drums and heavily distorted bass! "Lands Afar" and "Smell of Decay/Wings an Claw" both clock in at nearly 7 minutes and both feature powerful instrumentation as the band seamlessly shift between (slight) tempo changes that manage to keep the songs from becoming stale! Standout track on 'Warrior Queen' would have to be "Lydia." This song is lead by a fuzzed out and infectious guitar riff and is held together by a groovy Bernard purdie esque drum shuffle! "Lydia" is one of those songs that requires multiple listens to full appreciate how well it's written! 'Warrior Queen' may not be the debut by High n' Heavy, but this is certainly a monumental album by the band that is sure to gain them a new audience!