Eighteen Visions formed in Orange County, California in 1995. Despite being half the age of the genre's most legendary architects, Eighteen Visions is literally in the history book of heavy metal, hard rock, and post-modern heavy music. The band were declared part of "The Future of Metal" by Revolver Magazine during their meteoric rise from proto-deathcore indie band, nurtured by the DIY scene, to major label "next big thing" in active rock. Their debut album 'Yesterday Is Time Killed' released in 1999 via Cedargate Records. Eighteen Visions went on to record release an album every year up to 2002's 'Vanity' which was their debut on 'Trustkill'. Eighteen Visions has inspired various bands, one of which is Motionless In White who named themselves after a track with the same name from the band's 2001 release 'The Best Of'. The band continued pumping out amazing records. The next would come in 2002 titled 'Vanity' and then quickly moved on to release in my eyes one of their best albums 'Obsession' in 2004. The album has a lyric that has stuck with me since its release and is one of the best single verses ever. It comes from the track "Lost In A Dream" saying "Locked in a room, Where all my dreams come true, Scrape my mind off of the walls. Painted pretty blue." The next album would become Eighteen Visions last album for the next 11 years. The self-titled album released in 2016. Many fans thought this would be the last they would hear from the band they loved so much. Bassist Mike Morris announced on Myspace in 2007, "After several years of touring and quite a few album releases we have decided that it is time to go our separate ways. We have been a band for a very long time and feel good about everything we were able to accomplish. At this point in our lives and our careers we feel its time to move on to something fresh and new. Whether it be music, touring or just being at home to live and enjoy life." Everything came to a standstill for 18V fans for over a decade. Unbeknownst to the public, the band nearly reunited once before, quietly working on new material in 2012. The process that led to their eventual and perhaps inevitable full reunion in 2017 was as organic as it was trans-formative, as the core members reassembled to put their collective passion back on the record, literally and figuratively. Unfortunately bassist Mick Morris passed away on June 3, 2013 in his sleep due to a pre-existing heart condition. It's sad that he isn't a part of this new lineup but the band and its core members: James Hart – lead vocals, Keith Barney – lead guitar, backing vocals, and Trevor Friedrich – drums are currently the lineup for the reunited Eighteen Visions. The new album 'XVIII' was made at home in Orange County, with U.K. transplant and multi-instrumentalist producer Mick Kenney at the helm. The album released on June 2, 2017. It is the first album since 2002's Vanity to feature movie quotes at the beginning of some songs. It is an amazing comeback from a band that was truly missed in both the genre and music as a whole.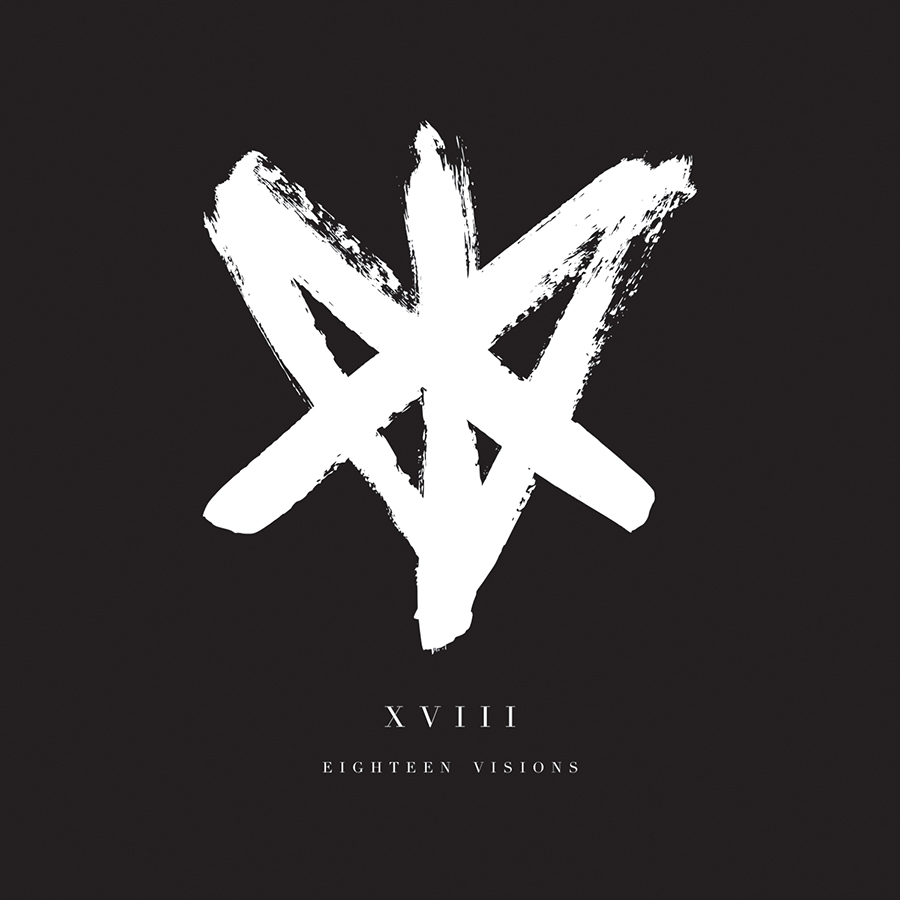 The album starts off with a buzzing, literally. Just like the album and their reunion. "Crucified" immediately jumps headfirst into the bands signature style. Chugging riffs ring out and James Hart's iconic scream are just the tip of the iceberg in regards to the entire album. The quick 2 minute track is just a warm up session for what's to come. "Underneath My Gun" starts out with a sample from the iconic 1988 film They Live. The sampled portion is from Rowdy Roddy Piper's character Nada saying "I have come here to chew bubble gum and kick ass…….and I'm all out of bubble gum" and then shots ringing out. This track you get vocals from both James and Keith. They each unleash a stanza and then move on and though they don't sing in unison everything gets entwined together making for a special moment. Near the end of the track Trevor's drumming really takes over the track. The constant thud of his bass drum and cymbal crashes set the tone and keep the pace with Keith's chugging guitar style. At the end of the song you get this long drawn out twangy riff that leads you to the end. The band always seems to know exactly how to end abruptly but also drawing it out when the curtain closes on each track. "Live Again" is by far the most sentimental track on the album. The vocals open the song with a little bit of a different style and almost sound reminiscent of a late 90's era Marilyn Manson. Between the more clean singing approach and the screaming you get these blasting double bass blasts and a chainsaw like riff that just can't be tamed. "Live Again" is a moving and empowering tribute to their fallen bassist Mick "Mickdeth" Morris. As the song journeys on you get a more clean singing chorus "We'll never forget the days, we made the most of our memories". The song tugs at the heart strings of anyone that listens closely. James ends the song in tribute by screaming over and over "we keep your memory". I'm sure I'm not along in saying that Mick would be very pleased with this tribute to him. "Spit" is aggressive and filled with a groove like singing melody. Portions of the vocals here have a grunge like feel and meshes really well with James's iconic screaming pitch. This is the song where they give you that sing along type harmony that some listeners crave. The speed of the song slows from a chugging riff to a simple strum while the cleaner vocals continue and then the riffs kick back in heavier than before. "Spit" has incredible pace changes that is like a roller coaster ride from hell. "Fake Leather Jacket" begins with yet another pretty famous movie sample. This time from the 1990 David Lynch film Wild At Heart. "You look like a clown in that stupid jacket, This is a snake skin jacket and for me it's a symbol of my individuality and my belief and personal freedom….asshole." It's easy to see that this song is a retaliation at the music industry. With lyrics like "You made a promise you just couldn't keep, said you'd make me famous" it's easy to see where the band is coming from. Eighteen Visions called it quits around the time piracy was really sticking its teeth into the music industry. There is sections of the song where James sings almost acapella with just a slight riff chiming in. It's those little things in their music where they take risks that really pay off. "Sadist, corporate rapist… I don't need a reason, I think you're aware of all the hearts you've broken, but you don't seem to care" are just a few more of the lyrics that really showcase their true feelings about the industry and it's certainly a way to make a statement in their first record back in 11 years.
If you are a fan of Eighteen Visions you will absolutely love this album, there is no rust, no cobwebs they are just as good today as they were the day they put the band to rest over a decade ago. If you are new to this band; be prepared to fall in love and instantly start revisiting their discography there is plenty more of this from years past. Eighteen Visions has reawakened a burning fire within themselves and 'XVIII' comes across as if a day hasn't passed since their last release, and this is certainly some of the best material they have ever released.