With their first release being in 1984, CORROSION OF CONFORMITY is a band who has made significance impact in not one but two sub genres of music (Hardcore Punk and Sludge). Therefore, it shouldn't come as a shock to anyone at how excited the Metal community was when it was announced that C.O.C. would be reuniting with Vocalist/ Guitarist Pepper Keenan for a new album! It's been a dozen years since Corrosion of Conformity recorded new material with Keenan at the helm. In that time, there have been rumors, whispers, and outright allegations that the legendary southern rock outfit would reunite to blow the doors off the whole damn scene again. In 2014, after nearly a straight decade traversing the globe as a guitarist with New Orleans supergroup Down, Keenan reconnected with the core Corrosion of Conformity trio of Woody Weatherman, Mike Dean, and Reed Mullin to hit the road hard. "Reed called me and mentioned maybe playing a couple shows," Keenan recalls. "I said, 'Let's just go to Europe and see if it works.' So we went to Europe and then ended up going back four times in one year… We toured for a year and then started tracking about ten or eleven months ago."
Recording in North Carolina with longtime producer John Custer, Corrosion of Conformity cut 'No Cross No Crown' in about forty days over the course of a year. "We took our time and didn't put any pressure on ourselves," Keenan says. "I'd go up from New Orleans and we'd do four or five days at a time, just hacking away at it. It was fun because we did it like a demo, but in a studio. We were writing and putting it on tape at the same time. We took what parts we thought were great from the old days and weren't scared to go backwards. It kinda wrote itself that way."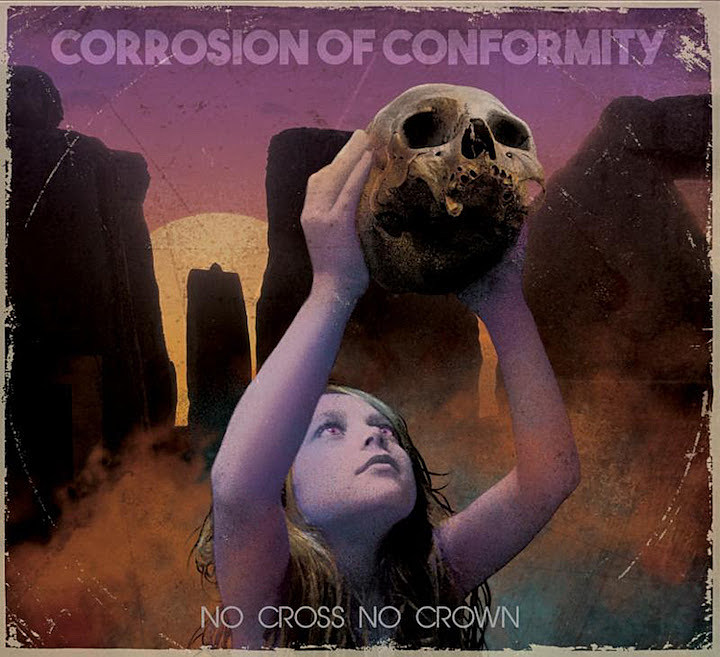 My introduction to C.O.C. was through the EP 'Technocracy'. At the time, it was probably one of the most aggressive pieces of music that I listened to. It had speed and power which was a huge plus, but ultimately C.O.C. would have to take a back seat for a while, as around the same time I was also getting deeply into Doom Metal and Stoner Rock bands such as The Hidden Hand, Goatsnake, and Candlemass. These were the bands that were playing the Black Sabbath-esque riffs that I had grown addicted to, so naturally I would be more drawn to them than a hardcore punk band. However, it was sometime later that I was re-introduced to C.O.C. through some friends who happened to play the albums 'Blind' and 'Deliverance' for me. Soon enough I found a new appreciation for this band who was playing the Sabbath-esque riffs I loved, but at the same time added an extra southern twist to their sound that really set them apart from other bands!
Fast forward to now, I'm quite happy to say that fans of past works such as 'Wiseblood' or 'Deliverance' will find much to enjoy on 'No Cross No Crown'. To be frank, I knew from first listen that this is going to be a STRONG contender for best Metal album of 2018! Aside from a few guitar interludes that I'm not particular fond of, I find that every other song on 'No Cross No Crown' is written to perfection! This is a band whose heart and soul can truly be felt in the music! From the chugging, massive riffs in songs like "The Luddite" and "E.L.M." to the melodic and soulful playing in "Forgive Me" and "A Quest To Believe" (Seriously, if the solo towards the end doesn't give you chills, you must be a robot) 'No Cross No Crown' offers everything fans of Heavy Metal should be asking for: RIFFS, MELODY, and SOUL!
'No Cross No Crown' will go down as a shinning example of how a band 30+ years into their career can still surprise the masses by delivering an album that's easily comparable to any of the classics from their back catalog! 'No Cross No Crown' will be released via Nuclear Blast Entertainment worldwide on January 12th, 2018 on CD, digital, vinyl, and cassette formats. Various preorder bundles are currently available at THIS LOCATION. In advance of the release of 'No Cross No Crown', Corrosion of Conformity will join Black Label Society for a mammoth North American live takeover. The tour begins December 27th, 2017 in Denver, Colorado and will wind its way through nearly four dozen cities, the journey coming to a close February 27th, 2018. Additional support will be provided by Eyehategod and Red Fang on select shows. See all confirmed dates below.
You can also hear fellow staff member Jaime Ragadas interview with guitarist Woody Weatherman here.
Corrosion of Conformity w/ Black Label Society, Eyehategod (12/29 – 1/20; 2/11 – 2/27), Red Fang (1/26 – 2/9):
12/27/2017 Ogden Theatre – Denver, CO
12/29/2017 Anthem at Hard Rock Hotel & Casino – Sioux City, IA ^
12/30/2017 Uptown Theater – Kansas City, MO ^
12/31/2017 Pop's Nightclub – Sauget, IL^
1/02/2018 Sokol Auditorium – Omaha, NE^
1/03/2018 House Of Blues – Chicago, IL ^
1/04/2018 Egyptian Room at Old National Centre – Indianapolis, IN ^
1/05/2018 The Fillmore Detroit – Detroit, MI ^
1/07/2018 Upstate Concert Hall – Clifton Park, NY ^
1/08/2018 M Telus – Montreal, QC ^
1/09/2018 Rebel – Toronto, ON ^
1/10/2018 20 Monroe Live – Grand Rapids, MI ^
1/12/2018 Diamond Ballroom – Oklahoma City, OK ^
1/13/2018 Bomb Factory – Dallas, TX ^
1/14/2018 Emo's – Austin, TX ^
1/15/2018 House Of Blues – Houston, TX ^
1/17/2018 House Of Blues – New Orleans, LA ^
1/18/2018 Marathon Music Works – Nashville, TN ^
1/19/2018 Bogart's – Cincinnati, OH ^
1/20/2018 Center Stage – Atlanta, GA ^
1/26/2018 Jannus Live – St. Petersburg, FL *
1/27/2018 House Of Blues – Myrtle Beach, SC *
1/28/2018 The Ritz – Raleigh, NC *
1/29/2018 The Fillmore Silver Spring – Silver Spring, MD *
1/31/2018 PlayStation Theater – New York, NY *
2/01/2018 The Palladium – Worcester, MA *
2/02/2018 Aura – Portland, ME *
2/03/2018 Electric Factory – Philadelphia, PA *
2/05/2018 Town Ballroom – Buffalo, NY *
2/06/2018 The Goodyear Theater at East End – Akron, OH *
2/07/2018 Stage AE – Pittsburgh, PA *
2/08/2018 Eagles Ballroom Club Stage – Milwaukee, WI *
2/09/2018 Myth Live – St. Paul, MN *
2/11/2018 O'Brians Event Centre – Saskatoon, SK ^
2/12/2018 The Ranch Roadhouse – Edmonton, AB ^
2/14/2018 Commodore Ballroom – Vancouver, BC ^
2/16/2018 Bowes Event Center at Revolution Place – Grande Prairie, AB ^
2/17/2018 MacEwan Hall – Calgary, AB ^
2/19/2018 Showbox SoDo – Seattle, W ^
2/20/2018 Roseland Theater – Portland, OR ^
2/21/2018 Ace Of Spades – Sacramento, CA ^
2/23/2018 House of Blues – Las Vegas, NV ^
2/24/2018 The Marquee – Tempe, AZ ^
2/25/2018 Sunshine Theater – Albuquerque, NM ^
2/27/2018 The Fonda Theatre – Los Angeles, CA ^
^ w/ Eyehategod
* w/ Red Fang