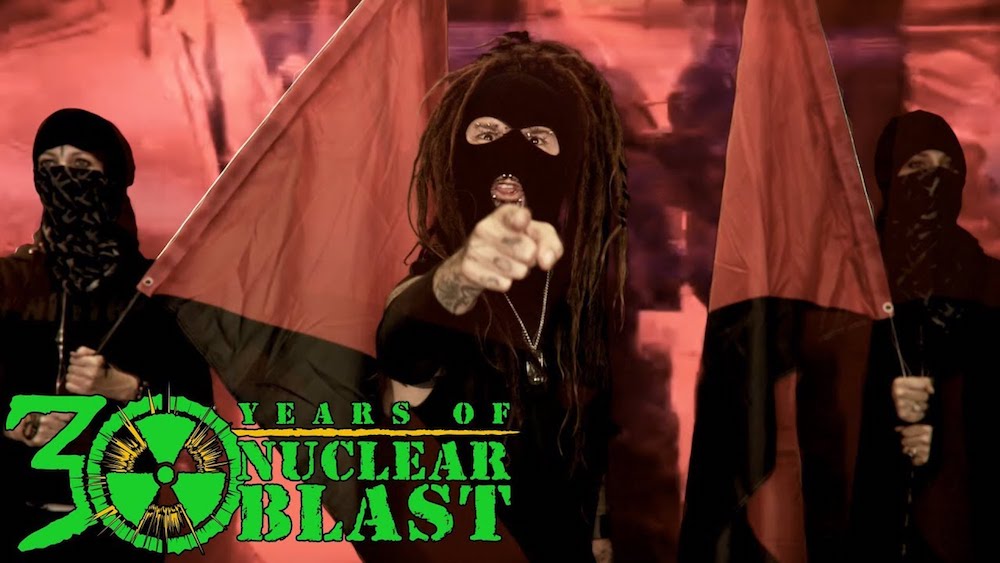 Industrial metal band, Ministry is back with a new music video for their single, "Antifa," off of the anticipated, upcoming studio album, 'AmeriKKKant' – scheduled to be released in March, 2018 on Nuclear Blast records. Initially following the death of longtime guitarist, Mike Scaccia in 2012; founding member, lead vocalist, and main songwriter, Al Jourgensen stated that their 2013 album, 'From Beer to Eternity' would be Ministry's last. He has since reconsidered and the band began working on recording their fourteenth studio album earlier this year with a few new members added to the lineup – Cesar Soto on guitars, Derek Abrams on drums, and DJ Swamp on turntables.
Ministry has been a band since originally forming in Chicago, Illinois back in 1981. They saw significant mainstream success during the popularity of industrial music in the early nineties when songs like "Jesus Built My Hotrod" started receiving heavy rotation on MTV and rock radio. Now, thirty-six years into their career, Ministry is still going strong.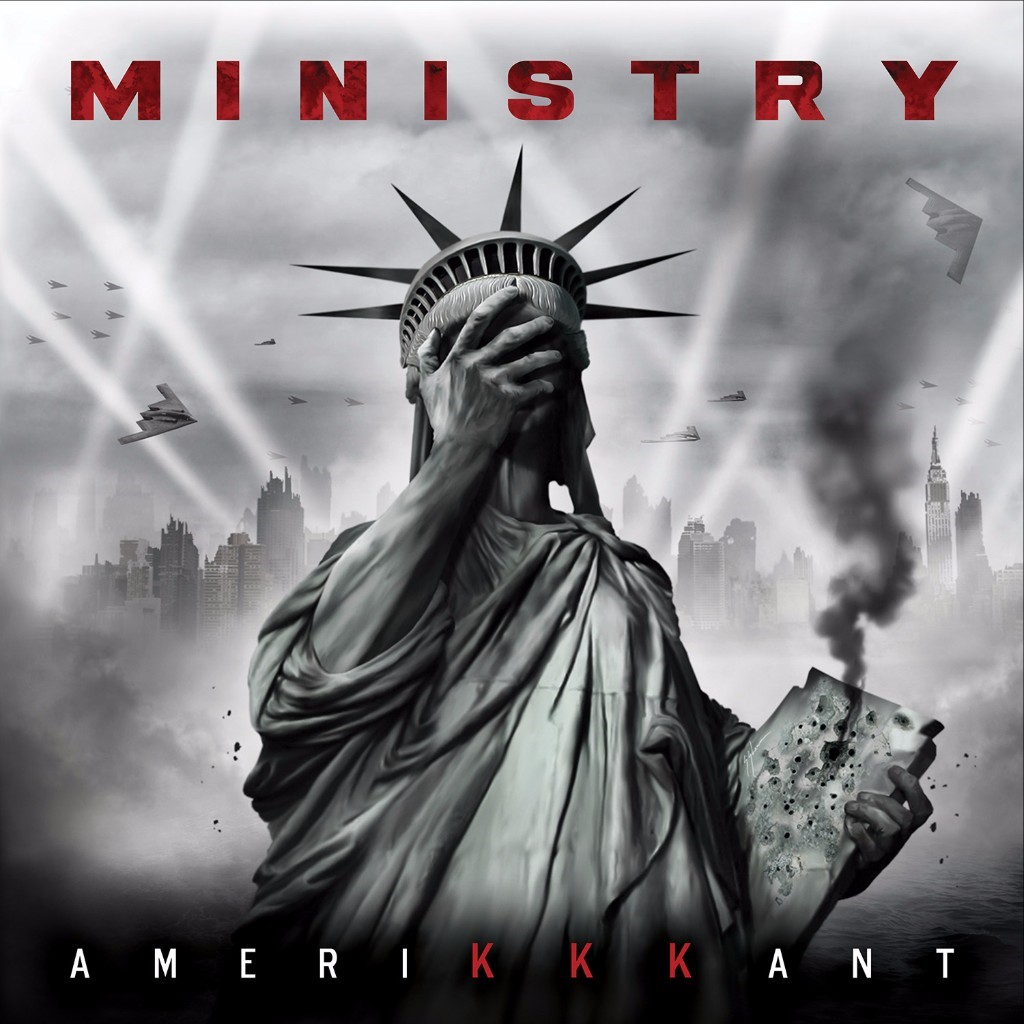 According to the Merriam-Webster Dictionary definition, "Antifa" is defined as: "a person or group actively opposing fascism." Clearly this song has a strong political message to get across. In the opening of the music video itself, we hear a distorted voice talking about fascism over a slow and funky guitar melody while dictionary definitions and synonyms for the word "fascist" are plastered onto the screen. Once the song gets going, the main riff kicks in and the tempo speeds up, sounding reminiscent of such Ministry classics as "N.W.O." and "Just One Fix."
Onscreen, the imagery alternates between news footage clips and terrorist-style, lo-fi video of Jourgensen in a ski mask with two women in all-black burkas waving red and black flags behind him. Other symbolism is displayed throughout the video including Molotov cocktails, riots, KKK rallies, and dancing, Guy Fawkes-masked politicians. There's definitely a lot going on here and with lyrics like, "I've got something to say to you. I'm backing it up with my fist," it's pretty apparent that someone is pissed off at the current state of things.
Now, all political agendas aside, musically it's a pretty cool song. It's got that recognizable gritty, Ministry sound while being heavy and aggressive. Production-wise, it's dripping with gobs of distortion on basically every instrument, giving it that trademark industrial quality to the mix. Vocally, Jourgensen's raspy, robotic growl sounds strong and as venomous as ever.
Overall, it's simplistic and catchy industrial metal – nothing groundbreaking or out of the ordinary for the band. It's essentially the classic Ministry sound that one would expect, but definitely a very headbang-able and mosh-worthy track to wet fans' appetite for the upcoming full album release next year.
MINISTRY, CHELSEA WOLFE Tour Dates:
3/22/2018 Anaheim, CA – House of Blues
3/23/2018 Ventura, CA – Ventura Theatre
3/24/2018 Las Vegas, NV – Brooklyn Bowl
3/26/2018 Sacramento, CA – Ace of Spades
3/28/2018 Portland, OR – Roseland Theater
3/29/2018 Vancouver, BC – Vogue Theater
3/31/2018 Edmonton, AB – Union Hall
4/01/2018 Calgary, AB – Palace Theater
4/03/2018 Missoula, MT – Wilma Theatre
4/05/2018 Lincoln, NE – Bourbon Theatre
4/07/2018 Chicago, IL – Riviera Theatre
4/08/2018 Milwaukee, WI – Turner Hall Ballroom
4/10/2018 Cincinnati, OH – Bogart's
4/11/2018 Grand Rapids, MI – 20 Monroe Live
4/12/2018 Indianapolis, IN – Egyptian Room
4/14/2018 Toronto, ON – Opera House
4/15/2018 Montreal, QC – MTelus
4/17/2018 Boston, MA – Royale
4/18/2018 Portland, ME – Aura
4/19/2018 Huntington, NY – Paramount Theater
4/21/2018 Montclair, NJ – Wellmont Theatre
4/22/2018 Buffalo, NY – Town Ballroom
4/23/2018 Baltimore, MD – Rams Head Live
4/25/2018 Atlanta, GA – Center Stage
4/26/2018 Orlando, FL – Hard Rock Live
4/28/2018 Austin, TX – Levitation Festival