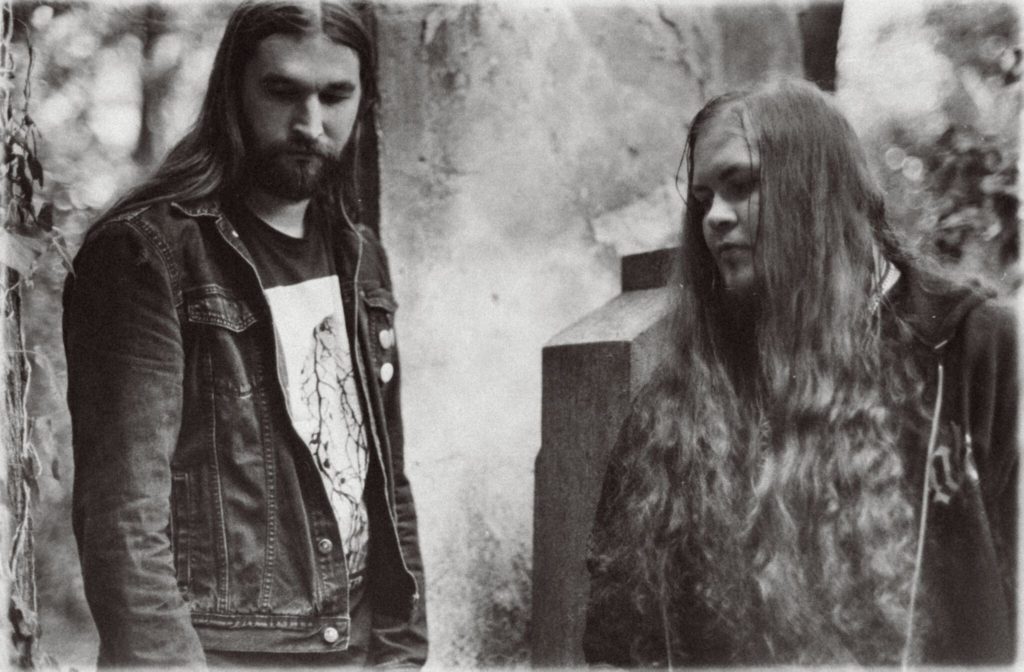 "This song is like a retrospective on broken relationships and the void that stays when people leave. To me it's not the saying good-bye which is the greatest burden, it's the never-ending silence, the rejection and the uncertainty. This song tributes the pain that's left when beloved people disappear completely as if they'd have never crossed way." – J.J. (vocals)
The song in question is "You Are The Scars" – the latest offering from Harakiri For The Sky's highly anticipated 4th studio album 'Arson', out February 16th next year via AOP Records. The Austrian post-black duo's 10+ minute epic metal-gaze masterpiece is powerfully emotive, dealing with the pain and confusion of broken relationships that can either drown us or make us stronger. This is beautifully encapsulated in Harakiri For The Sky's signature symbiosis of breathtakingly atmospheric post-rock soundscapes and emotive black metal – the unlikely equilibrium that explores both the direst depths and fleetingly blissful extremes of the human psyche. Artistically directed, filmed and edited by Andreas J. Borsodi with calligraphy and creative consulting by Albert Hupeka, this is a one of the most touching and creative lyric videos that I have seen in recent times that is flooding with aural and visual meaning. Watch the video below:
"…Too weak to continue swimming, yet not weak enough to give up and sink. Leastwise I know now, that salty waters might cure everything…"
.
'Arson' is currently available for pre-order here, and is available as a Deluxe LP on 4 different, limited edition vinyl colourways – gold or red (both lim.100), white or orange (both lim.150)
Harakiri For The Sky will perform one exclusive album release show on February 10, 2018 at Szene in Vienna, Austria. Opening the show will be fellow Austrian atmospheric black-metal band Ellende. Tickets are available now.
They will then go on to tour Europe this spring with support from Dutch dark-rock band Dool. The three-week excursion will take place March 2nd through March 18th, with performances in 8 different countries.
Harakiri For The Sky w/ Dool Tour Dates:
Jan 17 – Turku, FI – Gong
Jan 18 – Tampere, FI – Klubi
Jan 19 – Jyväskylä, FI – JKL Metal Festival
Jan 20 – Helsinki, FI – Metal Crane Festival Jan 21 – Tallinn, EE – Tapper
Jan 25 – Malmö, SE – Babel
Jan 26 – Göteborg, SE – Musikens hus
Jan 27 – Stockholm, SE – Klubben
Jan 28 – Karlstad, SE – Nöjesfabriken
Jan 29 – Oslo, NO – Revolver
Feb 10 – Vienna, AT – Szene Wien (Exclusive Release Arson Show)
Mar 2 – Essen, DE – Turock
Mar 3 – Vosselaar, BE – Biebob Concerts
Mar 5 – Nantes, FR – Le Ferrailleur – Café Concert
Mar 6 – Paris, FR – O'Sullivans Backstage
Mar 7 – Colmar, FR – Legrillen Grillen
Mar 8 – Aarau, CH – KIFF
Mar 9 – Pavia, IT – DAGDA Live Club
Mar 10 – San Donà di Piave, IT – Revolver Club
Mar 12 – Budapest, HU – A38 Hajó
Mar 13 – Kraków, PL – Klub Alchemia
Mar 14 – Magdeburg, DE – Factory
Mar 15 – Erfurt, DE – Club From Hell
Mar 16 – Berlin, DE – Roadrunners Rock & Motor Club
Mar 17 – Mannheim, DE _ MS Connexion Complex
Mar 18 – Tilburg, NL – Poppodium 013