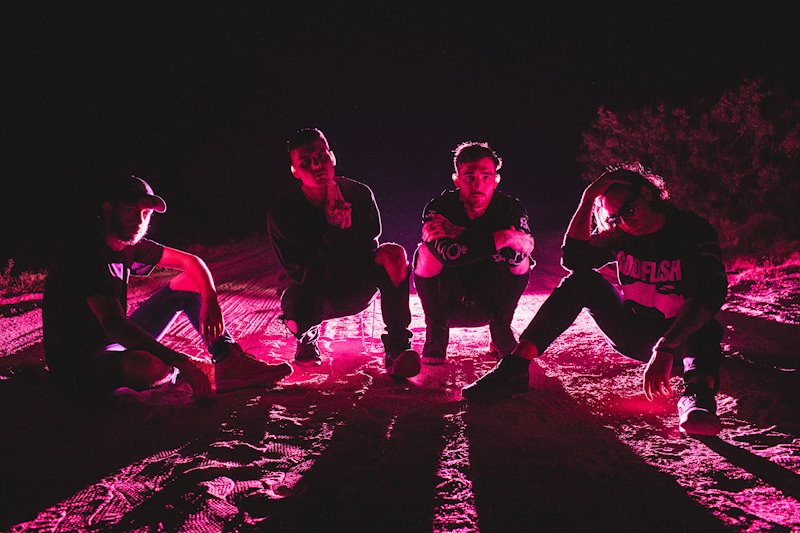 Cane Hill is finally back after roughly 2 years since the release of 'Smile' which has always been my number 1 nu-metal record but after listening to the just released album 'Too far Gone' I am not so sure anymore. It has been released today, 19th of January, via Rise Records and it is even more insane and chaotic as before. But we can't forget about the stellar EP 'Cane Hill' which features some of their greatest hits such as "Time Bomb", "Screwtape" and "Oxblood". So with that being said, let's get right into the mix!
Let's kick off this beauty with the intro track "Too Far Gone". It has been out since the 9th of October last year but it is still standing insanely strong today. Just a couple seconds in you already know what you are about to witness, a track with fast and chaotic instruments alongside of creepy vocals that get better every minute. It is just one of those songs that you can't get tired of, every time I open my brower to listen I instantly get carried away by the catchyness and the heaviness. Without a doubt my favorite one from the album!
Talking about heaviness, 7th song "Scumbag" is one to totally go nuts to. It is super short and madly fast. If the pit wasn't already crazy with "Too Far Gone" then you better prepare because it is about to get hectic!
And if those 2 songs haven't drained your enery yet "Hateful" is about to. It is precisely what the song suggests, it is about being done with everything and everyone around you and just when you thought it couldn't get any worse the next thing is already waiting and smiling for you to fail.
"I feel so fucking hostile."
"Feeding on what's here what's now."
"It's the way to I go to waste."
"With my fingers in my brain."
"But now I don't taste the same."
Before we go to the softer and calming side of 'Too Far Gone' we need to talk about "10 Cents". Right after the line "All I have to do is die." your body just knows to go total crazy and to never stop but upon hearing the sentence "All my heroes are dead now." you simply can't sit still. There is just no way. And to top it all of the used vocal effects on that line go perfectly with the sound of Cane Hill. Just an incredible song all around!
"The End" is one of the songs next to "Singing In The Swamp" and "Why?" that shows you the complete opposite of the band. While I mostly enjoy the more brutal songs of the album I have to admit that the style of those 3 songs hit my soft spot. It is still Cane Hill but very different at the same time and to accomplish something like that is not something every band can say. They simply are just great at everything they put their hands on, they can't disappoint.

Cane Hill is one of those bands that have the ability to produce heavy tracks with insanely creepy and sinister vocals and also release slower ones that make you focused and calm. They successfully put out both ends of the spectrum and that is exactly what is going on with this album. Like I said before, they can't miss. They only hit.
Read below what the band had to say about 'Too Far Gone' themselves:
"What ties these songs together is a theme of acceptance about life being incredibly futile, finite, and having a very distinct beginning and end," he elaborates. "Smile was all about pushing boundaries and not really caring about death.Too Far Gone is about the realization that death is forever following you and can hit you at any time. It's the acceptance that your life has consequence and your choices can and will haunt you forever. Whether you decide to change or continue living that lifestyle is one-hundred percent on you. I'm just writing about it."
Cane Hill:
Elijah Witt – Vocals
James Barnett – Guitar
Ryan Henriquez – Bass
Devin Clark – Drums