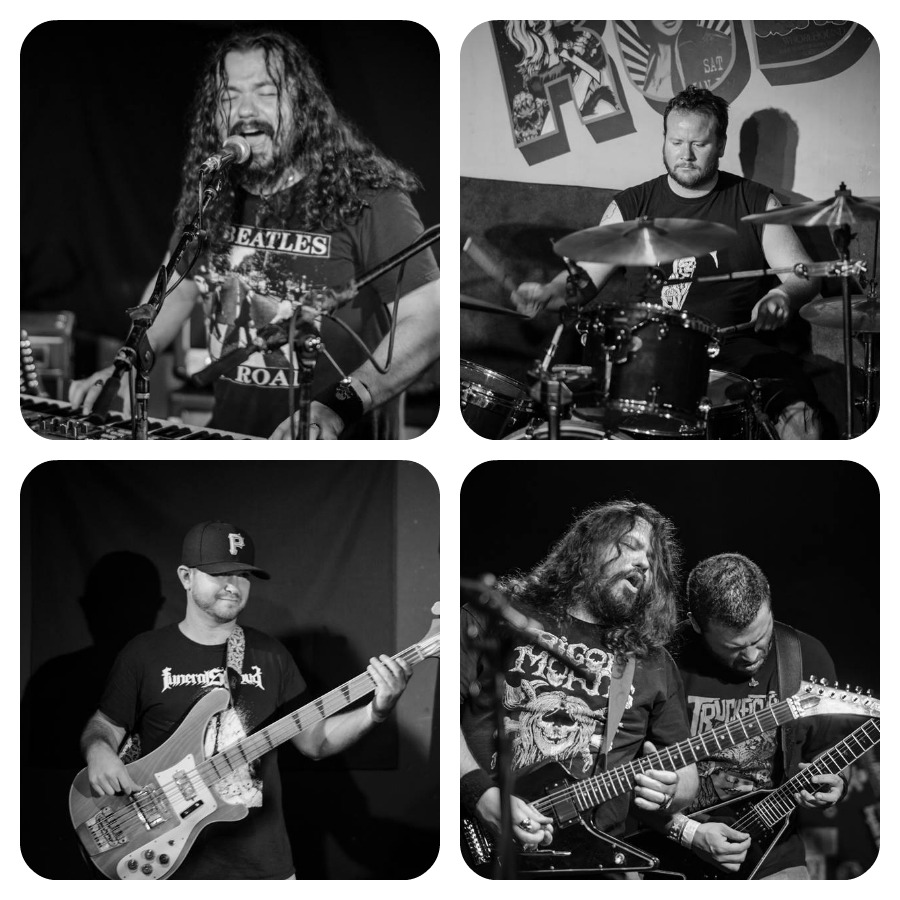 Blues Funeral formed in 2014 by Jan Kimmel (guitar), Cory Cousins (drums) and Maurice Eggenschwiler (guitar). All three of those guys were previously members of the band Sanctus Bellum. Blues Funeral is highly inspired by the 60's and 70's rock and metal scene and you can hear the influence in their sound. They added experienced upright bass player, Gabe Katz, who decided to kick his upright to the side and go electric with Blues Funeral. The band's name is inspired by the 1969 Groundhogs cut, "Blues Obituary", is an ode to many of the group's influences including classic bands like: Deep Purple, Blue Oyster Cult, Mountain, Black Sabbath, Jimi Hendrix, Cream, and more. Blues Funeral's goal is to explore some new musical territory and truly find their own sound. Their debut album 'The Search' is set to be released on July 30th. It was recorded at Lucky Run Studio in Houston, TX. The band composed, arranged and produced the album themselves and it was mastered by Collin Jordan at The Boiler Room in Chicago, IL. Collin Jordan has mastered albums for Blood Ceremony, Wovenhand, Eyehategod, and The Gates of Slumber.
Blues Funeral really brings back some old school sounds with the opening track "Autumn Dream", the slowed down guitar riffs and melodies are a throwback that is very much welcomed. 2 minutes into the track the track really ramps up the speed and you get your first sampling of vocals from singers Jan Kimmel and Maurice Eggenschwiler who sing with this incredible harmonizing style. Blues Funeral wastes no time showing off their guitar playing skills either. The band really has their own signature sound, you can hear some influence from the 70's Rock era but they make sure to put their own stamp on their brand of rock n roll. Track 3 "Planet Void" really gets your blood pumping. The upbeat song thunders through some amazing drum beats and the cymbal hits really play a major role in the song. Again the vocal harmonies are predominant and help set the band apart from others with a similar sound. Creating a harmony with another singer is a hard task and Blues Funeral seems to do so with little to no effort at all. Their talents are showcased very well from start to finish. On "Paragon of Virtue" (which you can hear below) the organ really plays a large part in the song, especially leading into the song. They managed to fit it in perfectly and it adds a whole other dimension to the song. Lyrics like "I am the dagger that pierce the tyrants back" are just a small dose of how amazing some of the lyrics are not only on this track but the entire album. The song gives you that much need instrumental showcase about halfway through where we get some guitar solos and the bass is heard well in there as well. In today's music the guitar solo has kind of died and we are glad to see that brought back with such authority as Blues Funeral has here. Moving on to the final track of the album that has already been a listeners dream. "Palmdale" is the 6th and final track on 'The Search'. The band isn't going to let you finish the album without pulling out all the stops. "Palmdale" really gives you a taste of everything they have achieved on the album. Guitar riffs at the speed of light, vicious drum beats with amped up quickness, and the vocals are just as perfectly timed and belted out as any I may have heard before. At the end of the song you get that final touch similar to what you'll get in a live performance. It's like an improvised moment where the band just puts their own personal spin on the final seconds of the track/album and send the listener out with a bang. If you are a fan of old school metal or rock n roll then this album will make your head spin. I assure you that there isn't anything like this band on the market right now. They are truly a prototype for exactly what a lot of bands are trying to achieve and can't. Don't let this album pass you by.
 Follow Blues Funeral on Facebook!