Blues Funeral formed in 2014 by Jan Kimmel (guitar), Cory Cousins (drums) and Maurice Eggenschwiler (guitar). All three of those guys were previously members of the band Sanctus Bellum. Blues Funeral is highly inspired by the 60's and 70's rock and metal scene and you can hear the influence in their sound. They added experienced upright bass player, Gabe Katz, who decided to kick his upright to the side and go electric with Blues Funeral. The band's name is inspired by the 1969 Groundhogs cut, "Blues Obituary", is an ode to many of the group's influences including classic bands like: Deep Purple, Blue Oyster Cult, Mountain, Black Sabbath, Jimi Hendrix, Cream, and more. Blues Funeral's goal is to explore some new musical territory and truly find their own sound. Their debut album 'The Search' is set to be released on July 30th. It was recorded at Lucky Run Studio in Houston, TX. The band composed, arranged and produced the album themselves and it was mastered by Collin Jordan at The Boiler Room in Chicago, IL. Collin Jordan has mastered albums for Blood Ceremony, Wovenhand, Eyehategod, and The Gates of Slumber. The bands debut album 'The Search' made #11 on my top 25 albums of 2016 (read here). Almost a year ago I stated "I assure you that there isn't anything like this band on the market right now. They are truly a prototype for exactly what a lot of bands are trying to achieve and can't" and I still believe this is true. Their sound and style is something that other bands won't even attempt to duplicate. The band has now put the final touches on their sophomore album 'Awakening' which released August 25th.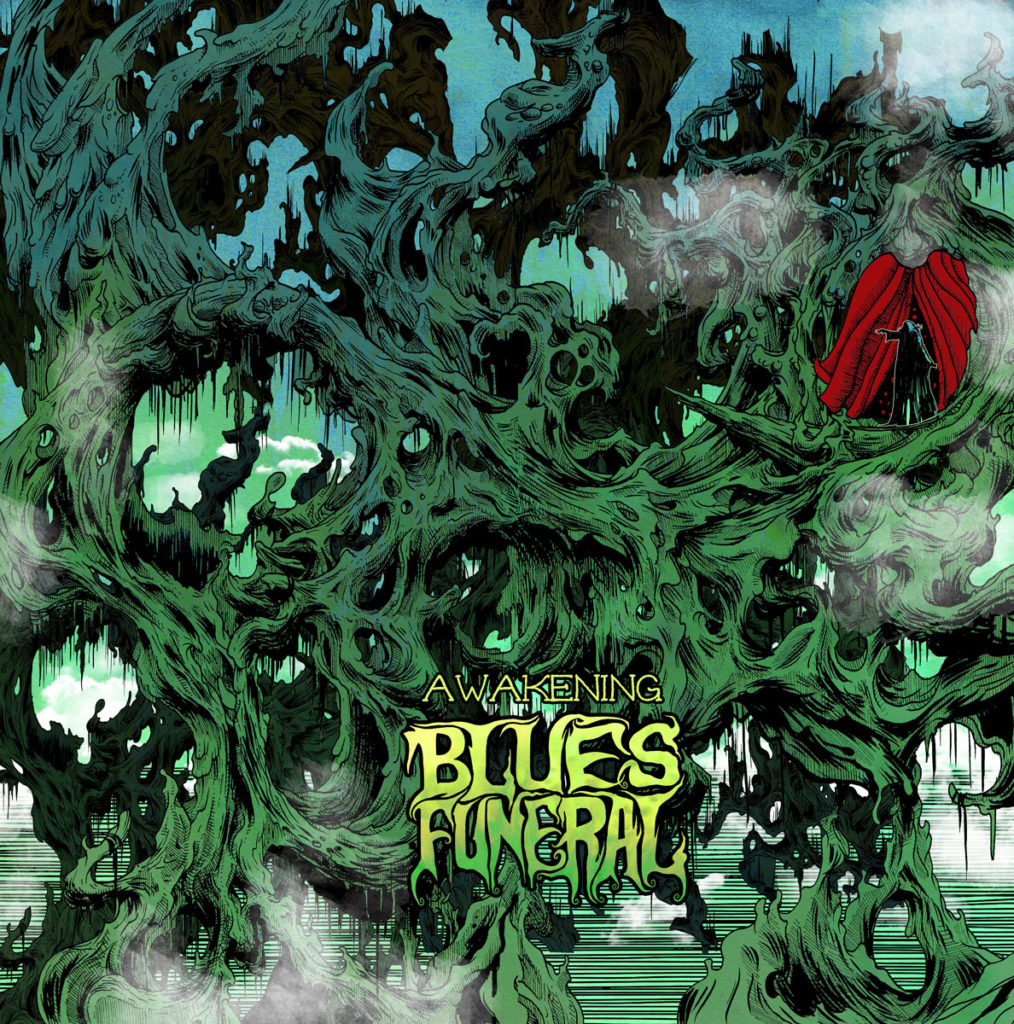 After last years blistering release from these southern progressive heroes I have eagerly awaited a follow up. "Shadow Of The Snake" is the opening track from 'Awakening'. The track starts out with some really old school vibes. The guitar riff and the powerful sounds from the Nord keyboard, you can hear some influence from The Doors within the track, but in addition to that you also get an ear full of doom and blues. Right around the 3 minute mark you get this killer passionately slow guitar solo followed by some magic on the keyboard. It breaks up the song and just lures you in for that final dose of blues that slithers into your ears. They don't over saturate the track with vocals, the instrumentation and the vocals are equally balanced. "Illusions Of Reality" speeds things up a bit. Immediately present is some groove and the upbeat tempo. This track also showcases Jan Kimmel (El Janni) and Maurice Eggenschwiler's ability to create vocal harmonies. "Illusions Of Reality" has a throwback kinda sound to a time where bands perfected the vocal harmonies. Their voices are somewhat similar but contrast just enough to make the melding of both their styles something very unique. Cory Cousins is the time keeper of the band, his drummer is the foundation of each track. It has to be mentioned as well that the guitar riffs throughout this track are face melting. Just a few songs into 'Awakening' the album is very much a continuation of Blues Funeral's debut album, but there is also some progression in their sound that cracks the album up a notch in comparison to its predecessor. "Casimir" has an almost Middle Eastern flair to the way the it's composed. Again on this track you get those vocal harmonies that just make the hairs stand up on your neck. "Casimir" has a truly prog feel. Often in songs they riffs can become repetitive or stagnant, and that is the exact opposite of what Blue's Funeral is doing here. They bring an arsenal of riffs, beats and rhythm to this song and each and every song. They constantly mix things up and retain a fresh vibrant sound throughout each track. "Casimir" continues with it's exotic flair. They truly pull it off keeping to their bluesy doom filled roots while also adding an additional dimension to their sound. The 6th and final track from the album is "The Gathering Dust". The guys hold nothing back on this track. It's one of the heaviest songs on the album, and they proudly display the power of the riff throughout the song. Bassist Gabriel Katz and his deep thundering bass lines anchor this song. As the song winds down you get this amazing instrumental break down. It almost feels like an improvised jam session but I assure you anything Blues Funeral does is well thought out. 
Blues Funeral has done it again. Their debut 'The Search' made my top 20 albums last year and the bar was raised very high for their second release. I can assure you 'Awakening' will also make my best of list when the 2017 comes to a close. Blues Funeral has a powerful raw sound that inches it's way into the doom genre and is drenched with bluesy guitar riffs. Their sound is unique and a blend of so many different influences. The vocal harmonies are a powerful bait that hooks you and drags you into their sound. There is an ambiance within their music, it's like a landscape mural you want to get lost in. By far one of the most diverse and vibrant releases of the year.
You can be one of the first people to enjoy "Illusions of Reality" which is streaming below exclusively at Metal Nexus.