Ape Cave are a talented band from the musically rich city of Portland, Oregon. The band's debut release was on May 31, 2015 in the form of an EP titled 'Primordium'. It was engineered by Ryan Grunest and The Human and mixed/mastered by The Human at Human Studios. 'Primordium' has been described as an eighteen minute long embarkment spanning over bountiful sonic landscapes – listeners will find themselves immersed in formidable singing, kaleidoscopic guitar solos and rigid rhythms. I have become addicted to their unique sound since hearing their 2016 release 'Pillars of Evolution' which also made my best of album list for that year. It was engineered/mixed by Fester at Haywire Studios and mastered by Stephan Hawkes at Interlace Audio. The band describes the album "Prepare to undertake a momentous odyssey through Kashmir's bluffs, devastating Egyptian plains and volcanic panorama in Ape Cave's LP 'Pillars of Evolution.' The psychedelic guitar work, roaring bass lines, thunderous percussion and dark vocals soaring to pyramidal heights are just a fraction of the elements that will leave listeners captivated. The tale of a wanderer experiencing an intensely hallucinogenic, trans-continental journey is yet to be unraveled." The band has now released their follow up to that album with 'Language of the Earth' which like the last album released on January 1st. Ape Cave continues to bring amazing gifts on January 1st with their album releases and though it's the first day of the year when December rolls around it will still be in your album rotation. This was true with 'Pillars of Evolution' and I'm sure the same will be true with 'Language of the Earth'. This album was Engineered/mixed/produced by Billy Anderson who has worked with notable acts like The Melvins, Neurosis, Swans, Brutal Truth and many more.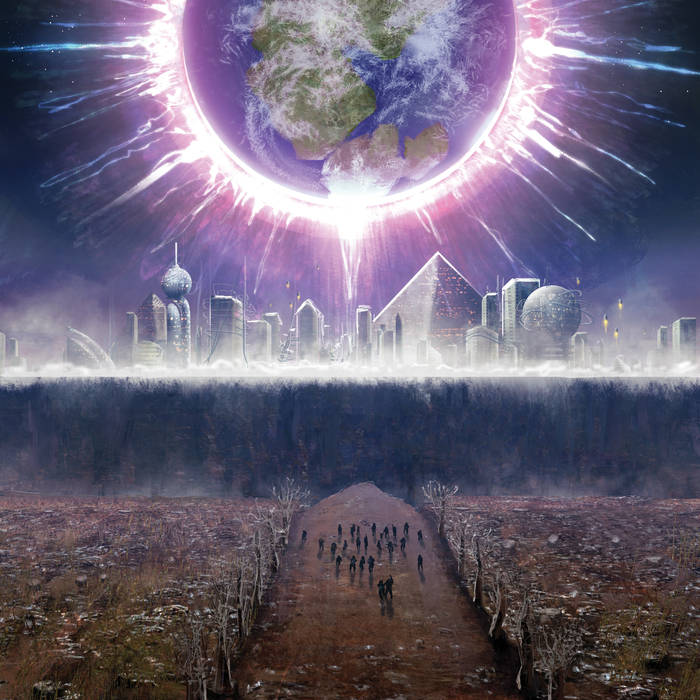 This Ape Cave album kicks off with the blistering track "Creation". Immediately you hear some thrashy sounding riffs and then the groove and tribal-esque drums kick in. Nathan Nielson terrifyingly heavy vocals kick in and it's off to the races as the song cranks it up to 11. The things take a turn to a somber melodic overtone. Nathan's melodic vocals quickly spin the song around from thunderingly heavy to sailing away on a cloud. But… It doesn't stay that way long as the song quickly reverts back to the heaviness Ape Cave is known for. A large portion of the bands sound is experimental, but everything they add to their already illustrious sound fits and simply adds to the multidimensional complexity of the band. "Fifth Sun" begins with Gage Dean's isolated bass riff and then quickly the other instruments and vocals join in. The chugging guitar riffs and groove filled bass lines show off the bands progressive and sludgy sound. The guitar work that Paul McGaha expels on this track is mesmerizing. Combined with the constant groove and tribal like drum beats by Bobby Rosson the song crosses through several genres and keeps your ears glued to each and every note. "Fifth Sun" may just be my personal favorite Ape Cave track. It's a flawless song that is complex, progressive, sludgy, groove filled and heavy. You can't go wrong at all when one single track holds together all those things without spilling over into a mess. "Green Planet" begins in a very somber and eerie way. A singular repeating riff, the rattle of the snare drum gets things started. Then the melodic vocals kick in. The song vocally has an Alice In Chains vibe going on, but musically it's more doom. Nielson's vocals and the addition of Gage Dean on backing vocals creates harmonies that is slight but meaningful and adds to the songs vastness. You could say this track is a ballad, but an Ape Cave ballad is immensely from the ballads of decades past. This slowed down track has an ambiance and soothingness to it that breaks up the heaviness the album expels. In a sense "Green Planet" is a pallet cleanser that allows you a brief escape from all that is heavy, just to come right back with "Celestial Corpse" and assault you with their heaviness again. "Celestial Corpse" not only carries with it an unmeasurable amount of gritty proggresive sounding metal but it also shows off Ape Cave's ability to expertly articulate their lyrical content. "An existence of serendipity balanced in form, cast aside for a glimpse of solidarity, towers of filth, engorged by unending pleasures. Was it worth it?" is just a small verse from the track and it shows the bands ability not only as musicians to compose music but also incorporate well thought out and thought provoking lyrics.
They have done it again with 'Language of the Earth'. January 1st is hearby known as Ape Cave day in my book as this marks the second nearly flawless release that they have contributed to the music world on that date. 'Language of the Earth' is a roller coaster ride that takes you on extreme lows and highs with their ability to change and adapt their songs and the constant pace changes they formulate. They don't inundate you with constant heaviness or melody, like a perfectly mixed cocktail the whole album is well thought out and laid out in courses for you to consume. Each track is meant to enhance your mood in preparation for the following track.  'Language of the Earth' is an album that is impossible to grow tired of and I can assure you this album though released in the waking hours of 2018 will not be forgotten when the ball drops ringing in 2019. Regardless of your taste in music Ape Cave bring something to the table that you will find appealing. Stream the entire album below and you will become a fan.