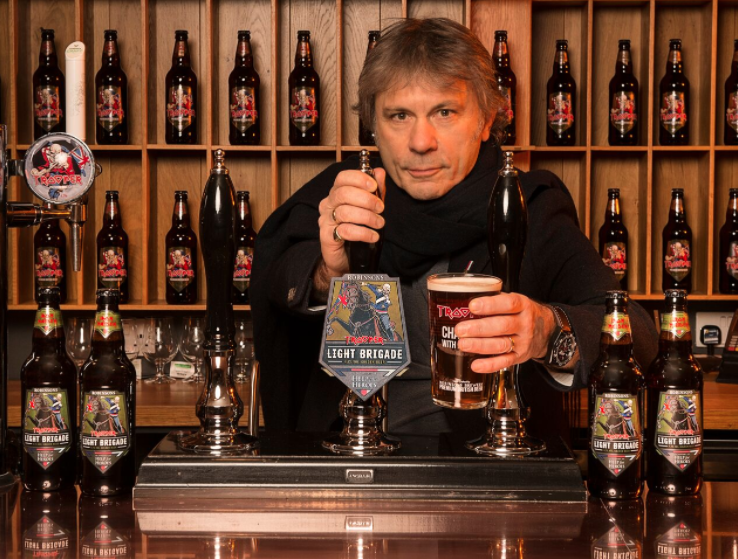 Metal and beer share an intimate bond, just like your customary combo dose of nachos and cheese, popcorn and movies and many other inseparable flings. It rather shares such a level of belonging to each other that German thrashers TANKARD are credited for inventing the term "Beer Metal", thanks to their love for the fermented magic potion. If you're at a metal fest and you're not cracking open a cold one with your lads you're not really doing it right!
So keeping in mind IRON MAIDEN's Trooper beer success and attempting to recreate the craze of another heavy metal beer, the metal legends have teamed up again with Robinsons who were also responsible for Trooper's feat. This time it's a light version with alcohol content much less than the Trooper, a unique golden English ale with a 4.1% ABV. Hence, "light", and is named after the story of Charge Of The Light Brigade in the Crimean War.
It has been developed in support of Help For Heroes, the British charity that provides recovery and support for the Armed Forces community whose lives are affected by their service.
6p of each pint and 5p of each bottle sold will be donated to help the thousands of Servicemen and women who live with complex wounds and injuries – both physical and mental – and are looking to regain their purpose in life.
Help For Heroes met with Robinsons in the summer of 2017 to explore the possibility of launching a beer. Robinsons and IRON MAIDEN, who jointly launched Trooper Beer almost five years ago and which has now sold over 20 million pints worldwide, were immediately enthusiastic about the idea. Indeed, the origin of Trooper's name, which comes from the classic IRON MAIDEN song, 'The Trooper', based on the Battle of Balaclava of 1854 in the Crimean War, reflects the band's well-known interest in history.
As ever with the Trooper range of beers, Robinsons' Head Brewer, Martyn Weeks, and IRON MAIDEN lead vocalist and ale aficionado, Bruce Dickinson, teamed up to create the new and original beer, with the final tasting and approval taking place at Help For Heroes' Tedworth House Recovery Centre in Wiltshire, last Autumn.
Bruce Dickinson said: "We are very proud to have been asked to get involved. I have been an instructor on several of British Airways' flight simulator 'Flying Heroes' days for Help For Heroes Veterans, so I know the charity and the work that they do well. Light Brigade is our interpretation of a golden ale that maintains the elements of strength and character that are the essence of Trooper but at a more sessionable level. In fact, the two beers complement each other very well."
Beth Miles, Director of Marketing and Fundraising at Help For Heroes: "We are thrilled that Bruce Dickinson has developed a new beer for us under the Trooper brand with Robinsons. We are sure that Light Brigade will have a very popular appeal and raise significant funds, enabling Help For Heroes to empower more Veterans to reach their potential and regain their purpose. This is the beginning of a partnership which we hope will see Trooper fans and Robinsons customers join The Force for Good campaign to support the thousands whose lives have been affected by their service."
Martyn Weeks commented: "Bruce and I were recently invited to visit Help For Heroes in Wiltshire, where we had a tour of the incredible recovery facilities there and met some of the Veterans.  We were both hugely impressed with the work they are doing and launching a new beer in support of this Charity is, we believe, a great way to raise money and awareness for this very worthy cause. Robinsons will also be supporting the Charity through fundraising in our pub estate."
Light Brigade is designed as a session ale for beer and music fans everywhere. It will also be produced on a long-term basis, differentiating it from the other limited edition Trooper beers: 666, Red 'N Black, and Hallowed. In keeping with the Trooper brand, Light Brigade's original bottle label features IRON MAIDEN's iconic mascot Eddie on horseback in one of the uniforms of the Light Brigade.
Light Brigade is available to pre-order online now HERE for delivery from 1st February, and will be stocked in supermarkets nationwide and selected pubs from 19th February onwards.