The band All Hell has gave me yet another reason to love the city of Ashville, North Carolina. They formed back in 2013 in Asheville and have quickly amassed fans from all over. The style of music they play sounds more European than from the Blue Ridge Mountains of North Carolina. Blackened Thrash is what they are. If there is any other bands out there claiming to be blackened thrash I can inform you now that they aren't doing it nearly as good as these guys. With each chorus screamed and riff strummed my jaw drops a little more. The three piece band released their debut "The Devil's Work", in 2014. They wasted no time and are now about to drop the new album titled "The Red Sect" on October 16th. The album is being released by Horror Pain Gore Death Productions. The sophomore album was mixed and mastered by none other than the thrash master Joel Grind of Toxic Holocaust. I think Joel was able to add a little something extra to the album that no one else probably could have. How the band managed to play live shows, write, and record a new album this quickly after their debut is amazing in itself, but putting out an album of this quality is just unheard of.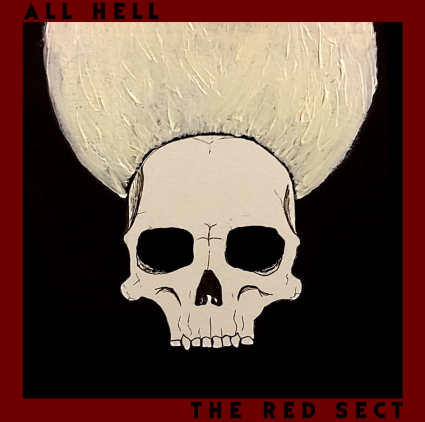 "The Red Sect" is 10 tracks of aggressive thrashing. The velocity of the riffs keep your head banging non-stop. The opening track "Crossroads" quickly smacks you in the mouth with brutality. Those black metal'ish vocals that are done so well immediately allow the band to emerge from the ranks of any other band attempting this style. Vocalist and guitarist Jacob Curwen gracefully screams with this demented tone. Not too low or too high pitched but that perfect median that fits so perfect like a ratty old band shirt from 1991. There is a grittiness to the vocals that give the band this raw unfiltered feeling. Moving on to the track "Venomous" you can hear some Toxic Holocaust influence. The song is just dripping with this old school evil thrash feel. I will warn you that this track and the album as a whole doesn't slow down enough to even let you catch your breath, fast paced and all up in your face. "Graveyard Dust" is introduced with this amazing rhythmic guitar riff and evil lurking vocals. "Beware of the graveyard……..DUST" the lyrics just stick with you. It's not often in modern metal that you get a kick ass chorus, but they force feed it to you, and we take it willingly with love. This album doesn't disappoint. From cover to cover it is pure aggressive throwback blackened thrash. So sit back, buckle up and brace yourself for the ride they are about to take you on.
We will also be on hand to see All Hell on September 15th as they dominate a hometown crowd at The Odditorium in Asheville, North Carolina. We are more than excited to be there with our horns in the air. (Note to All Hell. Please play "Graveyard Dirt"). Did I also mention the other bands on the bill? Along with All Hell is none other than Toxic Holocaust and one of our favorite Portland bands Lord Dying. You can buy tickets to the show here. Expect a review of the show.