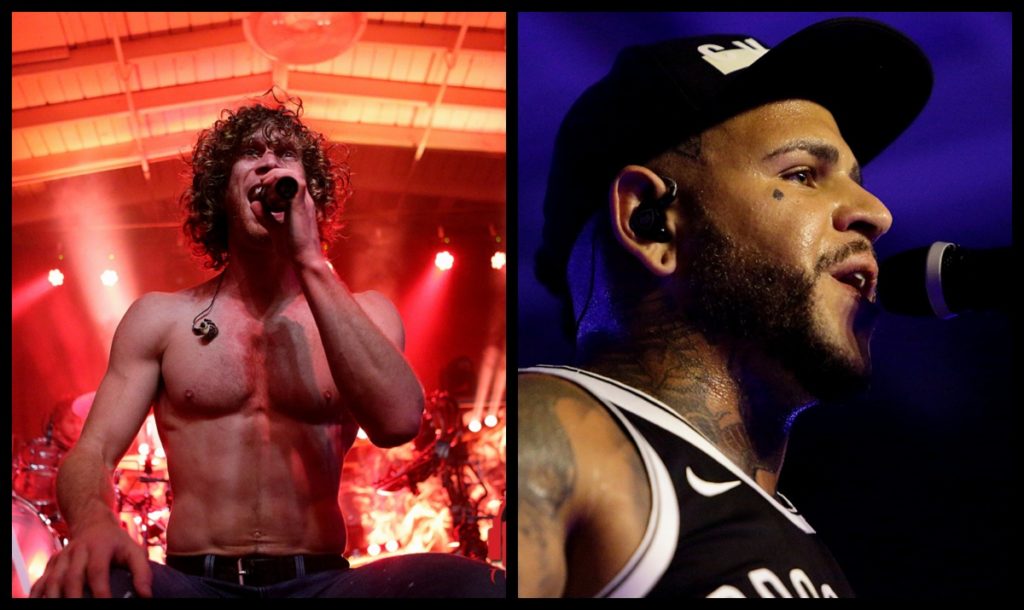 Is there a better way to spend the Sunday night of Labor Day weekend than to spend it with four bands at Manchester Music Hall in Lexington Kentucky? If there is a better way I don't know what it would be! Nothing More, Bad Wolves, Eyes Set to Kill and Indigo Storm had this sold out crowd rocking from the very first note, it was going to be a great night!
A personal note, being Labor Day weekend I was at a family gathering and got a late start to the show so unfortunately I missed Indigo Storm and caught the very end of Eyes Set to Kill's set. Indigo Storm started off this super night of music. They are a trio of rockers from central Kentucky. CJ Jones, Ryan Slayton and David DeWolfe and judging from the comments Nothing More front man Jonny Hawkins said about them, they started the night off right!
Next to take their turn at the sold out Manchester Music Hall crowd, Eyes Set to Kill. Like I said earlier I missed most of their set, but man what I heard was outstanding! I caught the end of "Letting Go" but heard "Infected" in its entirety. Hearing those two I really wished I'd seen the entire set! After their set they came out to the merch table, took pictures with fans and hung out. Always great when bands do that! Let me say something real quick about tonight's venue, Manchester Music Hall. I've seen many shows at MMH over the last couple years, always a well-run venue with top notch staff. Shows always start on time, tonight was a little different though everything was running early! Don't see that much, seems like it's always the other way – starting late. Nice work MMH!
After a very short change over it was time for Bad Wolves. Saying that Bad Wolves have had a big year is the understatement of the year. Their debut album 'Disobey' hit the shelves on May of this year following the release of three singles. The third of those singles was a cover of The Cranberries song "Zombie" which has exploded! With over 133 million views on YouTube and over 53 million listens on Spotify it's safe to say that "Zombie" is a hit. "Zombie" is allowing Bad Wolves music to be heard by multitudes that may not have before and they are hearing some badass music! From the first notes of "Officer Down", "Remember When" and "Jesus Slaves" it was obvious these guys can rock! Hearing "Zombie" (as the set closer) performed live was worth the two and a half hour drive to Lexington.
When the scorpion tail hit the stage everyone in MMH knew what time it was! It was time for Nothing More! They did not disappoint this sold out venue! Kicking this show off right with "Do You Really Want It" and "Let 'em Burn" both from 2017's 'The Stories We Tell Ourselves' the bands 5th album. Then into "Mr. MTV" from their self-titled 'Nothing More' and it just got better from there! I thought "Go To War" might blow the roof off but that didn't happen until Tommy from Bad Wolves came out to help on the vocals about half way through "Jenny". This was my second time photographing Nothing More (the first also in Kentucky at last year's Louder Than Life festival) both times they put on an incredible show. The more intimate setting tonight made for an even more amazing show! The intimacy of the show was very evident when it was time for Jonny to ride the scorpion tail; he was in the lights and the rafters of Manchester Music Hall! Jonny, Daniel, Mark and Ben know how to entertain a crowd. They closed out this brilliant night of music with "First of the Year (Equinox) a Skrillex cover and "Salem (Burn the Witch)". If you weren't one of the lucky ones to score tickets for this show you really missed out!
There wasn't an attendance problem with this show, but I'm sure you've been to show recently that was not sold out. All these touring bands need your support, not only that all your local bands need your support! Every band on tour today was a local band at one time, get out and support those local bands! Never know, one day you may wish you had!  Buy some music and merchandise! Keep this going!