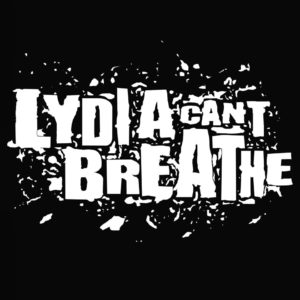 Pop culture. Clean vocals. Movies. Heavy Metal. Television programming. Reggae. Humor. Screaming. Honesty. Weed. Hard Rock. Integrity. A list of seemingly unrelated subjects, right? Nah. With a name based on a Beetlejuice character, one can only expect that Lydia Can't Breathe embodies everything in the list and so much more.
I was introduced to this band's music a couple of years ago by my buddy Jason that runs the killer online radio station, Metal Zone Radio (Metal Zone Radio) out of Melbourne, FL. I was immediately struck by this band's range of musical influences they pulled together to create a Hard Rock/Metal sound with interludes of Reggae, heavy breakdowns and a combination of clean and screamed/growled vocals. Everything very catchy, flowing and unmistakably Lydia Can't Breathe. Pulling from so many sources, they have been classified as Alternative Metal, Alternative Rock, Rock, Experimental Rock, Hard Rock, Heavy Metal, Progressive Metal, and Progressive Rock. All definitely fit but obviously not easy to place in one group or another. Very, very cool is how I would describe their sound, but that's just me; all sub-genres be damned. Members of Lydia Can't Breathe are Kyle Bulduc on vocals and guitar, Josh Runfeldt on drums, Shawn Goree on bass and A.J. Murphy on guitar. All are characters with huge personalities and are humorous as hell on top of being outstanding musicians. That being said, Lydia Can't Breathe cannot be appreciated fully until they have been seen live. At this point, their onstage hijinks are legendary. After playing with a larger band early on, they were complimented on their musical acumen but told to do something more memorable with their stage show. Being named after Lydia from Beetlejuice led naturally to the band dressing as their favorite Beetlejuice characters on stage. After this became dated they have also nodded their heads to Super Troopers, The Mario Brothers and, most recently, Marvel comic characters. When I first saw them, they were doing the Super Trooper gig, throwing out sex dolls, having a maple syrup drinking contest with two trashed audience members and ending the show with "The Peanut Butter Jelly" song while making sandwiches and throwing them into the audience. It is hard to tell whether the audience enjoys Lydia Can't Breathe more than LCB enjoys the audience. These guys love what they are doing and it shows every time they hit the stage. As good as they are and staying on tour much of the year, Lydia Can't Breathe has played with bands such as: Otep, Mushroomhead, New Years Day, Stolen Babies, Soulfly, Bleeding Through, Born of Osiris, Oceano, Prong, Kill Whitney Dead, The Wretched, Skum of the Earth, Last Chance to Reason, SWWAATS, The Autum Offering, The Demonstration, Hell Within, The Architect, Sleeping Giant, Dead Horse Trauma, Bobaflex among many others. Knowing many of the bands in the Southeast, I can say that Lydia is almost universally liked by their peers as well. This comes as no surprise when they are seen with fans, other bands, promoters or venue management. I have seen, first hand the outright professionalism, respect and integrity Lydia Can't Breathe projects no matter whom they are interacting with. This band is the whole ball of wax. No downside whatsoever, no matter what prospective you have.
Lydia Can't Breathe has an EP and two releases on the Spinet Records label: Lydia Can't Breathe – EP (2010), At the Bottom of the Podum Stole (2010) and Time (2013) which can all be checked out and bought at the links below. Each album has a variety of memorable music that allows Lydia to adapt their live playlists to fit into just about any show at any venue making them a chameleon and allowing them to open or headline with just about any Metal band from Rock to Extreme Metal.

Well, we here at Metal Nexus have been watching out for bands to do tour diaries and I approached Kyle just prior to their recently completed PeanutButterJelly Tour 2016 to see if they were interested since they were foremost on my list of potential bands from "go". They graciously agreed and took a number of videos along the way including some killer show footage. So now, sit back, relax and check out our exclusive sugary sweet, tour videos from Lydia Can't Breathe!
Check out Lydia Can't Breathe: Web  Facebook  YouTube  Twitter  ReverbNation
Music: Amazon  iTunes  Last.FM  Spotify