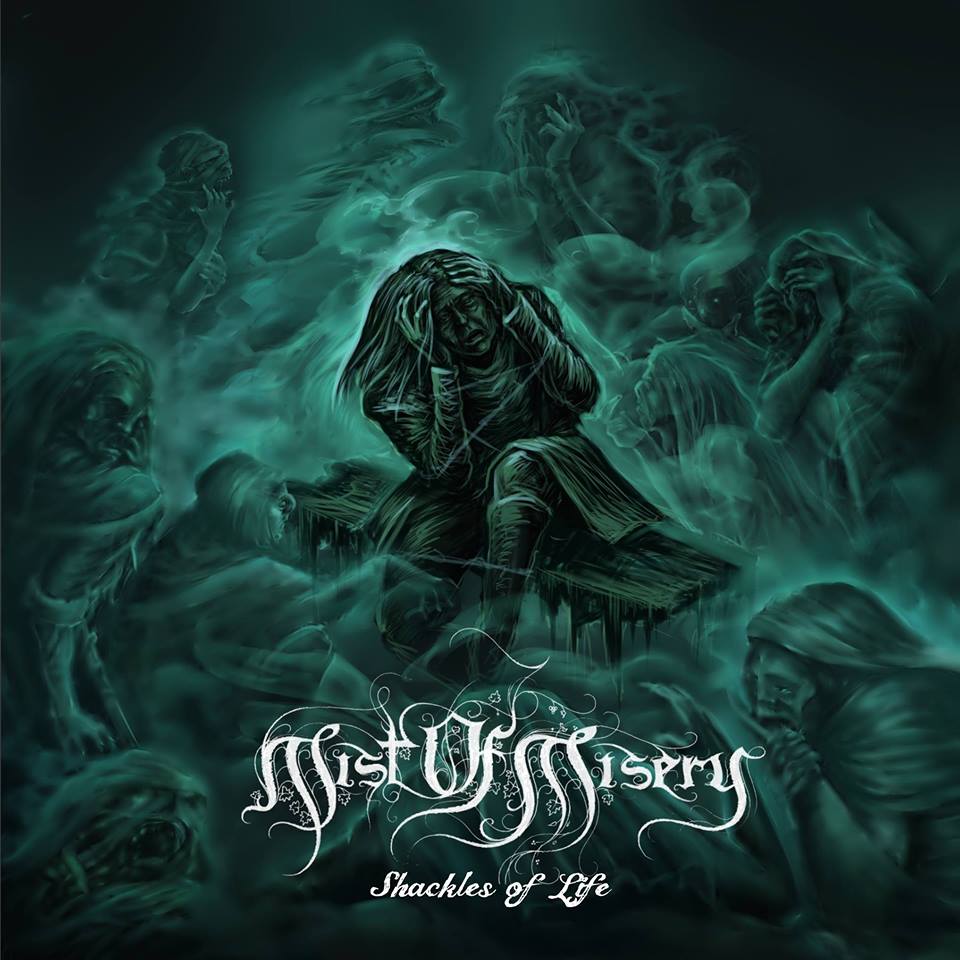 Mist Of Misery is for sure one of the most unique Black Metal bands I have ever come across, they combine the best elements from some of the most beautiful aspects from Black Metal together and make it their own. While listening you will almost get overwhelmed by their diversity, you will hear some clear influences of depressive, atmospheric, symphonic and melodic black metal. It is crazy how these guys do it but it sounds insanely good. I have fallen in love with them right after the release of their 2016 album 'Absence'. It moves you into this mood that you can't explain in words, it is magical. You for sure need to check it out, I have linked it down below and you can also click on the album name right above.
It all started out with their EP called 'Bleak Autumn' from the year 2010, this EP got re-released on the 23th of April this year via Black Lion Records. This EP includes a song called "Shackles Of Life", their upcoming EP (1 of the 2) from which the song "Broken Chains" is from got the exact same name. This first EP out of 2 will get released on the 31th of August this year. Their second release 'Bleak Autumn 2011' got the same name yet it is definitely worth checking out. Besides these powerful records they also released the 'Temple Of Stilled Voices' on the 14th of Januari from 2014. This full EP is up on their official youtube page "MistOfMiserySwe", check it out HERE. This EP includes their first EP ever called 'Bleak Autumn', I really love the fact that they keep doing stuff like that. Makes it interesting!
All their available work is on their bandcamp page, check that out HERE, all their work is really worth taking a good look at! If you prefer listening to it on youtube, it got you as well. At the end of this article it will be waiting for you! For now, let's get right into the awesome news!

Before I talk about how awesome these guys truly are you need to know that "Broken Chains" has also been uploaded via the record label Symphonic Black Metal Promotion, the reason why I have chosen the song linked above is because of the video. It adds that little bit of extra vibe the song needed. Want to check the song out without, click HERE. I could literally talk hours and hours about these guys, they are such skilled people and they need to be talked about. I must admit though, their sound might not be for everyone. It creates this empty space of nothingness that is filled with depression, loneliness and sadness. They are the definition of an unique sounding band, they are unspeakably good.
The song "Broken Chains" that is linked above has been released via Black Lion Records on the 6th of July, this will be the first song of many that will give us a sneak peek into their upcoming EP's. Their first EP will get released on the 31th of August and it has been giving the name 'Shackles Of Life'. They already announced that there will be a second EP coming out soon but there isn't any more information on that at the moment, where there is you will be the first to know.
If you want to pre-order the EP 'Shackles Of Life' from the Swedish band Mist Of Misery you can do that right HERE on their official bandcamp, I highly recomment it!
Their line up changed multiple times but currently they consist of these talented people:
Mortuz Denatus – vocals, lyrics, keys, programming, mixing and mastering
Phlegathon – Guitars, Lyrics
Livsnekaren – Drums
Damian – Bass
Please show them some support by following them on facebook, you will also be up to date on their second EP!