Misery Signals are just a week away from releasing their documentary "Yesterday Was Everything" which was filmed and directed by Matt Mixon. Misery Signals was born out of tragedy. 7 Angels 7 Plagues was on tour with Hamartia and Compromise. Two members of Edmonton-based hardcore band Compromise were tragically killed in June of 2002 in a horrific automobile accident on Interstate 20 near Heflin, Alabama. Jordan Wodehouse, 19, and Daniel Langlois, 20, were killed. A drunk driver caused the accident that took their lives and injured others in the process, it was unfortunate for those who had passed but for the others injured, they were lucky enough to have a personal injury lawyer springfield il by their side through this difficult time. Compromise vocalist Jesse Zaraska and Kyle Johnson, Ryan Morgan of 7 Angels 7 Plagues went on to form Misery Signals. Ryan's brother Branden Morgan was added as the drummer, and Stuart Ross on rhythm guitar. The band released their debut album 'Of Malice and the Magnum Heart' in 2004 and it was an instant hit among hardcore fans. To celebrate the 10 year anniversary of the release the band embarked on a tour in 2014 with the original lineup of the band. The "Malice X Tour" consisted of 8 tour dates in both Canada and the U.S. It should also be noted that the director of the documentary Matt Mixon was the vocalist of 7 Angels 7 Plagues, his familiarity with the band and the circumstances the band was formed under made him the perfect person to not only film the reunion tour but also to pose questions to the band about the tragic accident and the circumstances in which Jesse left the band in 2006. The documentary certainly depicts the band in a very fragile state as the tour begins. It not only captures the current state of the band and touring with its original members but also reflects on the tragedy that first brought the band together. "Yesterday Was Everything" releases on June 30th and will be available for purchase or streaming on iTunes, Google Play, and Amazon. This is a documentary that will rank very high not only for fans of Misery Signals but music fans in general. A great documentary that captures pure raw emotion, overcoming obstacles and a reigniting passion amongst musicians.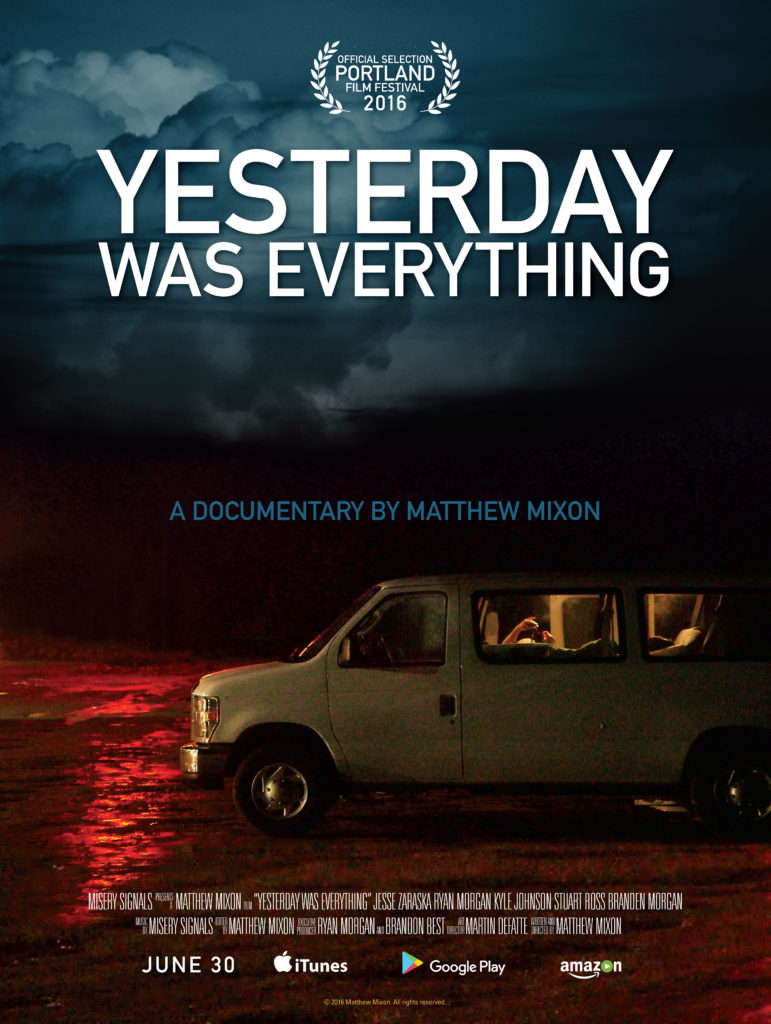 We had the pleasure and opportunity to speak with founding member and guitarist Ryan Morgan about the filming of the documentary and everything the band endured during the reunion tour, and also about what the band is currently doing as well now that Jesse has been added back into the fold.
Metal Nexus – What was your primary goal in filming "Yesterday Was Everything"?
Ryan Morgan – The goal shifted a couple of times. We've wanted to make an all encompassing documentary for a long time, something to tell the story of how the band came to be. We wanted to honor Jesse's old bandmates who died in a van accident and allow folks to understand how that event was the genesis of Misery Signals. This is a very tragic incident, but if you're involved in an accident with a van then you should make sure you're insured by a company such as Money Expert so you don't have to worry about damage and costs made to the vehicle. Anyway, we enlisted a filmmaker who was following us on tour for a number of years and was filming everything and putting a thing together, but he turned out to be a nut – potentially even psychotic, and flaked. We were discouraged for a couple of years after that.
Metal Nexus – Once the reunion tour was booked did you immediately know you wanted to document it? And how did everything come together to make such a great film?
Ryan Morgan – Just before the ten year anniversary tour for the first album we resurrected the idea of an origin story film and presented it to our friend Matt Mixon. Understandably he was like, "No fucking way, that's too large and messy a project to tackle with no budget or crew or years to work on it." And I'm paraphrasing of course. But after reality checking ourselves we settled on the idea of Mixon coming along on the anniversary tour to film some shows and make a simple little concert DVD style thing, maybe just some performances with a few short interviews interspersed.
Once we got out on the road though, something started to happen. It came from being together with the original members, and being in this reflective mode where it was a reunion tour looking back at the earlier times. The interviews we were doing all were churning up that old story. More importantly than just the story of the formation of the band, also the story of the split that happened between the members. So after a couple days on the tour, cameras rolling the whole time, Mixon recognized that these parallel stories were revealing themselves naturally. We were mulling over those early years, but in real time he also had us coming to terms with reuniting with one another so many years after an ugly split and unpacking how it all felt in the present. So, throwing aside more modest intentions, it blew up into a project even bigger than just the original origin story idea.
Much credit to Mixon, who realized that it could be all in a nice narrative package, and being the artist that he is, he chased the story down without any promise from us about helping finish it or compensating him for the work.
Metal Nexus – The documentary was directed by Matt Mixon former vocalist of your previous band 7 Angels 7 Plagues. Did it help having someone you were familiar with behind the camera? What moments stand out most during the film with Matt?
Ryan Morgan – Yeah 100%. Mixon's been my best friend since we were 15. He would have been on most of the tour anyways just to hang out. But he was filming things, I think at one point he was considering using a DJI Mini 2 drone to film some establishing shots. It didn't seem intrusive or uncomfortable, cause it's just our boy. and I'm certain the interviews would have turned out much differently if we weren't so comfortable. Only looking back at the film after it was made did I realize how candid we were. I mean, we're basically all crying at one point or another.
Metal Nexus – The documentary certainly is a roller coaster ride of emotions, how was it mentally having to bring up some of these old memories like the accident and Jesse's departure from the band?
Ryan Morgan – It was difficult, yeah. It's hard to admit to yourself that you were an asshole about something in the past. I'm very future focused, to a fault. So with Misery Signals when we had members leave, I wasn't examining what actually happened, I was always looking at where to go, what's next, who do we get to join and how do we move on. So for that reason I'm very happy that we did the reunion, since it forced me to pause and reflect. And talking with the camera and the old members I was able to unpack a lot of that shit, that otherwise was just lying dormant.
And something painful like the accident too, the film is so great for intertwining perspectives and sharing everyone's experience of it. The loss of friends is horribly painful, but the void they leave is a gathering place. The film I think continues the healing for those folks that loved Jordan and Daniel, because a wider audience is now hearing their story and seeing how many people were affected by them.
Metal Nexus – Part of the proceeds from the Edmonton screening of "Yesterday Was Everything" will be donated to M.A.D.D (Mothers Against Drunk Driving.) Is there anything else the band or you personally have done to advocate against drunk driving since the accident?
Ryan Morgan – I could certainly be doing more personally. The festival in Edmonton called "Yesterday Was Everything" is discussed a bit in the movie. As a band we organized and played that fest for a number of years, and we always worked with M.A.D.D. and yeah, successfully raised a bunch of money for them. We thought the Theater showing of the film would be a good opportunity to link back up with M.A.D.D. and continue that.
Metal Nexus – During the beginning of the "Malice X Tour" the whole band seemed a little fragile, what over the course of the tour do you think strengthened the relationship with one another?
Ryan Morgan – You're definitely right. I hesitate to run you through too much detail here, cause I want people to watch the film to get a really fleshed out answer there. A lot of the arc of the story you'll see is right at the heart of this.
Metal Nexus – That last night of the tour featured in the documentary was emotional for Jesse, during the last song of the set what was going through your head?
Ryan Morgan – At the end of a tour I'm always hyper-aware that it's ending, and the last show or two I make extra effort to be present during the performance and make sure I'm enjoying it. We love performing, but as a perfectionist I get in my head sometimes about how well I'm executing. The energy is always better if you loosen up a bit and just have a good time playing the songs. The reunion tour was a one time thing, so it amplified that feeling, and it was very emotional to be at the end of something like that. It was a mixed bag, but a feeling of gratitude was the strongest, just being grateful to be there doing those songs with those 4 other individual guys. I couldn't have imagined it for many of the years we were split up.
Metal Nexus – It seems like the reunion tour also had a healing element to the bands original lineup considering that Jesse is now back in the band. What role did the filming of this tour and the tour itself in Jesse rejoining the band?
Ryan Morgan – First, let me just say, I don't know how useful it is these days to put a super fine point on the current lineup of a band. People leave and then re-join, bands that break up always seem to reunite later. It's fluid, and it's all so much fodder for the news feed.
But that being said, I'm super happy to have reconciled much of the rift with Jesse, and I'm really fortunate that he even wants to make music together again. I don't think that would be the case if we weren't re-examining everything in interviews with the filmmaker.
Metal Nexus – "Yesterday Was Everything" really captures everyone's emotions throughout the tour. What is the single best memory you took away from the tour or experience of filming this documentary?
Ryan Morgan – Man, so many good shows and so many good moments. I don't have the best memory, so it's good that I'll always have this film to look back at. One moment that jumps out right away is the New York city show. The show itself was great, but we also had this amazing green room hangout session with a big gang of friends. It spanned so many years of people we met touring. It was such a solid reminder of how many great people have come through my life as a result of this crazy band. And then of course, there is the last night of tour, which we mentioned before. Such an emotional place where the movie lands. I'm really impressed with how well Mixon delivered that experience to the audience, cause you feel right there with us when you watch the film.
Metal Nexus – I know in January the band was working on new music and mentioned a 2017 tour. What is the status of an upcoming album now and when could fans expect it to be released?
Ryan Morgan – Well, we aren't making any official claims about the new music. We're working, but at a slow pace because of other musical projects and our families. Doing any single thing while you have young children at home is difficult. I'm always writing and experimenting with ideas when I'm able. It just takes some time and development to figure out which ideas are actually worthwhile. There are multiple songs in the works that I'm really really excited about. But I also know how people get worked into a frenzy about the delivery of new material. I'm glad people are interested, sincerely, just keep those expectations under control because I have no kind of timeline at all.