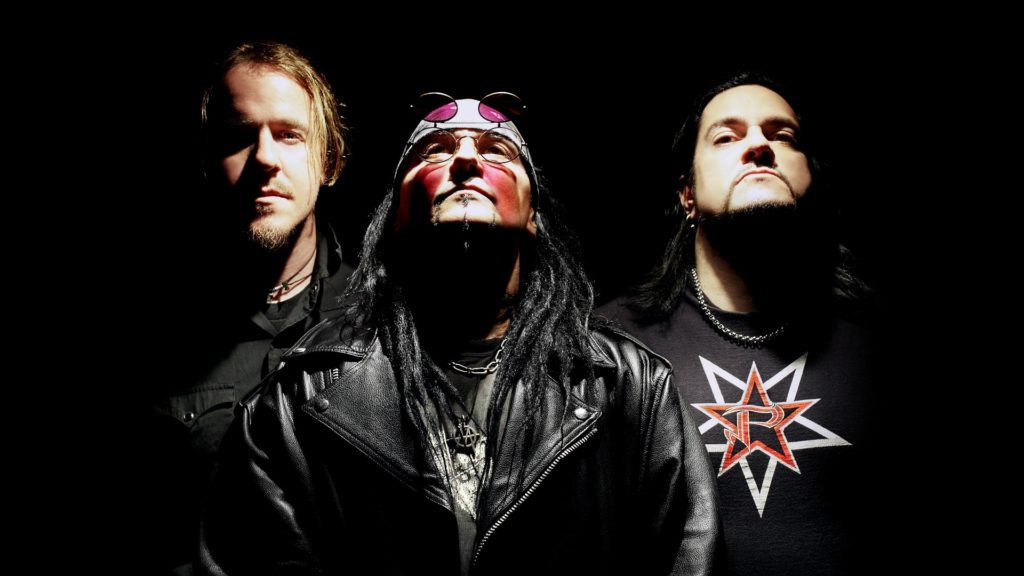 American Industrial Metal Juggernaut MINISTRY led by Al Jourgensen have announced a co-headlining U.S. tour with experimental rap trio DEATH GRIPS. The tour kicks off at The Palladium in Worcester, MA on October 13 and will hit Pittsburgh, Seattle, and San Francisco before concluding on November 11th at Gas Monkey Live in Dallas, TX. 
For decades, the powerhouse of psychotic sound that is MINISTRY has overcome millions with releases such as 'Filth Pig', 'The Mind Is A Terrible Thing To Taste', 'Psalm 69', 'From Beer To Eternity', and a flood of others. Since the 80s, founder Al Jourgensen, has been combining elements of synth pop, punk, metal and even dub in a way that is instantly recognizable and has influenced many other bands. With the legacy intact, MINISTRY will release their 14th album, 'AmeriKKKant', this fall. It is the follow-up to 2013's 'From Beer to Eternity'. Check out the promo video as well as pre-order your copy of the album on Pledgemusic.com.
Tickets for the upcoming tour go on sale this Friday, July 21st! Links for each date are included below.
MINISTRY live:
With HO99O9
07/21/2017  House Of Blues – San Diego, CA
07/22/2017  The Fremont Theater – San Luis Obispo, CA
09/25/2017  Riot Fest Douglas Park – Chicago, IL
Co-headlining tour with DEATH GRIPS
10/13/2017 – The Palladium – Worcester, MA
10/14/2017 – Electric Factory – Philadelphia, PA
10/16/2017 – Brooklyn Steel – Brooklyn, NY
10/17/2017 – Terminal 5 – New York, NY
10/19/2017 – The Fillmore – Silver Spring, MD
10/20/2017 – The Agora Theatre – Cleveland, OH
10/21/2017 – Stage AE – Pittsburgh, PA
10/23/2017 – Royal Oak Music Theatre – Detroit, MI
10/24/2017 – Express Live – Columbus, OH
10/26/2017 – Skyway Theatre – Minneapolis, MN
10/27/2017 – Uptown Theater – Kansas City, MO
10/29/2017 – The Fillmore Auditorium – Denver, CO
10/30/2017 – The Complex – Salt Lake City, UT
11/01/2017 – Showbox Sodo – Seattle, WA
11/02/2017 – Roseland Theater – Portland, OR
11/04/2017 – Hollywood Palladium – Los Angeles, CA
11/05/2017 – The Warfield – San Francisco, CA
11/07/2017 – The Van Buren – Phoenix, AZ
11/08/2017 – The Historic El Rey Theater – Albuquerque, NM
11/10/2017 – White Oak Music Hall – Houston, TX
11/11/2017 – Gas Monkey Live! – Dallas, TX
Festival Dates
11/12/2017  Sound On Sound Festival – McDade, TX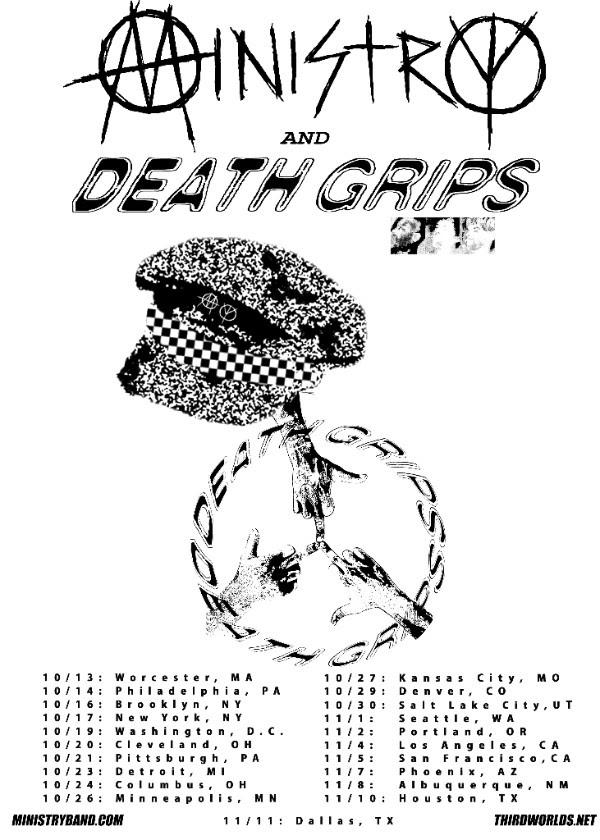 MINISTRY is,
Al Jourgensen – Vocals
John Bechtel – Keyboard
Sin Quirin – Guitar
Cesar Soto – Guitar
Jason Christopher – Bass
Thomas Holtgreve – Drums
On May 27, 2017 at the Blackest of the Black Fest, MINISTRY debuted their new song, 'Antifa' from their upcoming album which you can stream below.