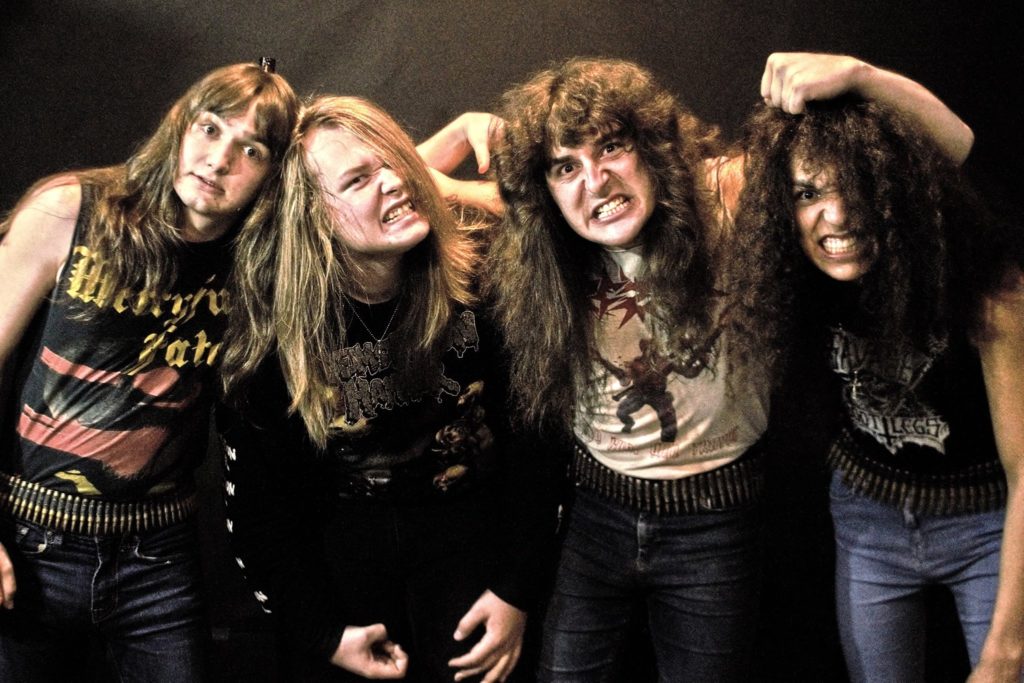 ---
*This is a part of our State Of The Art series, showcasing bands every Monday from the featured State*
This month's state is Arizona!
---
Hello hell raisers! Welcome back to another weekly segment of State Of The Art series where every week we go a bit heavy metal Santa Claus and shower some much deserved spotlight to the lesser known and underground bands who already are wrecking shit up at you local town or city. Monday can be asphyxiating and SOTA is your caffeine to start off your week. If you love digging up new bands and are always on the run trying to hit the gold, this segment is totally yours. Last month I highlighted SUPPRESSIVE FIRE, a thrash band from Raleigh NC, which you can check it out HERE. Today, this Monday, we present to you another thrash metal quartet who are taking giant strides in the underground circuit. Okay, you might be thinking, "does this bloke know anything other than thrash?" Well, I know, but thrash is where my heart is and I mean come on who doesn't like thrash metal. So coming back to the artist, welcome the old school, fast and furious WARHEAD from Phoenix, Arizona!
Here we have one classic thrash metal band who are relentless in their approach, in their form of metal music they clearly do not compromise for anything edgy and trendy. If you are a fan of fast, gritty, deafening metal in the nerve of old school thrash metal, then you can't stand a chance to just miss out on WARHEAD. With rapid chuggy riffs, multiple ear splitting solos and rapid nerve wrecking drumming this is one warhead you should look out for in the battle zone. 
While I was searching and trying to land up on a band for this Monday's SOTA, I stumbled upon several bands by the name WARHEAD, out of the many Warheads there in the US scene, this one grabbed my attention and surely looked like a real warhead with the aggression and fury going on in the music. Having formed almost close to a decade back in 2009 by the front man and vocalist Nolan Castles, who sports a 'Killing Is My Business…And Business Is Good' era Dave Mustaine-ish hairstyle. No wonder why they resemble and play like early MEGADETH era intensity and speed, something Dave Mustaine is well known for. Nolan joined hands with Simon Miller on the bass, Spencer Arellano-Haring on the drums who was previously in Karnage(split up). With another spot for guitars remaining, it was filled up by KJ Melgoza, thus also completing the line up as it looked like a complete recipe for obliteration.
Simon Miller, Spencer Arellano-Haring left the band in 2011 and KJ Melagoza a year earlier in 2010. Since then the door for WARHEAD has seen quite a few come in and go out. Today WARHEAD, after quite a shuffling in the band line up, consist of Nolan Castles, Sam Bollard, David Rodriguez and Joey Doddson, with Joey being the latest addition to the camp in 2015 after the exit of Dan White. Just after a year of forming, WARHEAD released their first studio material, their first EP, titled 'Who's Next?' independently on September 15th, 2010. It was recorded at Cosmic Soup recordings in Phoenix, Arizona. The EP quickly stirred up in the scene and got everyone talking and the band soon became the talk of the town.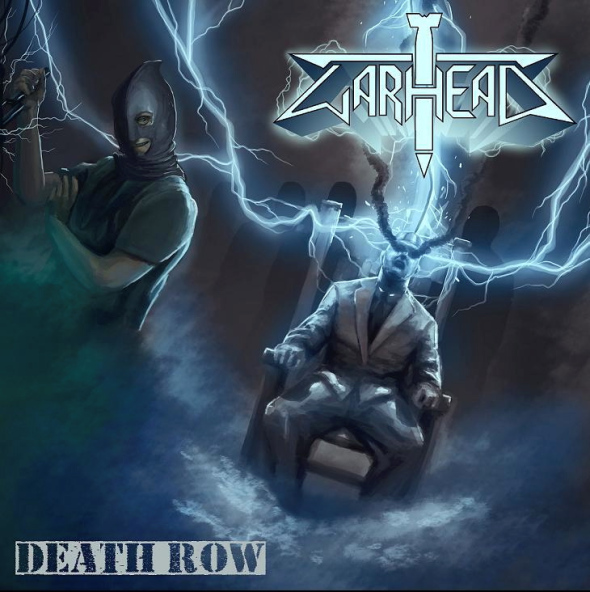 Just three years down the line, in May 15th 2013, the band successfully released their debut full length record entitled, 'Death Row', which was well received in the underground parlance. 'Death Row' is one hell of an excellent album. Blending in contemporary thrash metal in the nerve of MEGADETH, METALLICA and Bay Area legends, EXODUS with crazy guitar hooks and licks, maddening and deafening screechy solos, hard hitting and fast drumming, this album took the band to new heights and uncharted territories. Soon after the release, WARHEAD celebrated it by embarking on a short two week West Coast tour, hitting major cities like Phoenix, San Diego, Los Angeles, Seattle, Las Vegas and among others. This also helped them branch out of their home state and nearby areas in terms of popularity. WARHEAD are known for their high octane energised live performance, and I for one know this fact that if your live performances are worth captivating to see, you will definitely shoot to fame and be the talk of the town in less time. They further took forward their electric and razor sharp chaotic performances to the Midwest/East Coast in 2014 in support of their debut album. 'Death Row' was surely a classic old school thrash metal resurgence!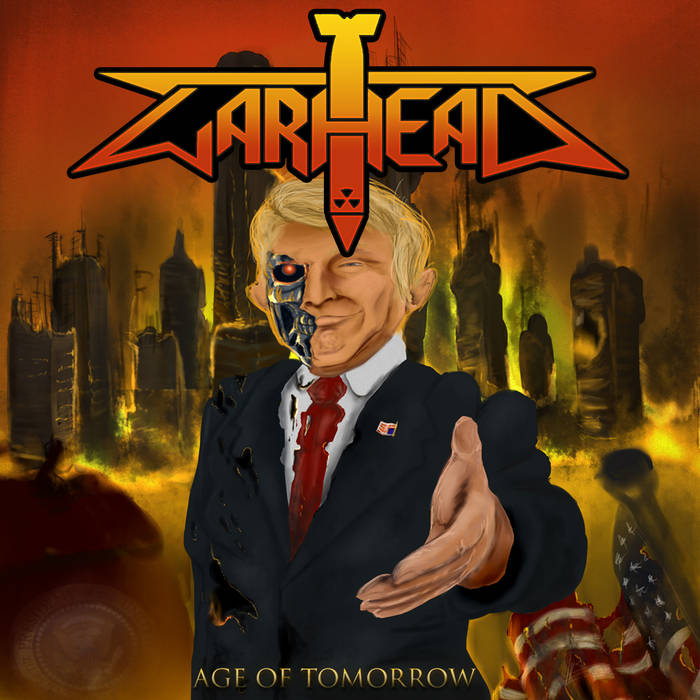 After a busy 2015, seeing them release a demo, the single 'Widowmaker' and collaborating with RAT KING in a split release, they hit back with their sophomore full length release in 2016, 'Age Of Tomorrow'. Released on November 18, 2016 and recorded at Switchblade Sound in Tempe, AZ, the album was mixed and mastered by none other than Joel Grind from TOXIC HOLOCAUST. With hit and catchy numbers like 'Quicksand' and blisteringly fast and pacy songs like 'Pit Viper', it only can let the listener let his jaws drop in awe contemplating on the fact that how much more fast can thrash bands of today's age can go. This album is incredibly fast and leaves no room for sugar coated stuff and anything that vies with the trend bandwagon to achieve five minutes of short lived fame. Catchy and groovy riffs, intricate basslines, Nolan's high pitched screams almost resembling KING DIAMOND's and solos that will give you a hard time to keep up with its ragged and utterly fast nature, this album is probably one of the best old school, retro thrash metal masterpieces of 2016 or even recent times. I personally liked 'Age Of Tomorrow' so very much. You should definitely check out and relive the glory days of thrash metal. 
This SOTA edition has been very fulfilling for me as I really have landed myself up on their ever growing list of fans. WARHEAD has definitely captured my attention and most importantly my thrash AF heart. They are already hitting the entire States hard spreading the chaos all across and having toured with bands like ONSLAUGHT, ARTILLERY, HOLY GRAIL, SAVAGE MASTER, EXMORTUS, BRAIN DEAD, TOXIC HOLOCAUST etc. they are undoubtedly the rising thrash metal vandals. With politics(something which reminds me of MEGADETH), life and death being the central topics revolving around the band's rapid fretboard work, machine gun drumming and those sweet and intricate bass lines, WARHEAD are adamant on taking over the world and establishing a totalitarian thrash command. The musicianship these guys have showcased is honestly top of the game and certainly a band to talk about and brag to your friends about having known them. I am wrapping up the article but with that said don't forget to check this mind boggling band out, give them a like on social media, buy their stuff maybe and share around the hate! As I said, this is definitely one crazy ass WARHEAD you need to keep your eyes peeled out for in the battle field of metal. Long live WARHEAD, and my fellow thrashers always remember to "thrash till death"! See you all next Monday, in our yet another edition of our State Of The Art series.
Stream and buy their latest album, 'Age Of Tomorrow' HERE!
WARHEAD are:
1. Nolan Castles – Guitars (lead), Vocals (2009-present)
2. Sam Bollard – Bass (2011-present)
3. David Rodriguez – Guitars (lead) (2014-present)
4. Joey Doddson – Drums (2015-present)