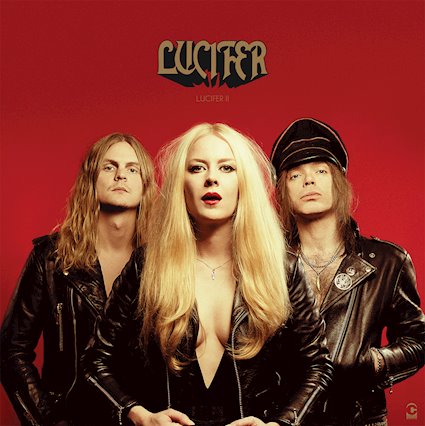 After the amicable departure of Gaz Jennings (Cathedral, Death Penalty, Septic Tank) in 2016, the future of Lucifer was up in the air. Determined to keep the Lucifer rising, vocalist Johanna Sadonis found a new songwriting partner in Nicke Andersson (Exhumed, Imperial State Electric, The Hellacopters). Through Nicke's musical background in death metal and pop driven rock and roll, these two fans of 70s heavy rock could find common ground. While this sophomore release Lucifer II is still the Lucifer you know and love, there is a fresh energy in these new songs.
The first half of this album introduces you to this rejuvenated version of Lucifer. The group has not made a release since 2014 and you get a taste of the writing style of Sadonis/Andersson. While wasting no time, Andersson recorded the drums, bass, and guitar himself at his studio The Honk Palace, while Robin Tindebrick added lead guitar. The album was then mixed by Swedish producer Ola Ersfjord (Tribulation, Primordial) at Cuervo Recording Services in Madrid. Sadonis really flexed her vocal abilities once again on this record. Melodic tracks like "Dreamer" and "Reaper On Your Heels" really show Sadonis' powerful and recognizable range while she still proves she can rip it up on "California Sun" and "Phoenix". The Rolling Stones cover "Dancing With Mr. D" with a Sabbath-worship tone pairs really well with its partner track "Reaper On Your Heels", both examining death in different perspectives. The second half of the album hangs low, harking back to their debut release. "Eye in The Sky" are straight up dare I say it again, Sabbath-worship! It fills the room with a love letter to Master Of Reality! "Before The Sun" is a fun track with a heavy and catchy riff that will party in your head for days. "Aton" and "Faux Pharaoh" are heavy tracks with a even balance of Sadonis' vocals and instrumental work.
This album will not disappoint longtime fans of Lucifer. For those of us who have waited a long time for new Lucifer music, this is a nice reward. Some of the lighter songs are a nice open door to new possibilities, without throwing out the book and starting over. They are fans of the occult 70s rock and it shows in the record with the tone, riffs, and lyrics. The "Magic Rock" as it has been described is not lost, diving into their own macabre mythos and vision. Lucifer II is out July 6 off Century Media. To bow to Lucifer and all their power some more follow them on their Facebook and Twitter.