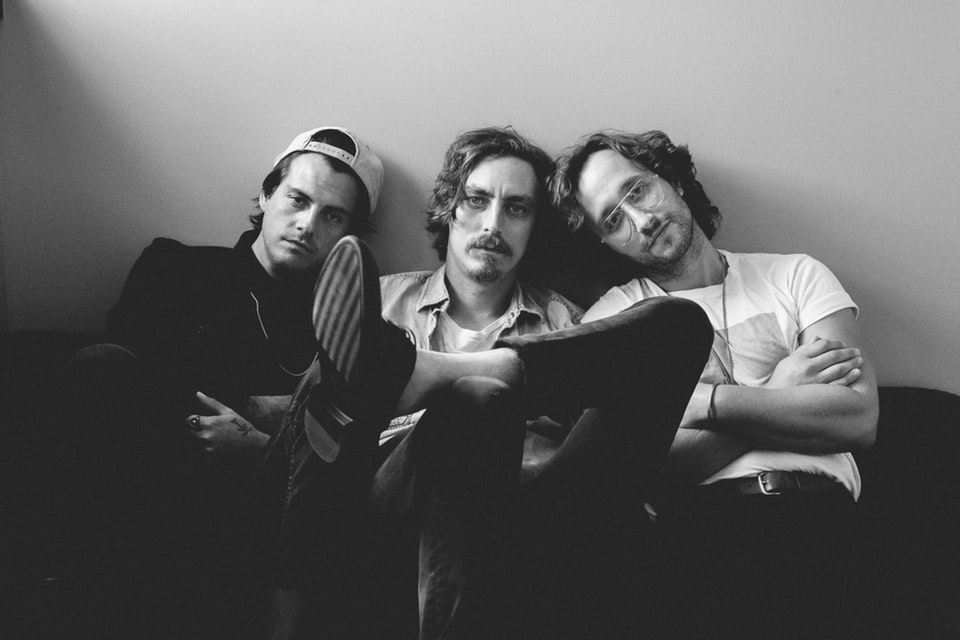 Welcome back to our ongoing series of LOUDER THAN LIFE 2019 artist profiles, our weekly guide through the lineup of acts who'll take the stage at Louisville, Kentucky's Highland Festival Grounds at Kentucky Expo Center September 27-29 in what's sure to be one of the biggest concert events of the year. This week, we're taking a closer look at New Jersey hard rockers THE PARLOR MOB.
Helping kick Saturday's LOUDER THAN LIFE festivities off with a bang will be veteran alt-rock act THE PARLOR MOB. The Asbury Park-based unit has just released their fifth full-length, Dark Hour (Brittania Row Recordings/BMG), a record that finds the band embracing electronic rhythms and sounds more closely identified with modern hip-hop and R&B. Working with label head/FRANK OCEAN and ZAYN collaborator MALAY "is from a completely different musical world than we are," said frontman Mark Melicia. "We aimed to add modern perspective to old school musicality…We asked ourselves, 'How can we bring rock 'n' roll into the current zeitgeist, so it reflects what's going on in other genres?' On paper, it's strange for a guy who mostly does pop and R&B to work with a rock band," Melicia added, "but there was incredible synchronicity between us. We met the right dude who could take us where we need to go and someone we could grow with. It was exactly what we needed at exactly the right time." This influence can be heard in the newest single from Dark Hour, the sizzling "Someday."
Since their very earliest days (when they were making a local stir under the moniker What About Frank?), THE PARLOR MOB has been renowned for their intense live show. It should be interesting to see how the band interpolates their new technological additions into the band setting; judging from some clips from shows earlier this year and a fifteen-year history of onstage ass-kicking, it almost goes without saying that THE PARLOR MOB is more than up for the challenge. LOUDER THAN LIFE is one of the earliest shows on the Dark Hour support trek, one that will have them criss-crossing the continent well into 2020; you can grab your LTL tickets at this link, and you can check out THE PARLOR MOB's upcoming tour dates below.
9.24 Cleveland, OH – Grog Shop
9.25 Pittsburgh, PA – Smiling Moose
9.26 Buffalo, NY – Rec Room
9.28 Louisville, KY – LOUDER THAN LIFE 2019
9.29 Nashville, TN – The Basement
10.1 Houston, TX – The Secret Group
10.2 Dallas, TX – Sundown at Granada
10.4 Albuquerque, NM – Sister
10.5 Denver, CO – Lost Lake Lounge
10.6 Salt Lake City, UT – Kilby Court
10.8 Scottsdale, AZ – Pub Rock
10.9 San Diego, CA – The Casbah
10.11 Los Angeles, CA – Bootleg Theater
10.12 Sacramento, CA – AFTERSHOCK 2019
10.14 Portland, OR – Paris Theatre
10.15 Seattle, WA – Sunset Tavern
10.18 St. Paul, MN – Amsterdam Bar & Hall
10.19 Chicago, IL – Martyrs
10.20 Columbus, OH – Ace of Cups
10.22 Philadelphia, PA – World Café Live
10.23 Baltimore, MD – Metro Gallery
10.25 Asbury Park, NJ – The Stone Pony