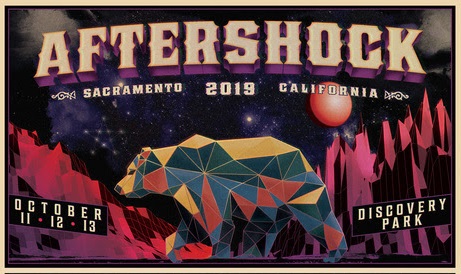 With the eighth annual Aftershock Festival rapidly approaching this October, festival producers Danny Wimmer Presents have revealed details for the additional entertainment and unique culinary options featured at the event taking place at Sacramento, California's Discovery Park.
Last year's festival, headlined by System of a Down and Deftones, hosted a sold-out crowd of 60,000. To accommodate the rising popularity, this year Aftershock has expanded to three full days (October 11th, 12th, & 13th) and will feature a massive lineup of chart-topping headliners and buzzworthy up-and-comers across three stages: Monster Energy Main Stage, Kolas Discovery Stage, and the Coors Light Capital Stage.
The 2019 lineup will feature Tool, Slipknot, blink-182, Korn, Rob Zombie, and the return of Staind after a 5-year hiatus. Additional acts include Bring Me the Horizon, A Day to Remember, Marilyn Manson, Lamb of God, Halestorm, Dropkick Murphys, BABYMETAL, Bad Religion, Stone Temple Pilots, and many more, including the recently-added Poppy. Visit www.AftershockFestival.com for the full lineup and to secure tickets.
For the first time at Aftershock, Danny Wimmer Presents is proud to feature a collaboration with Metallica's Blackened Whiskey and Enter Night Pilsner. Blackened, a super-premium American whiskey blend, crafted by the late master distiller Dave Pickerell and finished in the Earth-shattering music of Metallica; and Enter Night Pilsner, a collaboration with the rockstars of craft brewing, Stone Brewing Company, will come together under one roof to offer guests a one-of-a-kind musical festival experience. The BoilerMaker pop-up will feature a Blackened & Enter Night Boilermaker, as well as craft cocktails and ice-cold Enter Night Pilsner. This exciting collaboration marks the latest in a long line of amplified guest experiences only available through Danny Wimmer Presents music festivals.
In addition to performances from top music artists, attendees at this year's Aftershock can enjoy a variety of local and regional food and beverage offerings provided by DWP's affiliate concessionaire, Southern Hospitality Concessions, LLC. Fan favorites like Spicy Pie Pizza, Island Noodles and Phat Daddy's Creole will be available, as well as selections from local spots including Florez Bar and Grill, Pica Pica Arepas, Gerard's Paella and some of the best BBQ in town from Buckhorn BBQ and Big Joe's. Sacramento's thriving food truck scene will also be rolling up to the festival grounds with delectable dishes from Baconmania, Dogtown, Drewski's Hot Rod Sandwiches, La Mex Taqueria, Hefty Gyros and Cousins Maine Lobster.
Aftershock guests, 21 and above, can refresh with the Rockies' coldest beer, Coors Light. Other malt beverage options include Blue Moon, Hop Valley, Henry's Hard Sparkling Water and more. VIP patrons can enjoy upgraded cocktails and spirit options including Don Julio Tequila and can relax in the Thunder Valley Casino Resort VIP Lounge.
Danny Wimmer Presents is proud to team up with Calling All Crows' Here for The Music campaign to prevent sexual violence at live music events. Specifically, the Calling All Crows team will provide prevention training to staff and volunteers leading up to Aftershock and will educate attendees on how to promote community safety through outreach onsite and messaging from each festival. Calling All Crows, founded by musician Chadwick Stokes and tour manager Sybil Gallagher in 2008, partners with musicians and fans to create change for women through direct service and activism. Through their Here for The Music campaign, they have partnered with 60+ venues, artists, and festivals to train 1500+ music professionals and fans, educate 10,000+ fans through outreach efforts, and consult on 10+ policies. For more information, visit:
www.callingallcrows.org/hereforthemusic
Discovery Park is located at 1600 Garden Highway in Sacramento. Festival doors open at 12:00 PM Friday, October 11th and Saturday, October 12th and 11:30 AM on Sunday, October 13th.
Aftershock is again offering a Park & Ride shuttle program, as parking at Discovery Park is extremely limited. Each Park & Ride ticket includes parking at Sleep Train Arena and a non-stop shuttle directly to and from the festival site each day. Festivalgoers are encouraged to carpool to Sleep Train Arena and enjoy this convenient way to get to Aftershock. For all pricing and more details, visit www.AftershockFestival.com.
Aftershock is produced by Los Angeles-based Danny Wimmer Presents, one of the largest independent producers of destination music festivals in America. Additional DWP events include Bourbon & Beyond, Chicago Open Air, Epicenter Festival, Hometown Rising, Louder Than Life, Sonic Temple Art + Music Festival, and Welcome to Rockville.
Aftershock sponsors include Ace of Spades/Punchline, Art is War Records, Blackcraft Cult, Bulleit Bourbon, Captain Morgan Spiced Rum, Deep Eddy Vodka, Don Julio Tequila, Fearless Records, Fxck Cancer, Heavy Grass, Henry's Hard Sparkling Water, Kolas, Coors Light, Hop Valley, Monster Energy, Roadrunner Records, The Stash, Thunder Valley Casino Resort and Zippo.