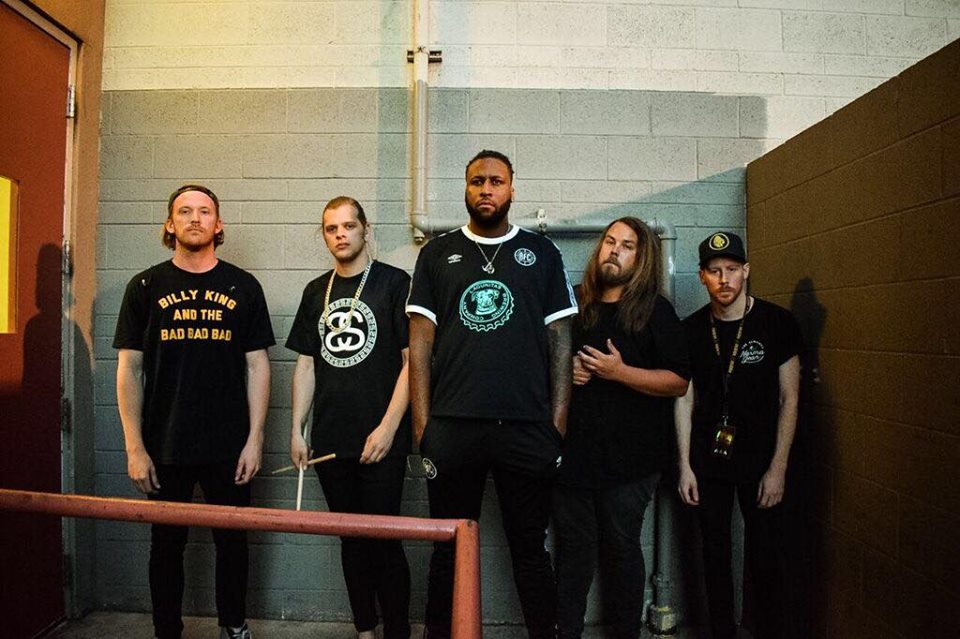 Welcome back to our ongoing series of LOUDER THAN LIFE 2019 artist profiles, our weekly guide through the lineup of acts who'll take the stage at Louisville, Kentucky's Highland Festival Grounds at Kentucky Expo Center September 27-29 in what's sure to be one of the biggest concert events of the year. This week, we're taking a closer look at the Austin, Texas based melodic nu metal rockers Fire From The Gods.
Fire From The Gods formed in Austin, TX in 2010 and has really sprung onto the scene in the last year or so. Their album 'Narrative' had bangers like "Excuse Me" and "End Transmission" with AJ Channer controlling the flow of the songs with his blend of rap, reggae, and rock vocals to keep you on your toes. Fire From The Gods is likely one of the most energetic and complex bands slated to perform at this years Louder Than Life festival. AJ Channer is actually the band's second vocalist after he replaced Eric July who is now doing a project called Backwordz. Fire From The Gods has already played several major festivals like Rock on the Range, Carolina Rebellion, Welcome to Rockville and they blessed the stage at the 2017 Louder Than Life as well. They only continue grew in popularity by playing on the Vans Warped Tour a few summers ago. This isn't just your typical, generic rap or nu metal band. These guys have a message to go with their music that has been needed for a long time.
The band re-released 'Narrative' with a few bonus tracks and titled it 'Narrative Retold.' The bonus songs were recorded by Jonathon Davis of Korn. It was released via Rise Records on May 19th, 2017. You can check out our review that we did on the record here. "The Voiceless" was a standout song that was added to the record that received a lot of radio play on stations like Sirius XM Octane.
Fire From The Gods are truly hitting the ground running. Some are compelled to put a label on the band and often it doesn't fit their unique sound. Rap metal, nu metal, hardcore, or a combination of all of the above still doesn't define this undefinable band. The quintet's unique approach to music delivers a familiar but original sound. Calling Austin, Texas home, the band has set out to bring a bigger, more important message to metal that they feel has been lacking. Lead vocalist AJ Channer had this to say about the recent record: "This album is the personal narrative of a minority man living in major cities and being American, there's a socio-economic theme throughout the whole record that carries from each song to song. It's all about the underdog. We've all had to fight for everything we have in this band. The political climate in our country is quite racially and socially charged. There are a lot of issues and energy people are expressing along with misguided hate and anger. I want to channel this in music that can resonate. This is where we come from and who we are as a band." AJ doesn't just perform but he takes a moment on stage to not only speak to the crowd but to connect with them, I witnessed the bands energetic presence at both Louder Than Life and Carolina Rebellion in the past, its not something you want to miss. The band has announced the release of their forthcoming album 'American Sun' which will release November 1st via Eleven Seven Music. Fire From The Gods has already released a new track from the album titled "Truth To The Weak (Not Built To Collapse)." The song shows off everything the band has to offer, their melodic singing moments, the rapid pace raps, reggae moments and the aggressive screaming. Hard to believe a band can encapsulate so many different layers of sound, but Fire From The Gods has perfected it and also included a massive amount of passion on top of that.
Fire From The Gods perform Sunday September 29th, don't miss their set and get your tickets here now.