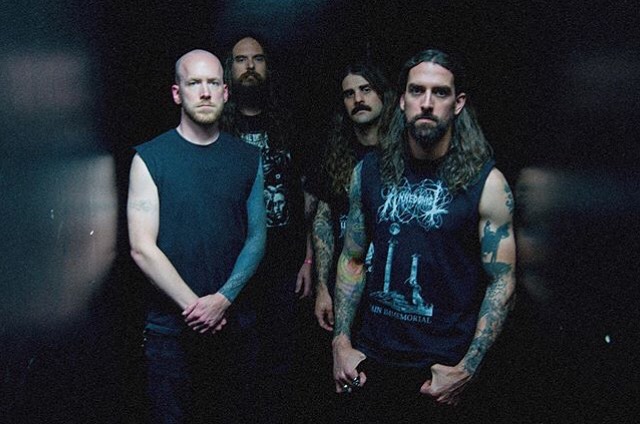 *This is part of our "Aftershock Festival 2019 Spotlight" where we branch out and focus on some of the up-and-coming bands that fans can see at this year's Aftershock Festival on October 11th – 13th.  This week, we're checking out SPIRIT ADRIFT*
Phoenix, Arizona's Spirit Adrift will be offering a taste of darkness and doom under the hot Northern California sun this October. Originally formed in 2016, the quartet consists of Nate Garrett (vocals/guitar), Marcus Bryant (drums), Chase Morgan (bass), and Eric Wagner (guitar). Spirit Adrift's late 70s/early 80s, retro metal vibe is a sharp contrast to the more extreme death metal project, Gatecreeper, of which Garrett, Mason, and Wagner are also members. Impressively, both bands are devastating in their own right; but where Gatecreeper takes its influences more in the form of bands like Entombed and Bolt Thrower, Spirit Adrift's inspiration seems to lie somewhere within the stoney realms of Black Sabbath and Candlemass.
If being players of two quality metal bands that sound nothing alike isn't impressive enough, check out Spirit Adrift's newest LSD-laced music video, "Angel & Abyss," off their latest LP, 'Divided by Darkness,' below. Along with their signature doomy style, the final third of the track incorporates some killer, "Crazy Train"-esque, up-tempo riffage for an energetically headbanging climax.
As live performers, Spirit Adrift deliver an authentic and emotional audio/visual experience that stands on its own without any frills or gimmicks. Playing as a seamlessly tight unit, full of synergistically connected dual guitar harmonies, their onstage show is equally as captivating and mesmerizing as their recorded work.
If you are planning to attend this year's Aftershock Festival in October, be sure to add Spirit Adrift to your itinerary for what is likely to be an impressive and memorable performance (official set time to be announced), and also be sure to check out Metal Nexus' complete review of the band's 2017 album 'Curse of Conception.'
Grab your tickets for Aftershock Festival 2019 here.