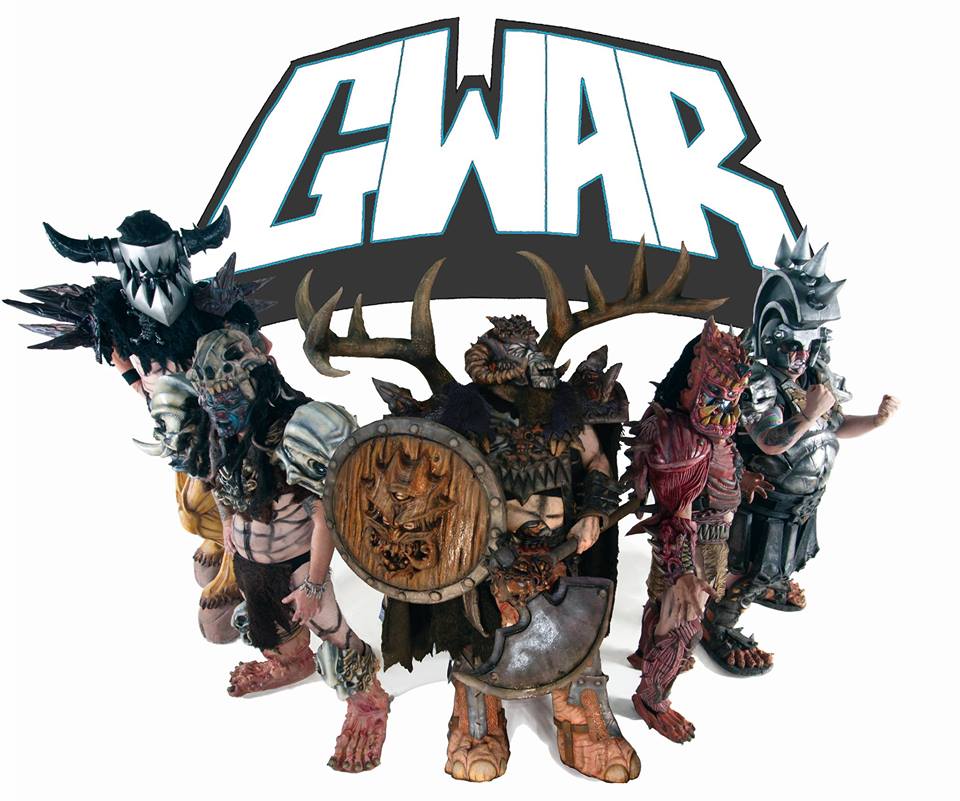 *This is part of our "Louder Than Life 2018 Spotlight" series where we  focus on some of the up-and-coming bands that fans can see at this year's Louder Than Life Festival on Sept. 28th-30th.  This week, we're checking out GWAR.*
One of the biggest surprises on this years Louder Than Life lineup for me was Gwar. These space aliens from Richmond, Virginia by way of another galaxy. In the past few years the band has seen some major changes when founder and vocalist Oderus Urungus / Dave Brockie passed away in 2014. Micheal Bishop aka Blothar stepped up and took over the vocal duties. He previously was in the band as bassist Beefcake the Mighty from 1987 –1993, and 1998–1999. Since their formation in 1984 the band has released 14 albums, comic books, trading cards, a board game, signature beers, barbecue sauces, e-liquids and in recent years even opened a restaurant and bar in Richmond simply called Gwarbar. 'The Blood of Gods' (2017) being their most recent album. Gwar also hosts and headlines their own yearly festival called Gwar-B-Q which has seen performances from acts like Goatwhore, Clutch, Down, Cancer Bats, and many others.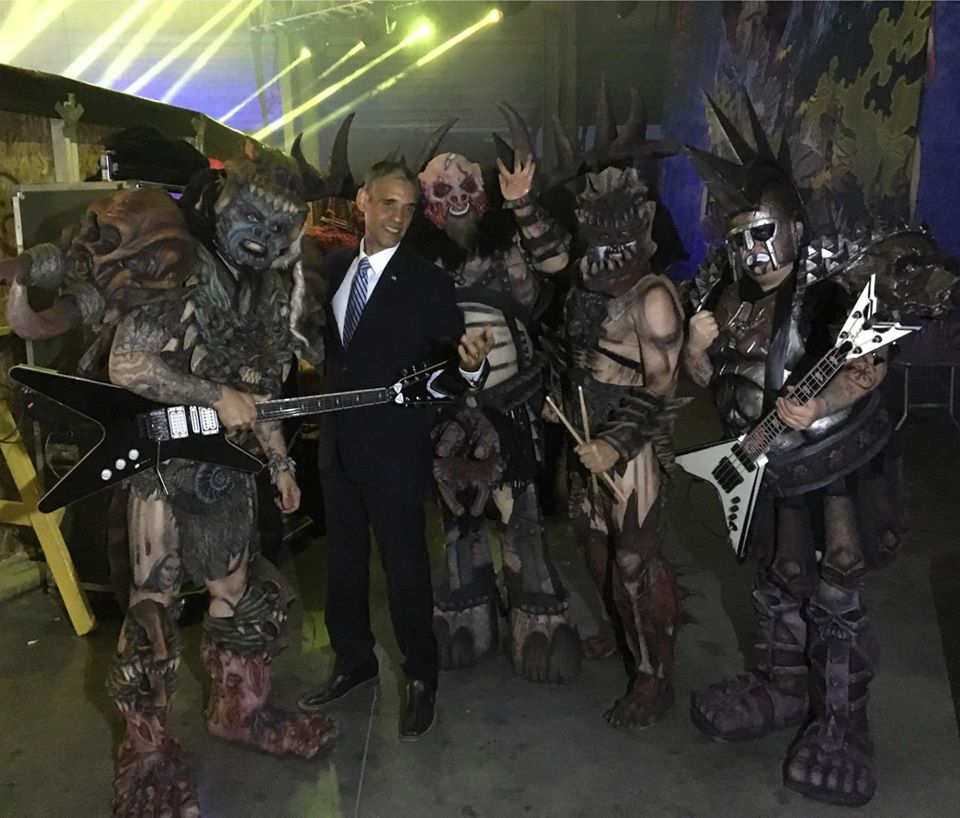 The biggest thing you should know about Gwar is in regards to their stage attire and stage show. The band members wear extensive costumes that are all vastly different. Some may wear huge platform boots and have a mask while other have a huge metal like clamp over their head or simply some face paint. They are entertaining just to look at. During their show you will see them bring celebrity dummy figures out on stage and viciously execute them and fake blood will spew from them onto the crowd. In the past at performances I've seen them bring out figures like George W. Bush, Micheal Jackson, Barack Obama, and Justin Bieber. Anyone making headlines could truly be a target. I've also seen them bring a huge dinosaur on stage as well. So you have been warned, if you are anywhere near the rail or first few rows of people you will get wet and covered in fake blood and other random fluids. What i have seen a lot of Gwar fans do is to wear a white shirt and after their performance it looks somewhat like a tie dye shirt from all the colored fluids spewed from the stage.
Gwar is by far one of the most creative and different bands you will ever see. While thier stage show has made them popular they are also talented musicians. Even the current singer Blothar has a degree in music and use to teach at the University Of Virginia as you can hear him explain in this recent interview with Jon's Untitled Podcast, which is a rare interview as he usually stays in character but in this interview he is somewhat more serious and answers questions about himself and the band. The instrumentation in the band certainly fits in the heavy metal world. Blothar's vocals are a gravely and somewhat harsh. No one will ever compare to original vocalist and founder Oderus Urungus, but they still sound amazing. Gwar are serious musically but their lyrical content and stage show is sometimes comedic while also being entertaining. Gwar is a multifaceted experience to see. You get music, an interactive stage show, stand up comedy and you will leave drenched in blood and fluids leaving you with a souvenir shirt. Gwar performs at Louder Than Life on Saturday September, 29th. Make sure you get a spot up front for their set.
You can purchase your Louder Than Life tickets here.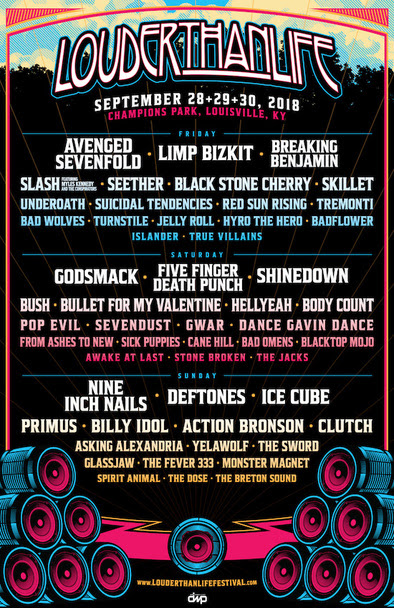 Catch them on tour throughout the remainder of the year as well.
GWAR Headline Dates:
9/13: Norfolk, VA @ The Norva
9/14: Millvale, PA @ Mr. Small's Theatre
9/15: Chicago, IL @ Riot Fest*
9/16: Charleston, WV @ The Bakery
9/29: Louisville, KY @ Louder Than Life Festival*
10/6: Camden, NJ @ Rock Allegiance*
10/13: Sacramento, CA @ Aftershock Festival*
GWAR & Hatebreed Co-Headline
10/7: Buffalo, NY @ Town Ballroom
10/9: Lawrence, KS @ Granda Theater
10/10: Denver, CO @ Summit Music Hall
10/11: Salt Lake City, UT @ The Complex
10/12: Boise, ID @ Knitting Factory
10/13: Spokane, WA @ Knitting Factory (Hatebreed Headlines)
10/15: Seattle, WA @ Showbox Sodo
10/16: Portland, OR @ Roseland Theater
10/18: Los Angeles, CA @ Belasco Theater
10/19: Tempe, AZ @ The Marquee
10/20: Albuquerque, NM @ Sunshine Theater
10/22: Houston, TX @ Warehouse Live
10/23: Dallas, TX @ Gas Monkey Live
10/24: Tulsa, OK @ Cain's Ballroom
10/25: Sauget, IL @ Pops
10/26: Madison, WI @ The Sylvee
10/27: St. Paul, MN @ Myth Live
10/28: Peoria, IL @ Monarch Music Hall
GWAR Headline Dates:
10/29: Detroit, MI @ Saint Andrews Hall
10/30: Cleveland, OH @ House of Blues
10/31: New York, NY @ Irving Plaza
11/2: North Myrtle Beach, SC @ House of Blues
11/3: Atlanta, GA @ Masquerade
11/4: Raleigh, NC @ Lincoln Theater
11/6: Stroudsburg, PA @ Sherman Theater
11/7: Clifton Park, NY @ Upstate Concert Hall
11/8: Worcester, MA @ The Palladium
11/9: Baltimore, MD @ Baltimore Soundstage
11/10: Richmond, VA @ The National