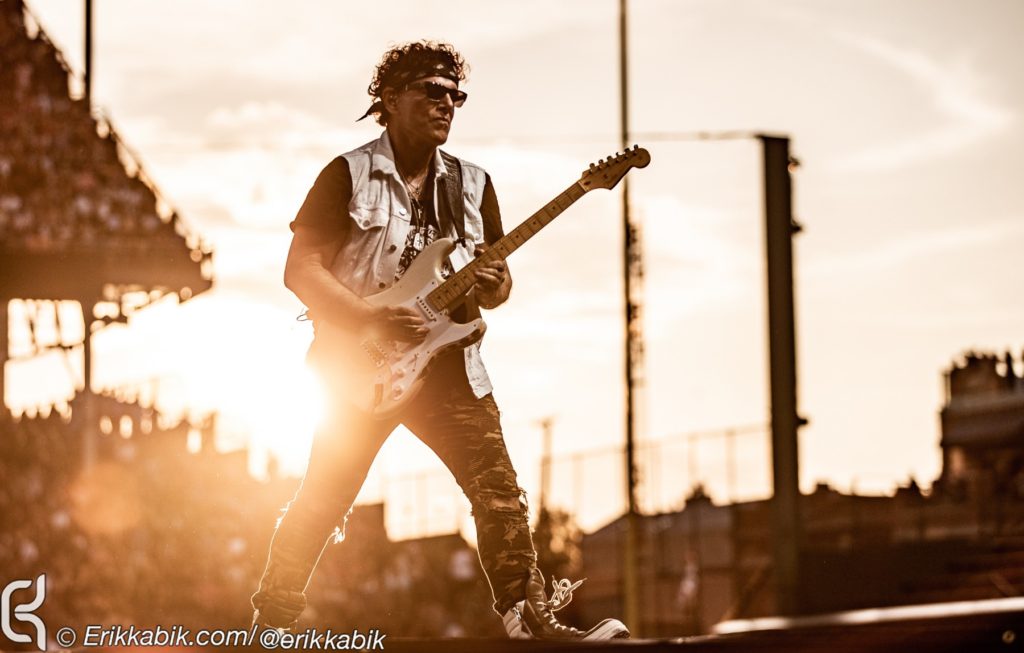 JOURNEY founder and only remaining original member Neal Schon, while on the current  JOURNEY & DEF LEPPARD 2018 Tour with wife Michaele Schon–who has been at the legendary guitarist's side for his busy touring schedule for over 8 years and approximately 1000 shows–is paying tribute to former lead singer, Steve Perry, with a nightly dedication and moving performance of the band's 1978 hit single, "Lights." Co-written by Schon and Perry, "Lights" was featured on the band's 4th full length album, 'Infinity', and has become one of JOURNEY's most popular and easily recognizable songs.
Schon, who will be releasing his solo album in early 2019, has also expressed his wishes to work with Perry, who will be releasing his own solo album in October, 2018, again, as both recognize the timeless music they created together and their brotherhood.
"I've been hearing that he's been showing up in the same coffee joint that I go to all the time," Schon says. He lavishes praise on him and adds, "Hopefully I'll run into him soon. We had a great meeting when we met for the Hall of Fame. I realized there was still a very deep connection there. He's had nothing but very kind words to say about myself. I've done the same for him. The mutual respect is there. One step at a time. I'd just like to get to know him again and see where he's at. But I can surely tell you that I would love to just have him come and just mess around one day at Narada's studio with the three of us, because I think we would turn out something that he would really dig."
Go see what it looks behind the scenes with JOURNEY & DEF LEPPARD, with 30,000 odd fans jam packed at the Comerica Park in Detroit. This also happened to be the biggest JOURNEY show in Detroit. It's been aeons since Steve left, but Arnel Pineda carries forth his legacy through an inspiring journey of his own. Detroit's fans surely remember and cherish Steve's contribution and legacy, and the video below proves that point.