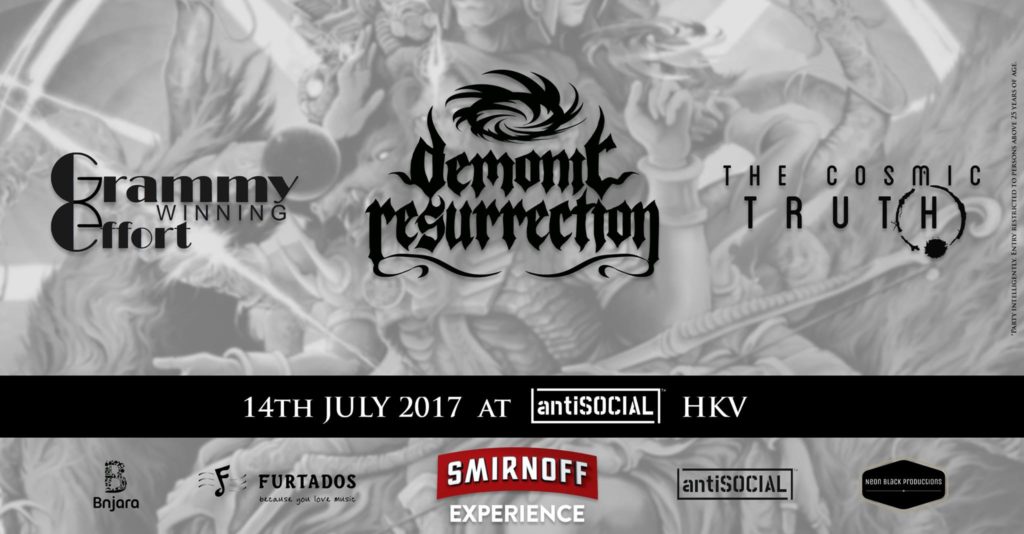 Some couple of days back this month at AntiSocial, New Delhi when DEMONIC RESURRECTION, the king of the rings of Indian metal brought absolute havoc and belted forth destruction along with GRAMMY WINNING EFFORT and THE COSMIC TRUTH, they further established the fact that even after a battering 17 years of existence, pulling through thick and thins, why they are one of the best Indian heavy music acts one can cross his paths against with. On the 14th of July, DEMONIC RESURRECTION brought the new album tour party to the country's capital city, New Delhi. They are touring in support of their new album 'Dashavatar' that came out this year earlier in March to widespread positive reception. I was waiting for this gig eagerly since it was announced a month earlier, mainly cause I am a DEMONIC RESURRECTION fan and also I wanted to check out the new kids on the block, well they're grown ups but you get it what I meant. The line-up represented a diverse range of bands on the heavy metal spectrum, from the in house Delhi talents GRAMMY WINNING EFFORT who play some hard hitting hardcore and punk along with the newly formed band of THE COSMIC TRUTH who are more into the new age genre of experimental and ambient metal thing. They also released their new EP on that very night which goes by the name of 'Stroboscopic Illusion', and they put it up for a 'pay what you want' price. I paid them 200 INR or 3.10$ for the same, cause why not, they were rad as fuck and for the sake of supporting original music. Support live music people! The headliners were obviously as stated above none other than Mumbai death metal giants DEMONIC RESURRECTION. Now for those who were there, you know what an epic meltdown it was and for those who missed, I am here to accentuate your regret. Also before we plunge ourselves in the gig autopsy, I want to apologise our readers for the absolute crap quality pictures, we did not have any professional camera or equipment, so we had to settle for my cellphone camera. I hope that is not much of a big deal and won't stop you from having a good read. Now let us dissect how the gig went, shall we?
THE COSMIC TRUTH
THE COSMIC TRUTH are an experimental/ambient metal band with a lot of djent influences, and consists of five lads from New Delhi. They are fairly a new band, having released a their debut single in 2015 called, 'False Love Pure Hate', the band has been wrecking up shit for a while in the domestic circuit for a while now. This happened to be some sort of comeback gig for them, as they played their own hometown after a gap of one and a half year. Coming back to live performances after some time as I just said, it was the perfect time and platform to give their debut EP a flying start. People started filling in the grim and dark venue of Delhi's metal dungeon AntiSocial, where the pub has hosted a lot of well known artists across the country, even international acts like Jeff Loomis, Skyharbor, and next month they'll host Psycroptic as well. As the venue had a decent amount of people already in, THE COSMIC TRUTH's took off their set on a high note delivering some heavy chuggy riffs laced with atmosphere and enough djent.
Being the EP launch gig, they mostly played songs from their debut EP, 'Stroboscopic Illusion'. Tracks like 'Whispers In The Dark', 'Stroboscopic Illusion', 'Decode' and 'Star Explosion' pumped up the crowd like it was some sort of a warm up for a big game later on. The crowd totally enjoyed the dreamy and calm serenity of the ambience as the band also mixed it up with the breakdowns and major djenty chugs. A perfect combination to get things heated up. New Delhi and djent have an intimate relationship, with many of the ambient or djent metal bands have been born in the country's capital. Rightfully so, the crowd loves their djent and progressive flavour in their dish of metal. Vocalist Jayant Bhadula, who you might have seen doing the rounds of social media because of his other side project which is on the comedy side of metal. I am talking about BLOODYWOOD, the band that makes parody covers of other pop and basically anything that comes to his mind. I remember talking to him in another gig way some months ago and praised him for making us laugh through his parody metal band BLOODYWOOD, and that's when he said, "Man, we just do anything that comes into our heads. We like doing crazy stuff." And that surely reflects on his work.
But THE COSMIC TRUTH is a lot more different and they proved it on that night's gig. With Jayant's growls coming in like a hot bomber, low and disruptive, he manages to coalesce well with the chuggy and down tuned riffs the guitars produce. All in all, it was my first time I saw them play live and oh boy, it surely was good.
THE COSMIC TRUTH Line Up:
Jayant Bhadula – Vocals
Sahil Sharma – Guitar
Kireet Sharma – Guitar
Siddhant Kashyap Boruah – Drums
Sahil Dhingra – Bass
The new EP is out for grabs already. Go ahead and check them out HERE and get yourselves a copy if they manage to give you an eargasm!
---
GRAMMY WINNING EFFORT
In a city where djent and progressive or ambient metal dominates the scene, punk and hardcore has slowly crept out from the tight crevices to the give the city a taste of rebellion and hard hitting music. Formed in late 2010, GRAMMY WINNING EFFORT are a punk rock or hardcore band from New Delhi itself, and are pretty much an active band in an out of the city. Among the accolades the band holds, they were the runners-up at the Hornbill Rock Contest in Nagaland back in 2011 and also had the honour to participate in IIT Bombay's annual festival Mood Indigo. After taking a break or a brief hiatus in 2013, as the members concentrated on their other side projects, the rebellious punk rockers are back into the fold with a new drummer and also an eponymous EP.
Playing a mix of hardcore, punk with a heavy rock and roll overdrive guitar sound GRAMMY WINNING EFFORT took to the stage and started pounding on the already beaten and battered audience with their hard hitting sonic barrage. They absolutely got the crowd jumping around and headbanging to be honest. They even got a small moshpit going on with their hit songs. And man, it was all over the place, young and sweaty hunky dudes alike flying over the place. Vocalist Dayus Madhan seemed really cool as he kept chugging beer from his pint in between songs and still delivering an electrifying performance. Well, beer and heavy music always works. Later on in the band's set as they were nearing close their set time Dayus Madhan made sure to make the most of the remainder of songs, as he decided to step into the mosh pit himself while singing. I was standing up close to the stage and it was amazing and so funny to watch. They did manage to get a good and big moshpit brewing, all of them hitting hard against each other as the chaos continued all through. The best thing I could capture through my eyes during the moshpit while Dayus Madhan himself was in it was, when someone knocked him down  midway as he was singing and ramming everyone coming in the way. I mean look at Dayus in the picture. It takes someone a good amount of metal in him to knock this person down. Sorry Dayus, we love you but I think it was funny.
With their hits like 'The Roads', which was the band's one of the earliest compositions and 'Sheen Like Charlie', and some more they put up a stellar show delivering the crowd what they wanted. There was so much madness going on in their set, be it the crazy moshing, the non stop headbanging. They also successfully initiated some crowd surfing, although very short lived but I could see some three or four dudes spreading their arms and legs and surfing over the heads of the others. Vocalist Dayus Madhan was in full control, his loud and rashy screams injected an amazing sense of euphoria and adreanaline in the crowd, the entire band proved again that not only they do talk with their music but also showcase a mad level of showmanship. One of the best sets I have seen in AntiSocial to be fully honest.
GRAMMY WINNING EFFORT Line Up:
Dayus Madhan – Vocals
Shashvat Pandit – Guitars
Chaitanya Bhalla – Guitars
Akshay Dwivedi – Bass
Suyash Gabriel – Drums
You need to check them out for some good hardcore and punk rock if you don't know them already. Their self titled debut EP is up for a free download or let's say "Name your price" offer. Go ahead and give them some love HERE!
---
DEMONIC RESURRECTION
As the opening bands were done with their nerve wrecking performances, pulverizing the crowd for well over an hour, the crowd were already drenched in sweat and looked like they all spent a hard day at the farm. Meanwhile, as DEMONIC RESURRECTION were setting up their arsenal of equipments and kits on the stage, it was a good time for the fans to take a much deserved breather and also check out the merch booth for all the cool merch and records all the three bands brought with themselves. The fans enjoyed dipping their hands on the cool merch and records, many took away the new DEMONIC RESURRECTION album, their tee shirts, some took the new  THE COSMIC TRUTH EP along with them as well. It was amazing to see fans support real and live music, as one should really do.
The stage was set, people came running down from the bar area and merch booth, pushing each other as they heard the intro music play through the speakers, some with beer pints in their hand and some with merch. But they all made sure they were there right from the very start, to cheer and raise hell for the band they all came down to see. Chants of "DR DR DR…" were thrown around by the enthusiastic crowd from every nook and corner of the venue, the cheering only magnified as the band members took to stage. A few moments later when all was set, DEMONIC RESURRECTION members stood with their backs towards the crowd all geared up for the annihilation as the haunting but gigantic intro, "man made demons, made made gods" of their 2017's new album 'Dashavatar' single 'Matsya' created a surrealistic 'calm before the storm' sort of atmosphere. You could almost feel it coming. I mean I was right in front of the stage up close to guitarist Vigneshkumar Venkatraman, and after the first notes of sitar were laid to rest and DR hit the first notes of the riff it almost fell like an apocalypse or a massive swirl of winds have hit upon us. The opening riff of 'Matsya' is one heavy riff that best explains and makes you feel like there is a major onslaught about to hit you right in your feels coming your way. As the opening riffs were struck vehemently, the crowd of nearly 120 people packed in tight, everyone trying to get their best view raised their horns irrespective of where they were in the entire auditorium. As DEMONIC RESURRECTION sailed through the first song, a very excellent track in my opinion, I thought to myself "this sounds even more cool live", the riffing, impounding drums, especially the incorporation of Sitar gives it a real exotic vibe but also maintains the evil and heavy nature of the song. It's as though the band were orchestrated like an army taking over a town. What a start to the performance! Groovy, fast and brutal is how the headliners started their set, as further ahead the chaos would only accentuate and for good!
Living in the 21st century has many perks and technology has made everything so easy and cool. I for one depend a lot on it, be it social media, camera, or whatever that falls under its radar. But one thing I despise somewhat is the excessive use of cameras and cellphones in a gig, when some band is playing with their whole hearts out and you're there shoving the cam on their faces. But that's just me speaking as I can't speak for others. Now, as we were starting to run into the first half of their set, DEMONIC RESURRECTION front man and vocalist Sahil 'DEMONSTEALER' Makhija happened to share the same opinion as me, as he requested the crowd to put down their phones and just "be in the moment", and the crowd politely shoved their cranky little devices back in their pockets. Except me, well not trying to be an outlaw here, but if I put down the cellphone, you all wouldn't have been reading this article.
Further as we kept on progressing down the set, DEMONIC RESURRECTION belted out some of their finest hits over the years like, 'Dismembering The Fallen', 'A Tragedy Befallen', 'The Unrelenting Surge Of Vengeance' from the 2010 album 'The Return Of Darkness' which also happens to be the terminal album of the Darkness trilogy. This was the first time I had the honour to see them since they released their new album, I was hoping for some new jams and boy they did play some new songs from their new album. 'Dashavatar' was released back in March this year to widespread positive reviews and acclaims, the use of some traditional Indian instruments turned a lot of heads, well, rather ears to be precise. It is one of the finest and I will go ahead and just say it, this is the best DR work till date in their catalogue. I headbanged so hard during their entire set, I could barely feel my neck post gig, but as every metalhead says, "it was worth it". Mixing a lot of old and all time hits, they also made sure the fans could take a dib in their new tracks. DEMONIC RESURRECTION looked like a complete package force with a will to dominate everything that comes their way, with every song they played. Some of the new songs they served the crowd were, set opener 'Matsya', 'Vamana' and 'Budhha', all three being my recent favourites from their newest album. Sahil later on went easy and let the crowds take their cellphones out before playing 'Buddha', a much slow and different than other typical DR songs, but also maintaining the heaviness in it. What I like about the song are the shlokas or chants that almost gives you an ethereal catharsis. The ambient nature of the chants give you a larger than life and a holy feeling which I think is great. In no way, did the band sounded different on that song, they perfectly captured the aura as the crowd raised their fists and headbanged in all their merriness.
Major credits to Vigneshkumar Vengkatraman of ALBATROSS and ORION who filled in for the absence of Nishith Hegde on the gig day, and Leon Quadros from ZYGNEMA who is currently touring and filling in bass duties for DEMONIC RESURRECTION since the departure of long time bassist Ashwin Shriyan. They both were excellent on stage, nailing the solos perfect and the bass lines as they were recorded by the original members. All in all this was one gig I was waiting for, especially just to check out the new songs live. Everyone enjoyed it a lot, a lot of beers were chugged down, heads were banged, necks sprained, merch and records brought, photos taken. I also had my 'Dashavatar' boxset signed by DEMONSTEALER himself, which was so cool of him! We also prior to the gig sat down with DEMONSTEALER and had a chat about his band, the Indian music scene etc. You can check out the interview HERE!
Major props to Neon Black Production who could make this gig possible. I enjoyed a lot covering the event and every single band kicked ass. Check out THE COSMIC TRUTH, GRAMMY WINNING EFFORT and DEMONIC RESURRECTION if you have no clue about them already.
DEMONIC RESURRECTION Line Up:
Sahil Makhija – Vocals & Guitars
Nishith Hegde – Lead Guitars
Virendra Kaith – Drums
Go ahead and support the band. Their new album is definitely kick ass and I am sure it will blow your mind once you spin it. Buy the same HERE!
---
GALLERY