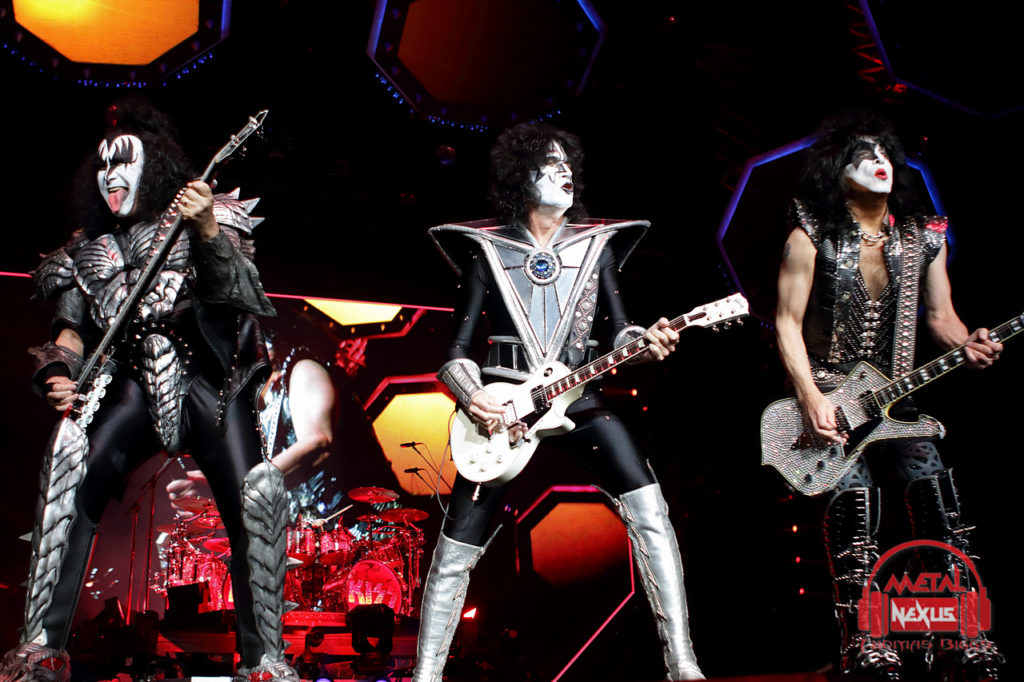 Ideally, the role of the critic is to approach the subject from a place of impartiality, to examine its relative merits and flaws, and to offer and render an honest and unbiased review for the edification of the audience.
Right up front, I feel I should let you know that this ain't gonna be that.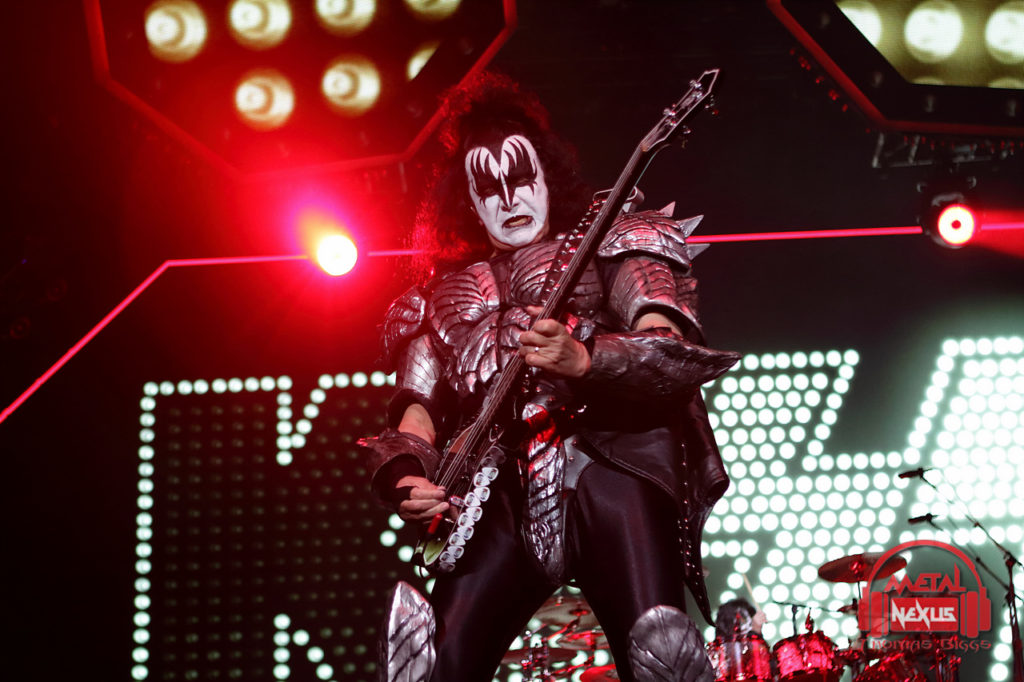 I've been a loyal foot soldier in the KISS Army for literally as long as I can remember; the first memory I have, period, is standing in my neighbor's basement rec room at three years old, intently listening to Dressed to Kill over and over while staring holes in the cover. My prepubescent walls were plastered exclusively with KISS posters and pin-ups, I sent fan letters to their management company (and got autographs from Gene Simmons and the late Eric Carr in return, thank you very much), and I don't think I'll ever fully get past the ennui and forlornness of sitting in my best friend's living room floor on the night of January 3, 1986, knowing KISS (and W.A.S.P.!) were taking the stage an hour away and being too damned young to do anything about it. Since then I've managed to see them a dozen or so times, spent a king's ransom on assorted trinkets and baubles, and have loudly expounded on their influence and virtues to anyone who'd hold still long enough for me to think they might be listening. And if I'm not prattling on about KISS, then it's a safe bet I'm proselytizing on behalf of one Diamond DAVID LEE ROTH. I'm an unabashed and unashamed member of the Church of Dave; I think if one could live their life according to the examples and guidelines set forth in Roth's autobiography Crazy From the Heat, then one might know what true freedom and unfettered joy are all about. America's greatest frontman from America's greatest band, he's a genius, and a visionary, a real life, honest to god, no-foolin' renaissance man, and anybody who would write him off as a joke or a buffoon, A) just isn't really paying attention and B) is probably no fun to party with.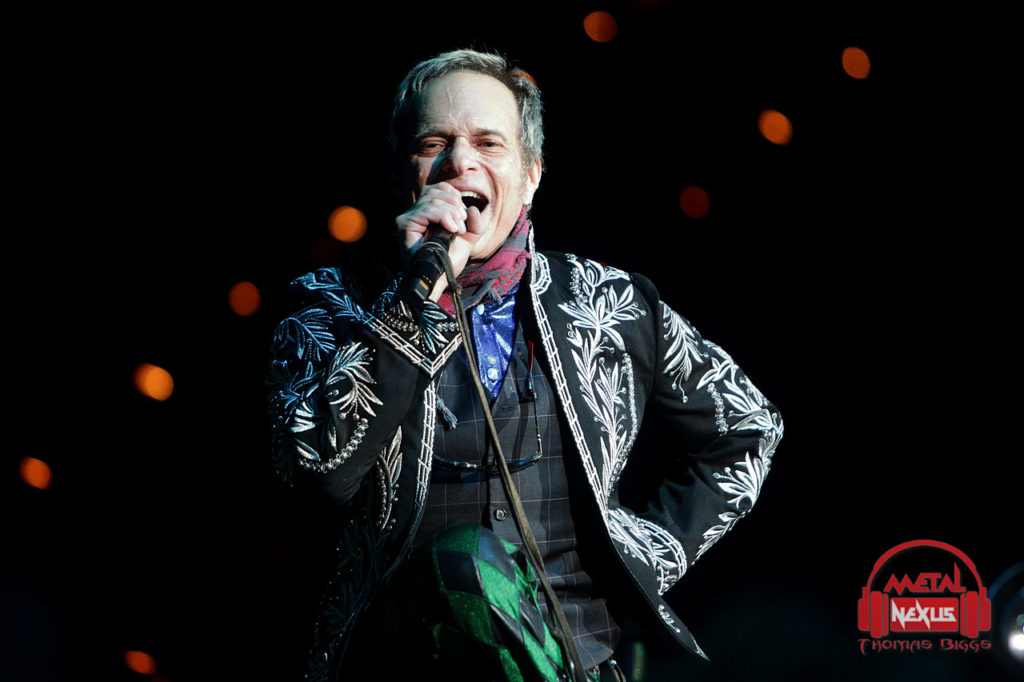 So, no. I'm not exactly impartial. As you might imagine, when I heard Roth would be handling the support duties on the current leg of KISS' ongoing "End of the Road" tour, I was more than a little intrigued by the prospect. And when I got the call to handle the review for their stop at Lexington, Kentucky's hallowed Rupp Arena, the giddiness my inner child felt gushed out and saturated my jaded old husk. As I took my seat and watched the venue fill, I couldn't help but wonder if I was setting myself up for disappointment. After all, I've seen the luster fade from enough of my childhood heroes to know that you can't really go back again, and that time, that miserable old bastard, waits for absolutely no one, not even bona fide rock gods. And regarding this outing, I've heard and read all the same scuttlebutt you have; was it true? Are the naysayers right? Was I going to leave the venue dejected, betrayed by nostalgia's cruel tease?
I needn't have worried; my inner child was right. From the first drum fill to the final burst of flame, the KISS/Roth package was everything an arena rock show should be.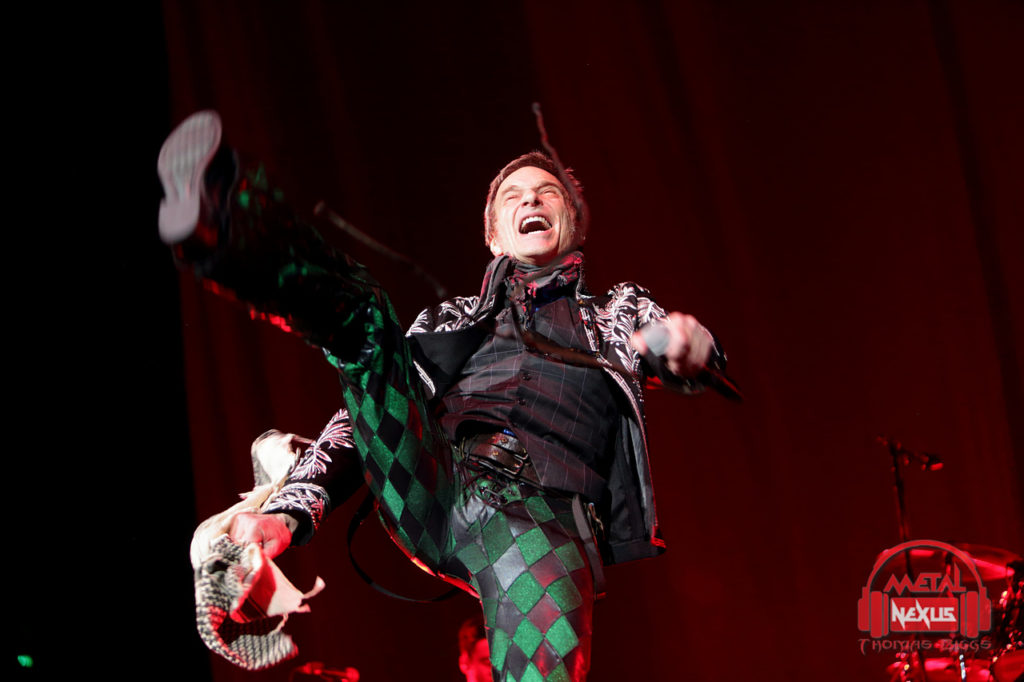 David Lee Roth's rapid-fire opening salvo may have been, pound-for-pound, the single most hits-dense show I've ever seen.  Any trace of fat that may have been present in Roth's recent Vegas setlists has been trimmed to the bone into a streamlined and battle-ready beast. Resplendent in his finest jester-bandolero-gypsy-cowboy getup, Roth exuded pure, unadulterated joy all the way into the upper decks; seriously, I don't think it's possible for a person to be any happier to be on a stage. The death-defying riser leaps and constant karate demonstrations are long gone, replaced by a Borscht Belt softshoe and the occasional high kick; gone, too, are the braying banshee wails, giving way to a well-worn-but-warm barrelhouse grunt, conspiratorial comments and asides, and the occasional breathy squeal. But at no point does it ever seem like he's giving anything less than one hundred percent, and it's always really something to watch a master ply his trade and make it look effortless. His whiptight five-piece band, led by guitarist Al Estrada, proved itself more than adequate in handling the VAN HALEN-heavy setlist both musically and vocally, leaving Dave free and clear to be just as Dave as he can be. He's never been a singer that stringently sticks to the recorded version (to put it very mildly), and hearing him fit his woefully underrated lyrics into new and unexpected melodies, he struck me as a bump-and-grind BOB DYLAN, part stripper and part bard. From "You Really Got Me" and "Beautiful Girls," to the heart-pounding transition between "Tobacco Road" and "Runnin' With the Devil," all the way through the set-closing "Jump," I was never anything less than fully entertained, and there were a few times I was just downright amazed. Here's hoping we get a full headlining tour soon, or at least that I can figure out a way to make it to Vegas for the next residency.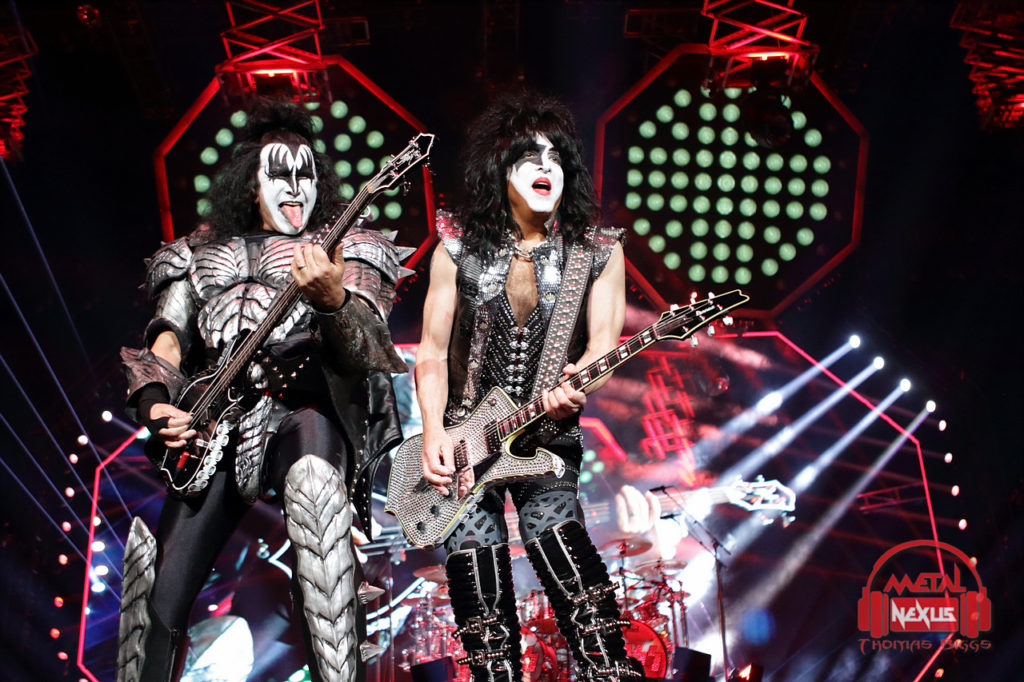 KISS' calling cards have always been a healthy dose of meat-and-potatoes rock and roll and a show that borders on total sensory overload. And if this does prove to be their final outing (and for what it's worth, I think it will be, despite there being zero mention made of it from the stage), they certainly saved their best for last. For over two hours bombs burst and sparks showered, set pieces moved and lasers threatened corneas, and towering plumes of flame warmed the air reverberating with fifty years worth of hard rock classics. The now-standard chestnuts remained: Simmons belched fire during "War Machine" and puked blood prior to ascending to the rafters for "God of Thunder," Eric Singer's drum kit levitated (for the first time) during his "100,000 Years" drum solo, lead guitarist Tommy Thayer fired rockets across the stage from his Flying V, and ringmaster Paul Stanley flew to a satellite stage by the mixing board to give fans in the back an up-close view for "Love Gun" and "I Was Made For Lovin' You."  Really, the only thing missing was the iconic KISS logo sign that used to loom large over every evening's proceedings, replaced by the now ubiquitous LED screen. A healthy swath of the band's catalog was represented, from the heyday of the mid-70's, through the too-often maligned or ignored non-makeup 80's, on through to more recent efforts from the 90's and 2000's, and the assembled congregation sang lustily along, enraptured by every cut. As the seemingly endless confetti cascaded down during the climactic closer "Rock and Roll All Nite" (of course they closed with "Rock and Roll All Nite"), I looked around the room at my eight thousand or so fellow devotees, and what I saw was an ocean of smiles with a fair smattering of joyful tears, an all-ages throng thrilled to near exhaustion and satiated by one last communion with their grease painted deities.